The Conference board has released their LEIs for August 2009. Their leading economic indicator index (LEI) is up 0.6% for August. July was 0.9% and June was 0.8% respectively.
"Since reaching a peak in July 2007, the LEI fell for twenty months – the longest downtrend since the mid 1970s – but it has been rising since April and its gains have become very widespread," says Ataman Ozyildirim, Economist at The Conference Board. "The six-month growth rate of the LEI continues to accelerate. At the same time, the downtrend in the coincident economic index, measuring current economic activity, seems to be stabilizing, with the index flat so far this quarter."

Says Ken Goldstein, Economist at The Conference Board: "The LEI has risen for five consecutive months and the coincident economic index has stopped falling. Taken together, this suggests that the recession is bottoming out. These numbers are consistent with the view that after a very severe downturn, a recovery is very near. But, the intensity and pattern of that recovery is more uncertain."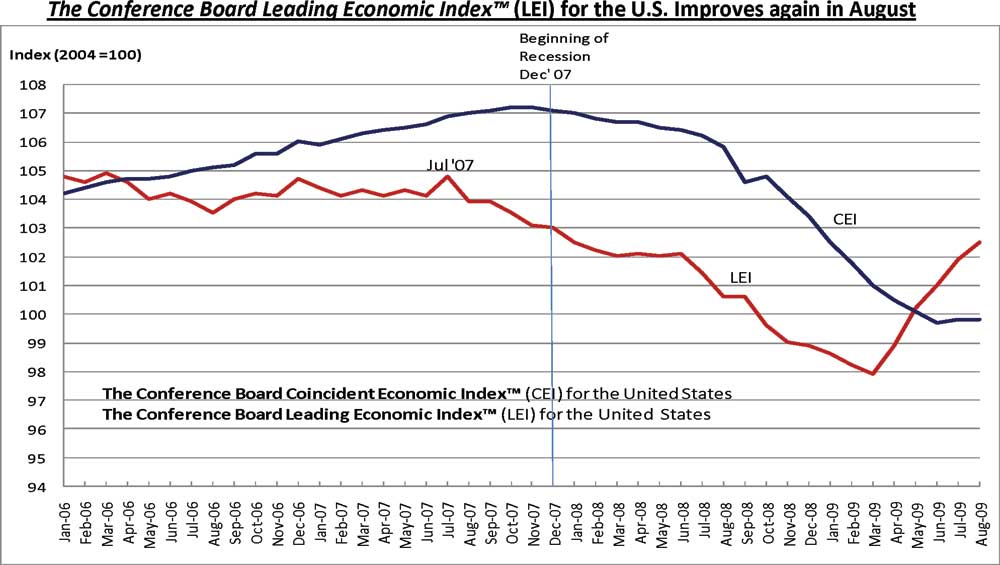 Src: Conference board, click on graph to enlarge
Note the slope or trend line, which is a dramatic increase, yet by absolutes, the numbers are still in recession territory (compare to December 2007).
The Conference board details their LEIs:
Five of the ten indicators that make up The Conference Board LEI for the U.S. increased in August.

The positive contributors – beginning with the largest positive contributor – were index of supplier deliveries (vendor performance), the interest rate spread, stock prices, building permits, and the index of consumer expectations.

The negative contributors – beginning with the largest negative contributor – were real money supply*, average weekly initial claims for unemployment insurance (inverted), and manufacturers' new orders for nondefense capital goods*. Average weekly manufacturing hours and manufacturers' new orders for consumer goods and materials* held steady in August.
and are outlined in this aptly named document Oh What.
They also give a few additional metrics on their front page, as follows:
Consumer Confidence Index® +6.7 pts
Help-Wanted Online +169,000
Employment Trends Index -0.1%
CEO Confidence +25.0 pts
On CEO confidence, one must wonder if they have bonus bias with such an increase, otherwise known as do you get out much?
Notice the LEIs which we call the real economy are still negative, particularly unemployment and new orders for manufacturing.
The Conference Board Coincident Economic Index™ (CEI) for the U.S. was unchanged in August, following a 0.1 percent increase in July, and a 0.4 percent decline in June. The Conference Board Lagging Economic Index™ (LAG) declined 0.1 percent in August, following a 0.5 percent decline in July, and a 0.9 percent decline in June.