The House of Representatives is out to destroy the American Science, Technology, Engineering and Mathematics Professional. Republicans passed H.R. 6429 with the oxymoron title, STEM Jobs Act of 2012. STEM stands for Science, Technology, Engineering and Mathematics and this bill gives 55,000 foreigners a year who graduate from an American university with a Masters or PhD in these fields an employment sponsored green card. Democrats didn't like it, not because it will labor arbitrage American Technical Professionals and lock out some Americans from even being accepted into Masters and PhD university programs. No, Democrats don't like the idea of separating the agenda of giving those here illegally legal status from the corporate lobbyist never ending demand for more foreign guest worker Visas and turning the American higher education system into a glorified green card ATM. Democrats believe they will never get their unlimited migration agenda through Congress without sacrificing the American Science and Technology professional to the globalization wolves.
The claim is STEM jobs create other jobs. This is true, these professional occupations can spawn other jobs, as is typical with an employment multiplier effect derived from more disposable income as well as advanced research and development itself. Although STEM's multiplier effect assumes manufacturing and supportive positions are in the United States, which these days isn't usually the case. The problem is these Science and Engineering jobs are not positions in addition to, but in place of. In other words, we have worker substitution going on where Americans are fired, employers continue with their institutionalized age, sex and U.S. citizen discrimination and simply replace the fired American with a young, typically male, foreign one. Displacing an American from that job with a foreign one does nothing to increase jobs, help the economy, or innovate. Either worker can innovate and in fact many U.S. patent and copyright holders have actually been displaced already. Innovation is work sponsored. If one doesn't have a job in R&D, odds are they will not get their ideas into the market place or even registered. Worker substitution generally hurts the economy and it obviously hurts the worker being displaced. That's what is currently happening.
The great STEM shortage lie has been going on for years, in spite of overwhelming statistics there is no shortage of Americans with STEM college degrees.
To show what a ridiculous lie this is, let's look at some statistics. There are less jobs in STEM in 2011 than there were in 1997. The BLS maintains occupational employment facts and figures. Employment in many STEM fields has actually decreased in the United States, while the number of Americans with college degrees in STEM fields has increased. First the below graph are STEM jobs as categorized by the BLS occupational employment survey. Since 1999, there has only been a gain of 763,930 STEM jobs. Managerial occupations in STEM has actually declined by -33,080 jobs from 1999 to 2011. Below is a graph of employment in the major STEM occupations that are not managerial.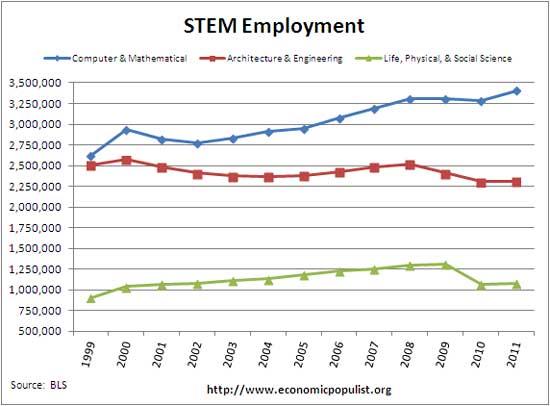 The below graph showing the annual change in STEM employment, not managerial, should shock you. The growth is minimal and has been for over a decade. One would never guess this fact from the rancor and rhetoric coming from lobbyists and their mouthpiece politicians.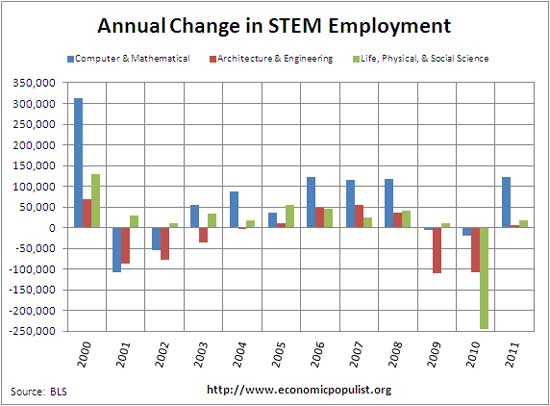 From 2010 to 2011, the last year available for occupational employment statistics, STEM gained 145,930 jobs. There were -370,810 STEM jobs lost in 2010. If you think leaving out those related managerial positions is why employment growth is so low, think again. Not only have STEM managerial occupations have actually declined by -33,080 from 1999 to 2011, there were only 20,010 additional managerial jobs in computers & mathematical areas and a loss of -63,680 engineering managerial occupations in the same time period.
The BLS counts foreign guest workers, permanent residents, people here illegally and U.S. citizens in their employment and occupational statistics. What may not be realized is the BLS counts thousands of H-1B and L-1 Visa holders as employed in the above employment by occupation figures.
The H-1B Visa is called the outsourcing Visa by the Indian BPO industry for good reason. Not only are jobs offshore outsourced, these Visas are also used to provide other businesses with cheap foreign STEM workers and technology transfer STEM related projects offshore. An H-1B Visa is good for six years and if the employer sponsors the worker for a green card, can be extended until legal permanent residency status is obtained. H-1Bs are renewed every three years and the table below shows the number H-1B three year approvals in the above STEM identified occupations since 2006.
The thing to notice is the number of H-1Bs approved each year exceeds the increase in total employment in these occupations. For example, in 2011 there as an employment increase of 122,770 in computer and mathematical occupations, yet H-1Bs approved, just for that year in these two categories was 140,841. In 2010 STEM lost -370,810 jobs, yet 124,182 H-1B STEM Visas were approved in the same year.
H-1B Visas are good for 6 years, but can be extended beyond that if there is an application for a green card. Believe this or not, the USCIS does not track on how many H-1B Visa Holders there are in the country at any moment in time. Yes, in the days past 9/11, they don't track foreign guest workers in this country. By adding up three years of H-1B approvals, we know there are at least 446,582 H-1B Visa holders working in STEM occupations by 2011. This implies all additional employment is going primarily to Visa holders and these figures also imply a large number of Americans are being unjustly fired and losing their careers way too early. If employment as an aggregate does not increase past the number of Visas issued, this means by work flows others are losing their jobs. We clearly have employee churn to explain new college graduate and foreign worker hires. It's clear worker substitution is occurring in the United States.
H-1B Visas are just one element by which foreigners are allowed to work in the United States. Currently foreigners graduating in STEM have 28 months working under the OPT program in the United States, on student Visas. There are already 20,000 employer based H-1B Visas set aside for STEM graduates of American universities. Additionally, H.R. 6429 is not an actual green card, but a permanent resident Visa conditionally based on the foreign worker staying with one employer for five years. Someone cannot form a new company when they are tethered to one employer based on immigration status for five years.
Microsoft, one of the biggest lobbyists for more foreign workers, has fired thousands of Americans with degrees in STEM. IBM the same. Pfizer forced their STEM workers to train their replacements before being fired, a common practice. HP has laid off 27,000 workers, mostly STEM this year alone and last year laid off 28,000. Executives have routinely touted their age discrimination agenda against those in STEM. To continue their discrimination and labor arbitrage unbated, these multinational corporations require an unlimited supply of young, naive STEM workers. Seventy percentage of H-1B workers are between the ages of 25 to 34 and we suspect disproportionately male.
The National Science Foundation keeps track of the number of STEM graduates and these figures should astound you. The last year we have statistics for is 2009. Most STEM jobs require a Bachelors of Science (BS). This is in spite of employers making increasingly impossible demands of workers. Below is the National Science Foundation's statistics on the number of Science and Engineering Bachelors, Masters and Doctorate degrees conferred from American accredited higher education institutions. Excluded from their statistics would be trade schools and degrees in technology, such as EET, which implies the degree count is much lower than the real number of STEM degrees awarded in the United States each year.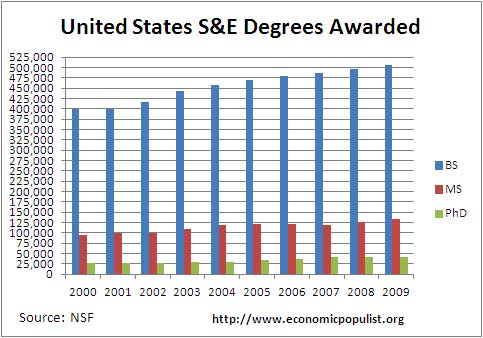 Below are Science and Engineering degrees awarded to those who are U.S. citizens or have green cards, legal permanent residency status. As we can see there were 614,636 Bachelors, Masters and Doctorate degrees awarded to U.S. Citizens and green card holders in 2011, yet there were only 145,930 jobs gained in all of STEM in 2011. In other words, the United States already produces far more STEM than can be employed.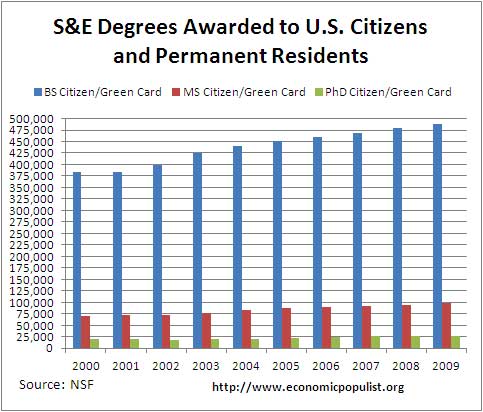 Even if we drill down further and just look at Computer Science and Mathematics degrees the results are the same. There were 69,108 BS, MS and PhD degrees awarded in Computer Science and Mathematics to U.S. citizens and green card holders in 2009. The 2009 Computer & Mathematical employment losses were -4,570 jobs. This broad occupational category includes I.T., support, network administration and web design. Computer occupations has a host of jobs which require at best trade school, associates degrees and not full bore computer science Bachelors. or higher skill sets. Clearly we graduate more U.S. citizens in STEM skills than are jobs available. This fact is backed up by a host of wage and unemployment rates for STEM workers. Additionally, the BLS doesn't count those forced out of their fields as unemployment STEM professionals. The minute that experienced and degreed individual takes a job at Walmart to try to survive, they are classified as an unskilled retail trade worker.
Even before the recession, less than a third of S&E degree holders were working in areas requiring or even closely associated with their degree. A full 65% of STEM graduates were in other occupations after just two years of graduating. By 2011, 53% of all college graduates couldn't either find any job or a position in their field of study. Clearly our statistics from before the 2008 recession imply things are much worse today. In fact, 70% of jobs created today require no college education at all.
H.R. 6429 targets computer and information sciences and support services, engineering, mathematics and statistics, and physical sciences occupations, the very middle class jobs most needed by Americans. Don't expect this to be the last of Congress passing laws to make sure U.S. workers are thrown out of the careers, it's their top priority of 2013, under the guise of comprehensive immigration reform. This is what politicians mean really by immigration reform. It's not humanitarian or even catering to special interest groups. Comprehensive immigration reform is all about flooding America with even more workers when we cannot employ the people who are already here.
American labor arbitrage has been going on for some time, as this documentary shows. The statistics for the last decade prove the entire U.S. middle class is being hollowed out and much of it due to global labor arbitrage. Institutionalized discrimination, offshore outsourcing, bad trade deals and flooding U.S. labor markets through immigration are alive and well and our Congress is more than willing to assist further in the full bore assault on America's middle class.
One cannot grow the economy by firing American workers. Yet, lobbyists spin white paper fictional statistical snow on STEM almost monthly trying to claim the opposite, all to further their global labor arbitrage cause. Firing American workers does not spawn innovation or help the economy. It clearly doesn't work. If it did American would obviously have a meteoric rise in economic growth by now. By any statistical measure at this point, worker displacement and substitution at any occupational level is very obviously not good for America.