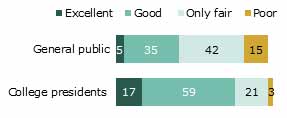 Put another nail in the American Dream Coffin. The Pew Research Center has a new study out on college. Guess what, over half of America thinks college isn't worth the money.
A majority of Americans (57%) say the higher education system in the United States fails to provide good value for the money students and their families spend, and about four-in-ten college presidents say the system is headed in the wrong direction
This year was a record for student debt, $22,900 and student indebtedness is rising faster than any other type of consumer debt.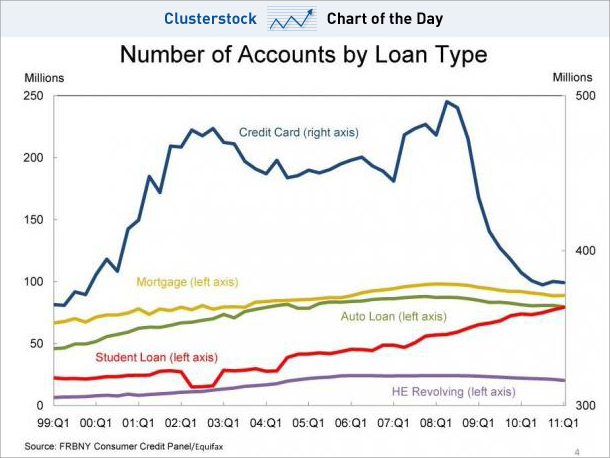 The Class of 2011 will graduate this spring from America's colleges and universities with a dubious distinction: the most indebted ever.

Even as the average U.S. household pares down its debts, the new degree-holders who represent the country's best hope for future prosperity are headed in the opposite direction. With tuition rising at an annual rate of about 5% and cash-strapped parents less able to help, the mean student-debt burden at graduation will reach nearly $18,000 this year, estimates Mark Kantrowitz, publisher of student-aid websites Fastweb.com and FinAid.org. Together with loans parents take on to finance their children's college educations — loans that the students often pay themselves – the estimate comes to about $22,900. That's 8% more than last year and, in inflation-adjusted terms, 47% more than a decade ago.
The American Dream has put forth a fallacy. If one worked hard, played by the rules, went to college and started a career, financially one would be set for life.
To back up this claim, has been much said about the low unemployment rate for college graduates and indeed, in comparison to the general population, it is much lower. But the point of college is it's supposed to increase your lifetime earnings and keep you in a job. As we can see from the graph below, for the entire last decade, the unemployment rate for college graduates is almost three times higher.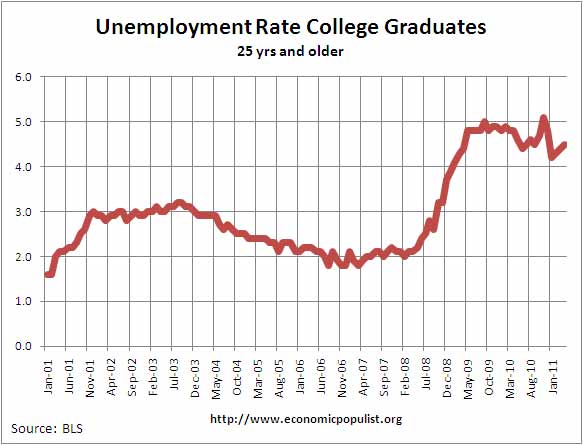 Even worse, those now graduating from college are not able to get a job. CNN calls it the Great Recession Lost Generation and has some alarming statistics for new college graduates.
About 60% of recent graduates have not been able to find a full-time job in their chosen profession, according to job placement firm Adecco.
Bear in mind, Adecco is a notorious body shop, looking at people, including professionals, as temporary throw away disposables, specializing in providing cheap temporary labor, on a global scale.
Adecco also found that 18% of recent grads have been forced to turn to full-time jobs outside their field of study, often jobs for which a college degree is not required.
Below is the unemployment rate for those aged 16-24. These jobs are the first jobs, the ones which bootstrap young people into high skills and careers and those opportunities are disappearing. The unemployment rate from January 2001 until now has almost doubled, it's 1.8 times higher. While this is an outrage, notice the unemployment rate increase for college graduates by ratios is much higher than even the unemployment rate for the young over the past decade.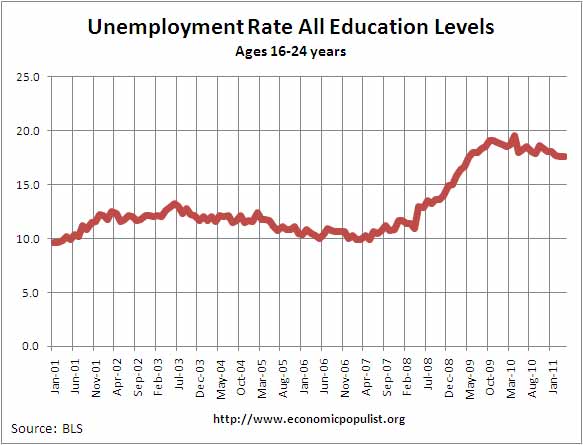 Yet it's not just the Great Recession that is causing career instability, lost income, inability to get a job in one's field. In fact this trend has been going on for a decade now as seen in the above unemployment rate graphs.
Perhaps the never ending globalization labor arbitrage agenda, the middle class squeeze and putting the U.S. workforce last, at all skill and education levels, is the real cause for why higher education is being considered not worth the payout. Not everything is the result of the recent recession.