The world of economics is every moving, ever changing. What was true 65 years ago, or even 38 years ago, is no longer true today. The world has moved on.
The Bretton Woods system of monetary management established the rules for commercial and financial relations among the world's major industrial states in the mid 20th century.
...
The chief features of the Bretton Woods system were an obligation for each country to adopt a monetary policy that maintained the exchange rate of its currency within a fixed value—plus or minus one percent—in terms of gold and the ability of the IMF to bridge temporary imbalances of payments.
The Bretton Woods system was created during the final days of WWII and we still live with its legacy today. However, it has morphed into something very different since then.
38 years ago President Nixon separated the dollar from the external gold standard, after the costs of the Vietnam War caused growing federal deficits. This marked the end of the traditional Bretton Woods system, where nations would peg their currencies to the dollar, which would then be pegged to gold.
The monetary system that has grown up after 1971 has been called by some Bretton Woods II.

Bretton Woods II was an informal designation for the system of currency relations which developed during the 2000s. As described by political economist Daniel Drezner, "Under this system, the U.S. is running massive current account deficits to be the source of export-led growth for other countries. To fund this deficit, central banks, particularly those on the Pacific Rim, are buying up dollars and dollar-denominated assets.
This has always been an unstable system, and the time has been marked with massive asset bubbles at home and frequent currency crisis abroad. But bankers in New York and London made enormous amounts of money under this unstable system, so no reforms were ever pushed.
Critics of this monetary system (such as myself) always assumed that our foreign creditors would one day choke on all those dollar-based debts they were forced to buy with their recycled trade surpluses. It seemed counter-intuitive that countries like China would forever sink nearly all of their profits funding America's overconsumption while their people lived in poverty.
I was wrong. So were the other critics. Our foreign lenders, with only a couple minor exceptions, have never slackened their appetite for our dollar-based debt. China may complain once in a while, but there was never any serious measures taken to ween themselves off of dollars.
The reason is because dollars are still the premium hard currency in the world. Just like savings in a fractional-reserve banking system, or gold in a central bank vault, foreign nations need our dollars (and dollar-based debts) in order to feed their own internal credit markets. Plus, the very nature of a debt-based currency requires a constantly growing economy in order to service the debts, and a growing economy requires credit.
All those Asian nations intentionally suppressed domestic labor unions and working salaries in order to undercut competition for shares of the American consumer market. This allowed them quick access to dollars, but prevented them from creating domestic demand of their own.
So if our foreign creditors are unable, or unwilling, to stop buying our dollar-based debts, then why should Bretton Woods II ever end?
The reason it is ending is because of the other side of the ledger - the American consumer.
The last couple days have witnessed an epic collapse in the American consumer's purchasing power. Never before has retail sales fallen so far and so fast.
This is happening because the various asset bubbles have burst (housing and stocks), and the American consumer is no longer able to borrow against those assets to fund a lifestyle that his/her salary couldn't afford.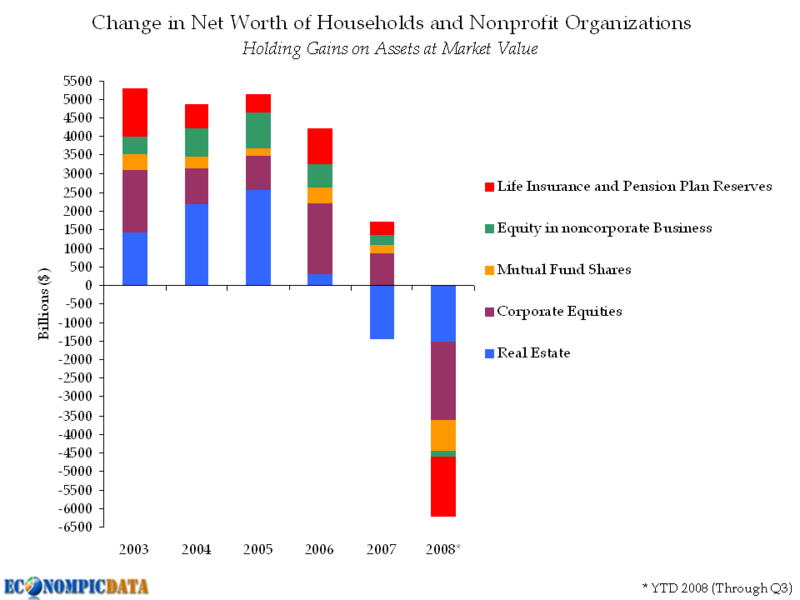 Rehashing the troubled American consumer is probably old news to you by now. It's been done to death.
However, what isn't talked about much is how this effects our foreign creditors.
Remember, they buy our dollar-based debt from their trade surpluses with us. Thus America must live and consume foreign goods far beyond its means for this dysfunctional system to continue.
So what happens when foreigners can't sell their cheap goods to America?

Freight rates for containers shipped from Asia to Europe have fallen to zero for the first time since records began, underscoring the dramatic collapse in trade since the world economy buckled in October.

"They have already hit zero," said Charles de Trenck, a broker at Transport Trackers in Hong Kong. "We have seen trade activity fall off a cliff. Asia-Europe is an unmit­igated disaster."

Shipping journal Lloyd's List said brokers in Singapore are now waiving fees for containers travelling from South China, charging only for the minimal "bunker" costs. Container fees from North Asia have dropped $200, taking them below operating cost.

Industry sources said they have never seen rates fall so low. "This is a whole new ball game," said one trader.

The Baltic Dry Index (BDI) which measures freight rates for bulk commodities such as iron ore and grains crashed several months ago, falling 96pc. The BDI – though a useful early-warning index – is highly volatile and exaggerates apparent ups and downs in trade. However, the latest phase of the shipping crisis is different. It has spread to core trade of finished industrial goods, the lifeblood of the world economy.
...
"This is no regular cycle slowdown, but a complete collapse in foreign demand," said Lindsay Coburn, ING's trade consultant.
Vast naval fleets of empty container ships are anchored in the ports of Singapore and Hong Kong. Almost nothing is moving, and even if it does, it is selling at below cost.
The unsustainable in the long-term is becoming the unsustainable in the short-term.
Shippers can't afford to ship product "at cost" for long, and producers can't afford to sell product "at cost" for long.
Meanwhile America's trade deficit is shrinking fast.
Normally this is not a big deal. The weak go out of business. The strong takes them over. Bad debt is washed out of the system. Capitalism moves on.
However, we don't have a non-dysfunctional monetary system. We have a very dysfunctional one that requires the American consumer to keep buying things he doesn't need with money he doesn't have. Without our wasteful consumption of their goods our foreign creditors have neither the means nor the reason to keep buying our debt. Bretton Woods II breaks.

The Bretton Woods 2 system – where China and then the oil-exporters provided (subsidized) financing to the US to sustain their exports – will come close to ending, at least temporarily. If the US and Europe are not importing much, the rest of the world won't be exporting much.

And rather than ending with a whimper, Bretton Woods 2 may end with a bang.
The federal government is trying to offset the drop in economic activity with increased borrowing and spending. However, that just puts more strain on the system because a) it doesn't do much to restore the falling trade deficit, thus not putting many new dollars in the hands of our foreign creditors, while at the same time b) it requires much more borrowing from our foreign creditors.
Where will our foreign creditors get the money to loan us if they don't have significant trade surpluses? If they don't loan us the money, where will the federal government get the cash to fund stimulus packages?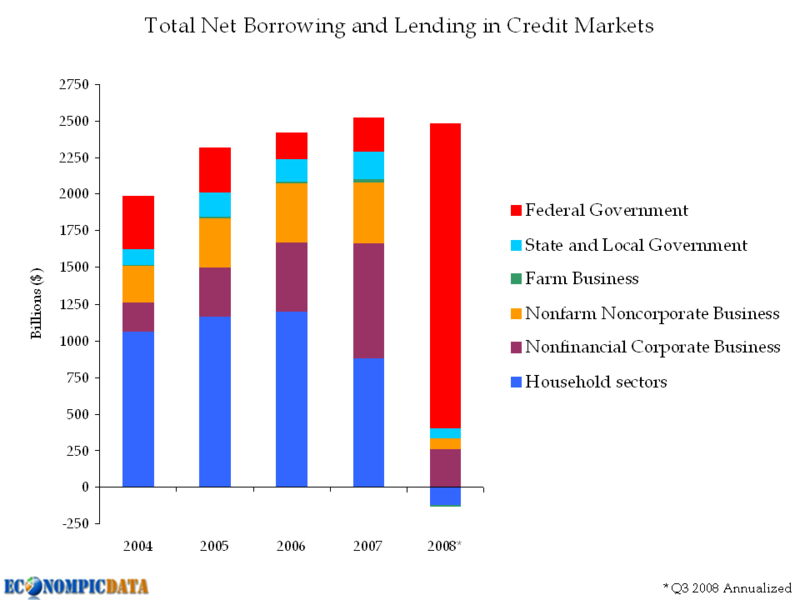 On November 14 and 15 most of the world leaders met in Washington for what many called Bretton Woods Summit 2. It was characterized by statements from French President Nicolas Sarkozy who said, "The evil is deep, We must rethink the financial system from scratch, as at Bretton Woods."
World Bank president Robert Zoellick got directly to the point by saying, "We will not create a new world simply by remaking the old."
Despite all the talk, Britain and America were more interested in remaking the old, thus nothing important was decided. Even more importantly was the dominance that America and Europe took in the talks.
Normally when a creditor and debtor talk, it is the creditor that holds the power. Yet the world still talks about money as if the debtor does. What is Asia's position on this?
I don't know. I'm not sure if even they know. Asia appears to lack competent leadership, and that is giving Bretton Woods II a little more breathing room. But the fundamental dysfunction of the current system is getting critical, and Asia is going to have to take a leadership role whether it likes it or not.
It's a Brave New World.