The National Association of Realtors released their existing home sales figures.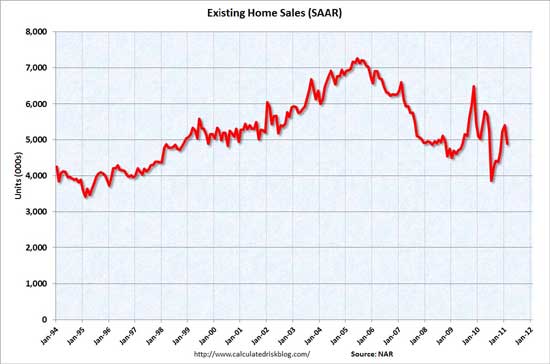 Existing-home sales, which are completed transactions that include single-family, townhomes, condominiums and co-ops, dropped 9.6 percent to a seasonally adjusted annual rate of 4.88 million in February from an upwardly revised 5.40 million in January, and are 2.8 percent below the 5.02 million pace in February 2010.
All cash sales, which implies investors, not families are buying the homes, hit a record at 33% of all existing home purchases.
The median price of all existing home sales is $156,100, a 5.2% drop from last month.
Distressed homes – sold at discount – accounted for a 39 percent market share in February, up from 37 percent in January and 35 percent in February 2010.
This means people are picking up foreclosures at bargain prices.
Housing inventory also increased an 8.6 month supply, but is down 1.2% from last year.
Total housing inventory at the end of February rose 3.5 percent to 3.49 million existing homes available for sale, which represents an 8.6-month supply at the current sales pace, up from a 7.5-month supply in January.
The graph was courtesy of Calculated Risk, where they are more graphs of NAR data.