The BEA is finally giving us some interesting data in this BEA economic release, Summary Estimates for Multinational Companies: Employment, Sales, and Capital Expenditures for 2009. Their statistics show U.S. multinationals fired more Americans than those abroad during this recession, even while some of these companies were bailed out by U.S. taxpayers. Additionally, these same corporations clearly have been offshore outsourcing jobs over the last decade.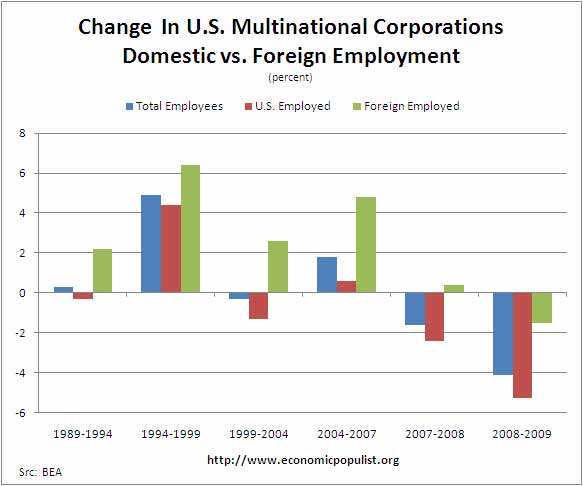 In 2009, these large multinational corporations fired Americans to the point of reducing their workforces 5.3%, yet in foreign countries, only reduced their workforce by 1.5%.
While the report gives data for 2009, it also shows over time, we have a clear cut pattern of U.S. Multinational corporations hiring less Americans, hiring more abroad. When it's fire season, these same companies are firing more Americans than those canned abroad. The data also shows they used this recession to hid their never ending offshore outsourcing of American jobs.
The below graph shows these companies fired American employees by 2.9 million while hired over 2.4 million people in foreign nations for the 1999-2009 decade. Recall the China trade agreement went into effect about this time, as did cheaper Internet which enabled offshore outsourcing of services to India.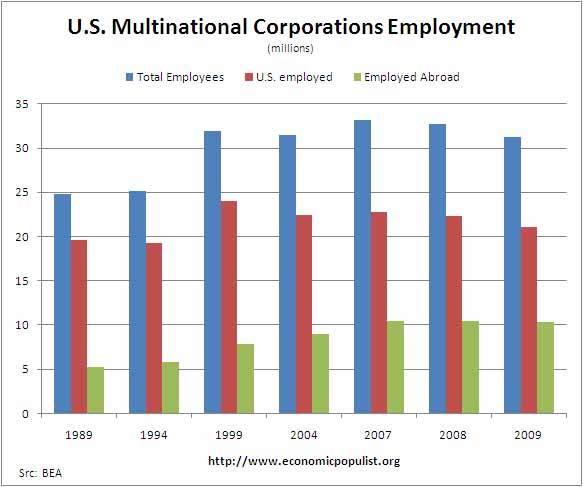 These roaming the globe multinational corporations account for 20% of the jobs, or one-fifth, in the United States. Of their total workforces, they reduced employment in the United States by 1%, to 67% in 2009.
Notice in all of these graphs, the dates are not linear, therefore the slope, or decline of American jobs appears stronger if you read the bars as a year to year comparison, so pay attention to the date at the bottom. Regardless, the graphs do show a valid, clear cut pattern of offshore outsourcing, or moving jobs, investment offshore by large U.S. multinationals.
Below is a graph of the drop in overall employment in the United States by multinational corporations versus the rest of the globe.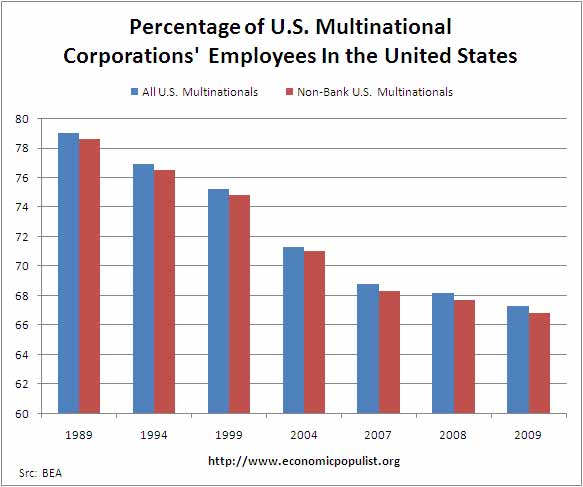 Multinationals also spent less in the United States. While capital expenditures dropped 20.2% in foreign nations by these corporations, in the United States capital expenditures declined 20.7%.
Foreign multinationals also fired Americans in 2009, so while U.S. multinationals fire more Americans than employees in other countries, other large multinationals appear to be loyal to their own nations, keeping those workers and instead, firing the ones abroad, that being Americans.
Employment in the United States by majority-owned U.S. affiliates of foreign MNCs decreased 7.9 percent in 2009, to 5.2 million workers, compared with a 5.3 percent decrease in U.S. private industry employment. U.S. affiliates accounted for 4.7 percent of U.S. private industry employment in 2009, down from 4.8 percent in 2008.

Capital expenditures by these affiliates fell by 15.6 percent to $159 billion, and sales fell by 15.7 percent to $2,963 billion.
Believe this or not, we have some idiots out there trying to claim Americans suck and are stupid and that's the reason this is going on. Not by a long shot. Multinational corporations have their bean counters analyzing everything from cheap labor to where to park their profits to make sure they never pay taxes. It's all about squeezing the worker and their Benedict Arnold herd mentality that all quarterly profit increase roads lead to China.
If you're wondering what happened to the American dream and the U.S. middle class, there it is in the above graphs, shipped off to China, India, Brazil and any other nation somebody almost randomly labeled an emerging economy. It's mind numbing corporate herd behavior. If a nation is labeled an emerging economy, they all get on the bus and ship investment and jobs sover there.
Just so you know the BEA ain't smoking crack, the above data results are also reflected in the ADP employment report. ADP breaks down private hiring by business size. Their reports repeatedly show almost a flat line in job creation by large U.S. businesses.