Multiple Screens! 360 Panavision! Let the shouting begin! The Committee on Oversight and Government Reform will hold hearings the next two days. Committee Chair Representative Waxman:
Lax oversight and reckless investments on Wall Street are causing massive disruption throughout our economy. Our hearings will examine what went wrong and who should be held to account.
Up on the executive chopping block are:
DAY 1: Causes and Effects of the Lehman Brothers Bankruptcy
Dr. Luigi Zingales, Professor of Finance, University of Chicago
Dr. Robert F. Wescott, President, Keybridge Research LLC
Nell Minow, Chairman of the Board and Editor, The Corporate Library
Gregory W. Smith, General Counsel, Colorado Public Employees' Retirement Association
Richard S. Fuld, Jr., Chairman and Chief Executive Officer, Lehman Brothers Holdings
DAY 2: Causes and Effects of the AIG Bailout
Eric R. Dinallo, Superintendent, New York State Insurance Department
Lynn E. Turner, former chief accountant, Securities and Exchange Commission
Robert B. Willumstad, former Chief Executive Officer, AIG
Martin J. Sullivan,former Chief Executive Officer, AIG
Maurice R. Greenberg, former Chief Executive Officer, AIG
Can we start with impeachments of Congress?
Meanwhile, back at the bail out, new reports are appearing on the massive deficit, the U.S. dollar and questioning the wisdom of the bail out already.
The dollar is doomed but most people don't know it yet.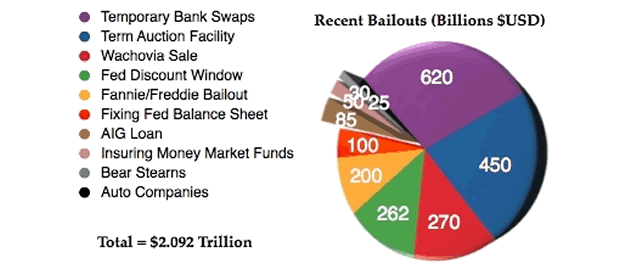 The Malaysian press writes Huge repercussions if bailout fails.
Economists are concerned that if the massive US bailout failed, the repercussions to the US economy and the rest of the world would be disastrous and far-reaching.

A local economist said a major concern was that the US economy might go into a tailspin, dragging along other countries that have financial dealings, past and present, if the financial credit crunch was not resolved quickly.

He said there was also a fear of the US dollar falling and its impact worldwide especially if the US economy also collapsed.

The economist said the US had been on a federal trade deficit for many years and this deficit had hit a record of US$311bil for the first half of fiscal year 2008, up from USS162bil the year before.

"As a nation, the US has been spending above its productivity, but still has the liberty to print more US currency so long as other nations are prepared to accept the dollar," he said. However, the situation may be different if the US economy and dollar collapse
Yet the New York Times notes, the dollar is surging....for now.
The appeal of the United States reflects a lack of better options. Much has been made over the last few years about the rise of the euro as a rival to the dollar. But Europe hardly looks like a safe bet now, with its own crisis metastasizing
So, we wait and while waiting, start pointing blame. After all, a good plan couldn't be considered now could it?
Seeking Alpha sums it best:
Bailout Backfire and the Ticking Debt Time Bomb