The Home Ownership rate just dropped to 66.9% in Q3 2010, down from 67.3% a year ago. This brings home ownership back to 1999 levels.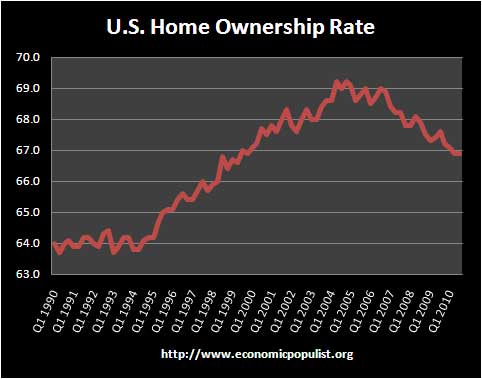 Rentals have a national vacancy rate of 10.3%, in comparison to 11.1% in Q3 2009. That's pretty astounding, over 1 out of 10 rental units are empty.
No surprise Seniors have the highest home ownership rate.
For the third quarter 2010, the homeownership rates were highest for those householders ages 65 years and over (80.6 percent) and lowest for the under 35 years of age group (39.2 percent). The rates for householders 35 to 44 and from 45 to 54 were lower than their respective rates a year ago, while those householders less than 35 years old, 55 to 64, and those 65 years and over showed no significant change from their corresponding rates in the third quarter 2009.
While Calculated Risk has some more analysis on home ownership and vacancy rates, a couple of points not addressed are:
What caused the sudden jump in home ownership n the early 90's?
Is poverty and homelessness contributing to the high vacancy rates?
According to the Census Bureau, 18.8 million housing units, or 11% are permanently vacant. With 5.4% of those housing unit vacant being held off the market (read foreclosed inventory). Held off the market is that infamous shadow inventory of homes.
Approximately 85.6 percent of the housing units in the United States in the third quarter 2010 were occupied and 14.4 percent were vacant. Owner-occupied housing units made up 57.3 percent of total housing units, while renter-occupied units made up 28.3 percent of the inventory in the third quarter 2010. Vacant year-
round units comprised 11.0 percent of total housing units, while 3.4 percent were for seasonal use.

Approximately 3.3 percent of the total units were for rent, 1.5 percent were for sale only, and 0.8 percent were rented or sold but not yet occupied. Vacant units that were held off market comprised 5.4 percent of the total housing stock. Of these units, 1.7 percent were for occasional use, 1.0 percent were temporarily occupied by
persons with usual residence elsewhere (URE), and 2.7 percent were vacant for a variety of other reasons.
So, where did the people go who used to be in these housing units? From the population growth of the U.S., I don't think they died or expatriated.
It seems I'm not alone in wondering where did all the people go? Mortgage Daily, with more graphs and details, also pointed out what homelessness does to a society:
An adult without a permanent address has difficulty finding employment, maintaining a healthful lifestyle, or a medical regime. A family without stable and affordable housing cannot access many social and health related services, or provide adequate clothing and nutrition; its children become transient students, frequently with social and psychological problems. Imagine how those individual small human problems impact the schools which must educate the transient and troubled students, a health system that must cope with crisis rather than prevention, an increase the burden on law enforcement and the social network.
Imagine if the government simply let the homelessness stay in these houses, rent free? The responsibilities are property upkeep, moving the law, keeping it clean. 18,700,000 housing units could help a hell of a lot of desperate people right now.
Maybe the government could even start a rent to own program, so people could pay back a housing loan after some of these people get back on their feet?
Even Bloomberg states the obvious, home ownership has fallen because banks are foreclosing on people.
Lenders are repossessing properties as borrowers fall behind in mortgage payments after the worst housing crash since the Great Depression. Banks seized a record 288,345 homes in the third quarter, up 22 percent from a year earlier, according to an Oct. 14 report from RealtyTrac Inc. in Irvine, California.
What caused the increase in home ownership in the first place? Lax lending standards is part of the blame, but could it also be, at least in the 90's, that more people had jobs and assumed their income would rise?
You might also be aware from Q1 2007 to Q3 2010, the Black home ownership rate dropped 3% and the Hispanic home ownership rate dropped 3.1%. White people? 0.6%.
Even more interesting is more Hispanics than Blacks own homes. Unfortunately the government refuses to differentiate between Americans of Hispanic ethnicity and those who are in this country unlawfully and are also of Hispanic ethnicity.
Below is the graph from the Census Bureau. It shows the yearly change regionally for a little more detail on home ownership.