The American Dream. Ozzie & Harriet. The great American middle class. Folks, it's gone for most. A distant memory only perpetuated to sell toothpaste and car insurance.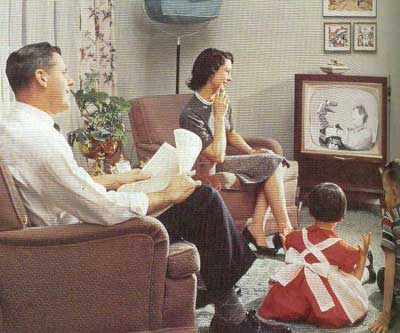 The The National Center on Family Homelessness has released a new report on homeless kids in the United States. 1 in 45 kids are homeless.
1.6 million American children, or one in 45 children, are homeless in a year.
This equates to more than 30,000 children each week, and more than 4,400 each day.
Children experiencing homelessness suffer from hunger, poor physical and emotional health, and missed educational opportunities.
A majority of these children have limited educational proficiency in math and reading.
Not surprisingly, the risks for child homelessness—such as extreme poverty and worst case housing needs—have worsened with the economic recession, even though the total housing capacity for families increased by more than 15,000 units in the past four years, primarily due to the federal Homeless Prevention and Rapid Re-Housing Program (HPRP).
Despite this bleak picture, planning and policy activities to support the growth and development of these vulnerable children remain limited. Sixteen states have done no planning related to child homelessness, and only seven states have extensive plans.
Since 2007, homeless kids have increased by 38%. The report notes this is worse than any natural disaster, including Hurricane Katrina. The report rightly notes financialization, foreclosures, recession and bank bail outs are all man made pain and who suffers? The most vulnerable in American society.
California, the great land of milk and honey and now illegal immigrants, accounts for 25% of all homeless kids and it seems California changes their counting methods so the report says this figure is low.
By State composite factors, including programs and policies, the best state to be in trouble is Vermont, the worst is Alabama. The worst state for the extent of child homelessness, adjusted for overall population is a surprise, hippie loving, granola crunching, liberal lovin' Oregon. The best state in terms of government programs and planning is Maine and the worse is Mississippi.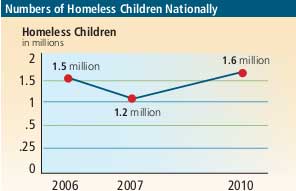 More interesting are historical trends. Homeless kids were unheard of from the 1940's to the early 1980's. No surprise considering the cut to programs and support, homeless kids started springing up in the mid 1980's. There was a huge spike in homeless children after Hurricanes Rita and Katrina, in spite of what you heard about FEMA trailers. The report goes into details for the year 2006 as well.
Pretty astounding and what a sad state of affairs for America. We can take care of banks and derivatives all day long but little kids who are desparate for a life basic, shelter, nah, I guess they are supposed to just pull themselves up by their own bootstraps.
The actual report, America's Youngest Outcasts 2010, is available here and goes into each of the 50 states by detail with more information on the effects of homelessness on children.