We all know the story of how the Grinch stole Christmas, but that wasn't good enough. Now Grinch retailers are stealing Thanksgiving too. The holiday is now officially co-opted so folk can stand in line at stores, out in the cold, all in hopes of saving $100 on some big screen TV. Gone is the time with family, a relaxing day of food and fun. Yup, big box retailers and even online retailers decided to offer those big screen TV deals at the very time most are sitting down to Thanksgiving dinner or grabbing their pumpkin pie.
Turkeys don't get basted as cooks monitor their computers and smartphones for those lightening deals. Relatives don't show up, instead lured to some supercenter's one hour only cheap TV ad. Gone is the calm and quiet, the slow cooking and the smells. Welcome to the hype, the aggression and the stress of getting one of those great deals in limited quantities available during a small amount of time, the time you'd normally be eating your dinner. By the time most would be finishing up their pumpkin pie, all of the really good deals were long gone. There was simply no way to enjoy Thanksgiving and get a sub $120 40-inch sub par TV. Retailer's rewriting of the Holidays is one ugly tune:
Better not cry, better not pout
Manipulating Retailers are Coming to Town
They know what you are spending
They know when you're awake
They know if you've been credit bad or credit good
They know how much crap you'll take
So you better watch out and better not cry
Or that bargain TV they will deny
Marketing Manipulators are coming to town!
How irritating to people and what a bad taste to put into people's mouths on Thanksgiving. Instead of contemplating the timing of mashed potatoes or smelling the air of slow roast, Americans are supposed to stare at their apps and computer screens trying to click on the right thing at the right time, wading through hundreds of bad deals in the process.
Those who love their Thanksgiving Dinner might just well get revenge. The initial reports show Black Friday sales are down 7% from last year to $9.1 billion. Yet by ruining people's Thanksgiving, retail sales were up 24% from last Thanksgiving to $3.2 billion. Did retailer's make up their drive consumers into a hyped up frenzy Black Friday sales lose by forcing people to give up their meal and stand in line out in the cold on Thursday?
A seven percent decline in Black Friday sales represents $685 million. Last year's Thanksgiving sales, where retailers also opened the doors early, were $2.37 billion. That's a gain of $832 million in Thanksgiving day sales. By forcing lowly paid employees to work on Thanksgiving and interrupt America's biggest dinner party, retailers gained $147 million dollars. Hmmm, one must wonder what the costs of labor and other costs were on Thanksgiving. Seems hardly worth it, $147 million to ruin people's holiday. These primarily figures also ignore the better economy, which implies an increase in holiday sales normally. Even the most hopeful projections had retail sales dropping by 0.5% over Thanksgiving and Black Friday, say no more.
Online sales were just as bad, forcing consumers to choose between a chance to grab a deal or a smooth mashed potato, as they are now in direct competition with brick and mortar stores. Even with twitter alerts, apps and advance notice, one couldn't get that click in and baste a Turkey so it came out moist and brown. Instead of focusing in on dinner and guests, hosts were perpetually checking their smartphones, trying to get in on that lightening deal online. Online sales may have increased 8% with 47% of us using our smartphones to shop, yet at what cost? What a shame it is that there is no ruined dinner metric, or dry overdone Turkey meter to show at what these gimmicks by retailers to increase their sales cost in our culture and happiness. We haven't even mentioned the workers who in no way can enjoy Thanksgiving, even when they have others making the meal. There were some protests against Walmart's poverty wages but generally workers are scared to refuse, afraid they will lose their job by standing up for their own well being and rights.
Overall, retails sales are predicted to increase 4.1% for the holidays. That's $616.9 billion in sales, yet the rise is still below the consumer frenzied 6% pre-recession increase. What's worst of all in these so called deals are prices seem to be jacked up in many of them. Just two months ago much of this was on sale and specials much lower than the advertized hype machine.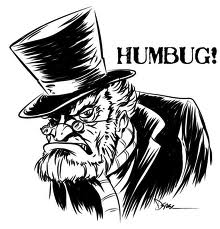 The real question is will the protests, outrage and irritation most of America feels at this point impact the rest of holiday sales? , Will being forced to give up our holiday to try to snag a TV we can actually afford put the damper on the consumerist time of the year?
Unfortunately there is no bah humbug meter available but we strongly suspect retailers have put the scrooge in screwed over consumers. We believe many will curtail their spending as a result. In fact consumers might be already showing their disdain. Spending is down 11% over the past four days, from $57.4 billion in 2013 to $50.9 billion now.
Looks like Cyber Monday is more of the same marketing hype tactics consumers saw already. Retailers work the hype and try to build the frenzy, yet the so called deals are often priced higher than discounts offered just two months ago. Already Cyber Monday projections of people shopping online are down to 127 million from 131 million. People shopping is one thing to estimate yet how many will never click that buy now button? We expect sales to be much lower than last year as we didn't spy even one TV or laptop deal worth getting that was in most people's price range. C'est la vie retail world. The silver lining in all of this is if more people stopped participating in the consumer greed madness, America might just get their real holiday back. Gobble, goggle.