The election was won by identity politics. Black people voted for President Obama by over 93%, Hispanics 71% and Asians 73%. The exit polls show 55% of women voted for Obama, whereas 59% of white people voted for Romney. Ninety percent who thought the economy is good voted for Obama. Those who thought it is not so good voted for Romney by 60% margins.
Why Romney lost so big is a topic really outside our purview, yet we'll put in our 2¢ that it might be due to campaign rhetoric on policies promised. Unfortunately, there are words and there are deeds. What has the Obama administration done economically for the demographic groups who gave President Obama a second term?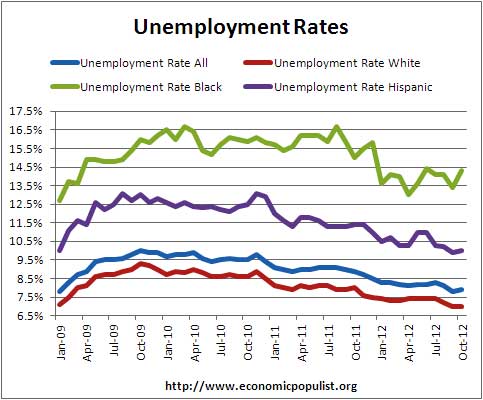 Let's take a look at a few economic statistics for those who voted for Obama. Above is graph of unemployment rates to match the exit polls. As we can see white males have done the best under Obama by declining unemployment rates, yet only 35% of white males voted for him. While Obama won 55% of the female vote, white women voted for Romney by 56% margins. The unemployment rate for white males was 7.2% in October 2012 whereas in January 2009 was 7.7%. Below is a graph of unemployment rates for women vs. men.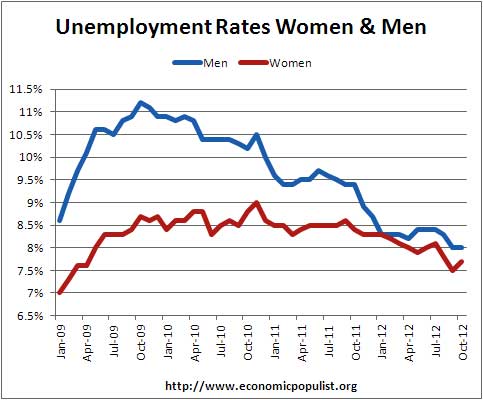 Below is a table of unemployment rates at the the start of Obama's first term and the latest, October 2012. We see women and blacks unemployment rate has increased, not decreased even though the recession officially ended on July 2009.
Select Unemployment Rates

Group

January 2009

October 2012
All
7.8%
7.9%
White
7.1%
7.0%
Black
12.7%
14.3%
Hispanic
10.0%
10.0%
Women
7.0%
7.7%
Men
8.6%
8.0%
Single women have suffered economically and especially if they have children. Below is a table of unemployment rates for single mothers versus single fathers from the start of the Obama administration. We show the annual results since these unemployment rates are not seasonally adjusted. We also previously showed how women get the economic shaft.
Annual Unemployment Rates For Single Parents

Year

Men

Women
2009
15.0%
13.6%
2010
15.7%
14.6%
2011
11.9%
15.0%
Unfortunately the BLS does not survey employment based on immigration status. The only metric we have from the BLS is by whether someone is born inside the United States, with U.S. citizenship and who were born in foreign countries. This means people who came to the U.S. as children, legally are lumped in with foreign guest workers and people who came here illegally. There are millions of foreign guest workers in the U.S. From the 2010 Census, the foreign born make up 12.9% of the total population. Of that 12.9%, 53% are from Latin America. The foreign born who are naturalized citizens is 5.6%. Non-citizens are 7.3% of the total population. It's safe to say the below foreign born unemployment rates represent at least 50% who are not citizens, but unfortunately again, this includes green card holders mixed together with foreign guest workers and illegal workers. Over a third of the foreign born came to the United States in 2000 or later. Here is the Census report on the foreign born.
Annual Unemployment Rates for Born in the U.S. vs. Not

Group

2009

2010

2011
Foreign Born
9.7%
9.8%
9.1%
Foreign Born Men
10.0%
9.9%
8.8%
Foreign Born Women
9.2%
9.6%
9.5%
Native Born
9.2%
9.6%
8.9%
Native Born Men
10.3%
10.6%
9.5%
Native Born Women
7.9%
8.5%
8.3%
The above table shows foreign males unemployment rate has dropped 1.2 percentage points from 2009 to 2011 while the official unemployment rate for workers born in the United States has only dropped 0.8 percentage points.
Below is a graph from the Census of real median household income by race and Hispanic origin.
From 2009 to 2011, individual black people who are not Hispanic median income dropped -4.49% wheres white alone median income, adjusted for inflation, declined by -2.27%. Asians were worst off with -11.24% drop in real median income from 2009 to 2011. Hispanic inflation adjusted individual median income only dropped by -0.62% during the same years.
While males, not of Hispanic origin median income declined by -1.1%, from 2009 to 2011. While females on the other hand lost -3.38% of their median income by the same time frame.
Black males real median income dropped -5.69% from 2009 to 2011 whereas black women inflation adjusted median income declined by -3.24%. Asian males real income declined -7.18% and women Asians' inflation adjusted income plunged -13.66%.
The Hispanic male real median income only declined -1.69% and the female Hispanic real median income barely budged, with a decline of -0.99% from 2009 to 2011.
The foreign born real individual median income declined by -0.49% from 2009 to 2011. If one became a naturalized citizen, their real median income declined by -1.72%. For foreign born who are not citizens, their real median income rose by 3.3% from 2009 to 2011. The foreign born who are not citizens include legal permanent residents or green card holders, foreign guest workers and those working here illegally.
Conclusion
From the above statistics some groups who fared better than others under an Obama administration voted for Romney. Others who have really taken a financial hit the last four years voted for Obama anyway. The one group who seems to have improved their economic conditions the most under an Obama administration are actually not citizens of the United States and therefore cannot vote.
If people really voted their pocketbooks and past history, by the statistics at least we should have seen a Romney landslide. Unfortunately the GOP continually pound on economic policies and agendas proven not to work. Yet from the above economic facts, it's clear Obama's first term was no picnic for women and some minorities.
There's an old expression, put your money where your mouth is. Time will tell if Obama's policies match his words, but by the first term, clearly they did not.