Recently there has been several stories about 2000s being the Lost Decade of Jobs. No kidding. But what the stories fail to discuss is what are the reasons for the lack of job growth. Could it be because of economic policy? Heck, yeah - our current economic policy relies on wage suppression, cheap imports, more debt, abandonment of manufacturing sector (part of wage suppression strategy) and asset price inflation. But why don't we hear about this in the traditional media?
First, a Business Week article: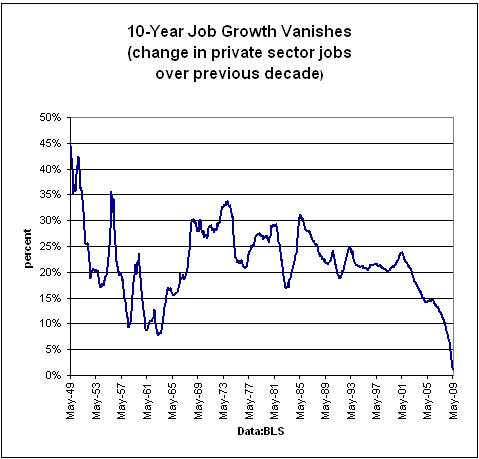 Second, from a New York Times Article:
Third, from the Washington Post: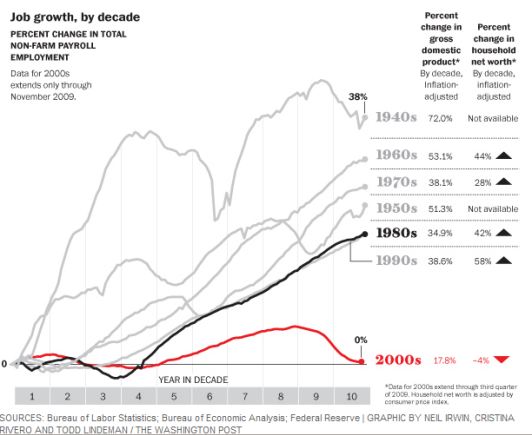 Last, the Chart of the Day: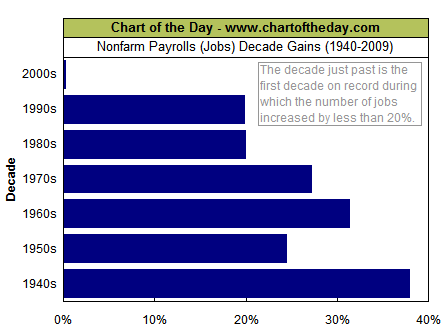 All these graphs show the same thing two things: 1) number of private sector jobs and 2) disturbing downward trend in jobs by decade. What is missing is any discussion about why or how our current economic policies are failing us? Why? Because any changes to our economic policies will require upsetting the status quo and certain socio-economic groups or classes won't like that.
Cross Posted @ Rebel Capitalist