It's a Bunch of B.S.
You heard it. He said it. Representative Peter DeFazio called Treasury Secretary Paulson's Bail Out Bill a bunch of B.S.....
The Reaction? Damn straight Congressman DeFazio!
If only we had more of you to represent us!
Anyone not familiar with Congress Representative Peter DeFazio of Oregon, you should be. This is one guy who cannot be bought and speaks some obvious truth and votes accordingly! Pander? Not this guy and he sure as hell isn't pandering in this speech.
Also, Democracy Now's phone interview with Senator Bernie Sanders on the bail out:
What I find strange is how they are not talking about HOLC, which looks like a very good alternative to a bail out in terms of getting rid of toxic paper.
CQ Politics has the latest on negotiations of the bill.
So will the wisdom of DeFazio be listening to? I doubt it frankly. The reality is Democrats are bought and paid for by the financial lobbyists as badly as the Republicans are.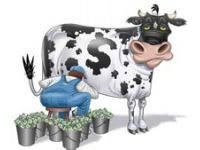 Our only hope is these Democratic leaders believe their cash cow is running dry.
Update: Senator Bernie Sanders has put together a petition for you to read and sign.