Over a week ago, I promised a follow up post on May's Leading Economic Indicators. Real life intervened, so, tardily, here it is.
April's LEI were the most strongly positive indicators in 2 years, and the first batch of readings for May were similarly positive. By June 1, we already knew that, by weight over 50% of the indicators would be positive. Real money supply was still strong as the Fed continues to re-liquify (or re-solvenc-fy) the banking system. The yield curve was even more strongly positive than before, due to the backup in long term rates while short term rates are still essentially 0%. Stock prices (over the last 90 days) also strongly rallied. Consumer expectations about the future is rising sharply. Average initial claims for unemployment insurance were basically flat for the month. By weight, that's 52% positive, and 3% neutral.
So May's data started out looking very positive. As we shall see, the suckerpunch was saved for the end.
Last week, we received information on over 30% more of that weight: supplier deliveries turned dramatically up on Monday, coming within 2/10 of a point of turning expansionary. Orders themselves did expand, to the point where the Institute for Supply Management issued a note indicating that the recession may have bottomed in May and a recovery begun.
Manufacturers' new orders, reported last Wednesday, also turned up, although new orders on consumer goods declined.
The suckerpunch was saved for Friday. As I noted in my previous post, average weekly manufacturing hours are the most important of the three, "not just because of its 25% weight in the index, but also because it was dropping like a stone until turning slightly upward in April. Whether April's increase was just a blip of data, or whether it presaged a real manufacturing turnaround may well be determined this week."
And, there is no mincing words, it was bad. Manufacturing hours declined .2 taking away April's gain, and renewing the previous slide, although at something of a decreased rate. Here's the graph: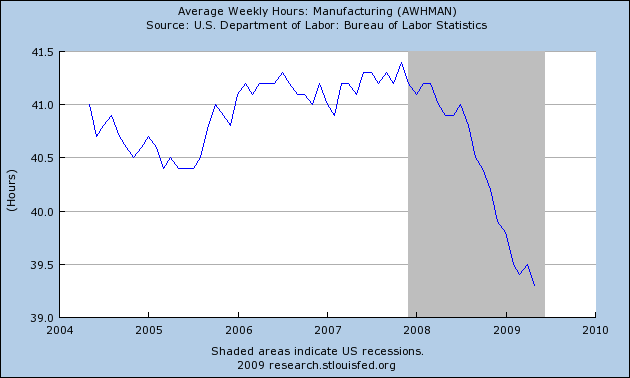 If you are looking for a reason to be skeptical of "green shoots", then manufacturing hours is your biggest evidence. Simply put, until manufacturing hours show strong evidence of bottoming out, the recession cannot be over.
As a result, currently 61% of the leading indicators are positive, 33% are negative, and 2% neutral. Because the manufacturing hours data was SO negative, however, that may be enough to tip the entire May number back into negative territory. The only item left to be reported is housing starts. If the LEI for May remain positive, it will be weakly so.