U.S. multinational corporations are hiring. The problem is most of that hiring is happening abroad. In an updated BEA summary on sales, investment and employment by Multinational Corporations for 2010, we have a 0.1% increase in hiring for jobs in the United States while MNCs increased their hiring abroad by 1.5%.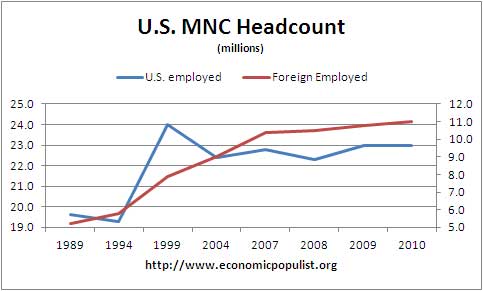 Worldwide employment by U.S. multinational companies (MNCs) increased 0.5 percent in 2010, to 34.0 million workers, with increases in both the United States and abroad. Employment in the United States by U.S. parent companies increased 0.1 percent, to 23.0 million workers, which contrasted with a 0.6 percent decrease in total private-industry employment in the United States. The employment by U.S. parents accounted for roughly one-fifth of total U.S. employment in private industries. Abroad, employment by the majority-owned foreign affiliates of U.S. MNCs increased 1.5 percent, to 11.0 million workers.
U.S. multinationals account for 20% of U.S. hires in the private sector. Yet from 1999 to 2009, U.S. MNCs decreased U.S. employment by 1 million workers while expanding employment abroad by 2.9 million. The U.S. share of employment by MNCs went from 75.2% in 1999 to 67.7% by 2010.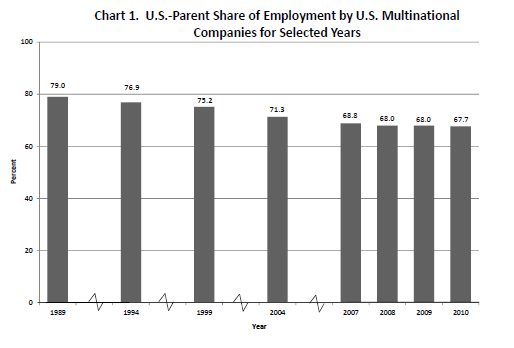 Think foreign corporations operating in the United States are taking up the hiring slack? Nope, they dropped their U.S. employment by 1% in 2010.
Employment in the United States by majority-owned U.S. affiliates of foreign MNCs decreased 1.0 percent in 2010, to 5.2 million workers, a rate of decrease slightly faster than the rate of decrease of total U. S. private industry employment in 2010. U.S. affiliates accounted for 4.7 percent of U.S. private industry employment in 2010, the same share as in 2009.
Investment, or capital expenditures are also increasing by higher percentages abroad than in the United States for these multinational corporations:
Worldwide capital expenditures by U.S. MNCs increased 3.9 percent in 2010, to $621 billion. Capital expenditures in the United States by U.S. parent companies increased 3.3 percent, to $447 billion. Ca pital expenditures abroad by their majority-owned foreign affiliates increased 5.5 percent, to $173 billion.
Capital expenditures are funds used to build new facilities, plants, growth for future production. They are disproportionately foreign, by sales volume, as shown in the below percentage change.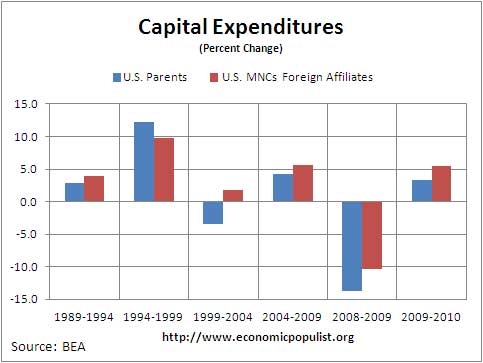 Some will claim the reason for growth abroad is local sales. That U.S. multinationals are expanding in foreign markets. While part of that is true, look at the below sales chart for U.S. multinationals abroad and domestic. If sales were the driving force in U.S. headcount reduction why did hiring increase when foreign sales cliff dove in 2008-2009?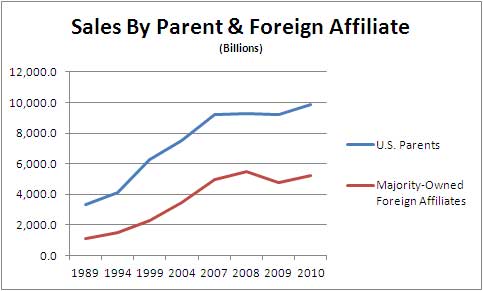 Sales by foreign affiliates majority owned by U.S. MNCs dropped -13.1% in 2008-2009, yet employment abroad increased by 3.3%, where in the United States headcount increased 3.1%. During the same period, U.S. parent sales only declined -0.6%. If offshore outsourcing as a culprit is denied from these statistics, well, I think we need a new set of economists analyzing this data.
The future looks bleak too. IBM is projected to slash their American workforce by 78% by 2015. India's BPO industry just hit the $100 billion a year mark. Now the Philippines is hitting $25 billion a year by 2016 by the business of offering cheap labor. In other words, the race to the bottom continues unabated.