While people look to the Fed and pontificate economic creationism, new economic growth projections have been rolling in and none of them are good.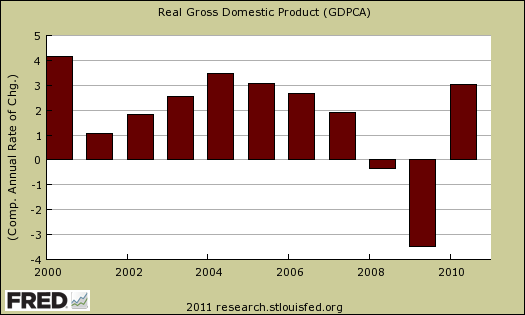 Even more amusing is the never ending belief that something just magically happens down the road and unemployment returns to 5%. Case in point is this amusing CBO graph below with it's magical unemployment rate decline cliff. While the horizon is always pushed further and further down the path, magically the sun comes up in some dramatic fashion in some nebulous future time.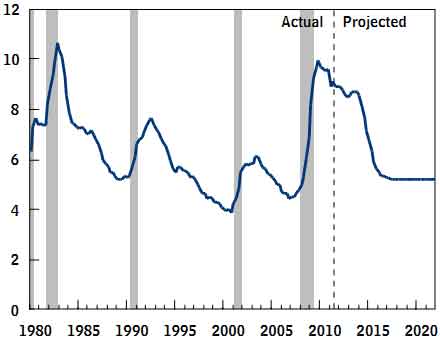 Beyond the sudden decline in the unemployment rate for 2016 by causes undetermined, the CBO has more dire projects on actual GDP growth, yet guess what, the below CBO GDP projections are on the high side.
CBO expects that the recovery will continue but that real (inflation-adjusted) GDP will stay well below the economy's potential — a level that corresponds to a high rate of use of labor and capital—for several years. On the basis of
economic data available through early July, when the agency initially completed its economic forecast, CBO projects that real GDP will increase by 2.3 percent this year and by 2.7 percent next year. Under current law, federal tax and spending policies will impose substantial restraint on the economy in 2013, so CBO projects that economic growth will slow that year before picking up again, averaging 3.6 percent per year from 2013 through 2016.

With modest economic growth anticipated for the next few years, CBO expects employment to expand slowly. The unemployment rate is projected to fall from 9.1 percent in the second quarter of 2011 to 8.9 percent in the fourth quarter of the year and to 8.5 percent in the fourth quarter of 2012—and then to remain above 8 percent until 2014.
IHS insight updated their employment projections for metro areas. It's bleak, with 48% of all U.S. metro areas still having an unemployment rate above 8% by the end of 2012. One in eight cities will have no job growth at all until 2021.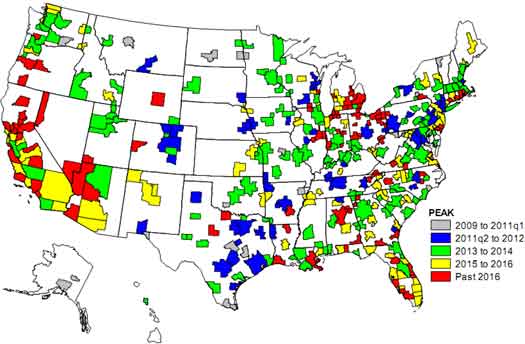 States as a whole are not much better according to IHS Global Insight with some states not returning to pre-recession unemployment levels until 2017.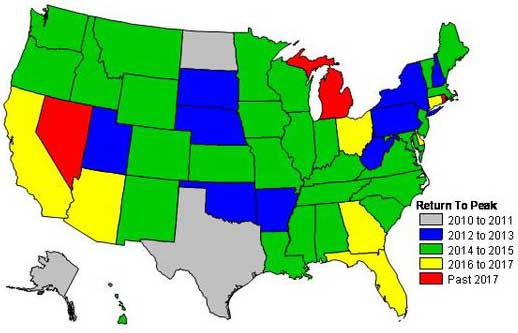 Double-digit unemployment remains in 103 of our nation's metropolitan areas and will continue to plague almost 70 by the close of 2012. What is even more startling is that for almost 50 metropolitan areas this will be a lost decade, as the effects of the recent recession will linger on through or even beyond 2020.
Now that it's clear America isn't getting any real jobs anytime soon, we also have bleak economic growth assessments across the board. Mark Zandi came out with a GDP at 2% annualized over Q3, Q4 2011 and 3% annual GDP growth for 2012. Barry Ritholtz notes Zandi's track record isn't so great, although the same can be said about the CBO, the Federal Reserve and assuredly the President's economics team. That said, most private forecasting divisions are much lower in their future GDP estimates.
JP Morgan projects a meager 1% GDP growth for Q4 2011 and 0.5% for Q1 2012. Goldman Sachs lowered U.S. growth projections to 1.7% and 2.1% annual real U.S. GDP for 2011 and 2012 respectively.
Wells Fargo joined in the party with a 1.6% GDP 2011 forecast and a 1.1% real U.S. GDP projected for 2012. Not to be outdone, Citigroup downgraded U.S. GDP to 1.6% for 2011 and 2.1% for 2012.
Clearly the consensus for economic growth for 2011 is single digit nothingness with 2012 not looking much better. While many are worried about a double dip the truth is the U.S. economy had a heart attack and is lying cold, flat lined.
The world isn't looking much hotter. UBS lowered global GDP growth as did Citigroup, yet the World Bank has U.S. annualized GDP forecast to be 2.9% for 2012 and 2.7% for 2013.
As a multiplier, real annualized GDP quarterly growth usually needs to be above 2.5% in order to generate jobs. What we have is a great consensus of a stagnant economy for the foreseeable future.
Bear in mind the BEA publishes real quarterly GDP at annualized rates, so one can compare say 2010 to Q2 2011 for apples to apples growth, or lack thereof.