Boy this guy's got guts. There is no doubt in my mind he will be swarmed with insults for stating the obvious, but at least he begs the question.
In Eye on Unemployment: Should the U.S. Stop Immigration? Hunkar notes:
When the private sector created 100K jobs between May 1999 and May 2009, the annual issue of LPRs averaged 1 Million per year from 2000 to 2008. Both the private and public sector combined created 3.5 new jobs in the past decade.

This is simply far less than the 10 million immigrants admitted to the country. It must be noted that not all of the one million LPRs issued are working age adults. Some of them may have been here already with jobs when they became permanent residents.

Overall more immigrants came into the country during the decade when the private sector job growth was almost non-existent. We must also remember that the above statistics do not reflect the flow of illegals that entered the country during the period discussed which could also be in the millions in a decade.
Note a LPR means a green card holder, or legal permanent resident. Now look at the percentage of LPRs entering the U.S.: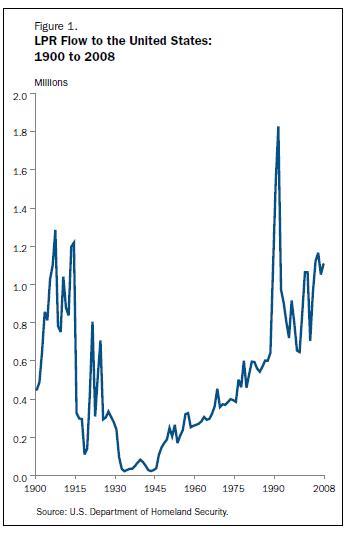 src: Seeking Alpha
During the past two decades millions of jobs have disappeared in the US as those jobs were exported to low-wage countries such as Mexico, China, India, Vietnam, etc. Manufacturing was hard hit as literally thousands of factories were shutdown and moved to overseas locations as part of NAFTA and globalization. Entire towns in the midwest were decimated and became "rust-belt" towns overnight because of this phenomenon.

In addition to the granting of legal permanent residency status, the U.S. also allows thousands of workers into the country under different categories of visas.
He's got that one right, if corporations cannot offshore outsource the job they bring in foreign labor, often to undercut wages.
So, the bottom line is anyone willing to look at labor economic realities? It's called the law of supply & demand.
So, good for Hunkar for asking the obvious and recognizing the laws of labor economics. It's a very good post, loaded with statistics on the labor supply and job creation over the last decade.
I agree with him, no, it doesn't make sense to have such large immigration numbers when the unemployment rate is so high.
Will he get crucified for stating the obvious?