The motto of most police departments is to serve and protect. They might tack onto the end of that phrase banks, Wall Street and powerful people. The below photo, by Randy L. Rasmussen, The Oregonian, captures people getting attacked with pepper spray when protesting in front of JPMorgan Chase Bank.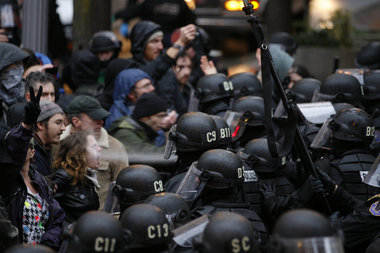 After a weekend of evictions, the Occupiers numbers multiplied. Now, here comes police violence. It's bad enough the police pepper spray 84 year olds, put an Iraq war veteran into intensive car, crack heads, destroy property, pull out nightsticks on women who bare their breasts ...what's even more outrageous is the cops are doing this to protect the banks and wall Street.
Today were protests on Wall Street, against Banks, crumbling bridges and roadways, and a strong demand for jobs. The response is this injured protestor, captured by Esquire.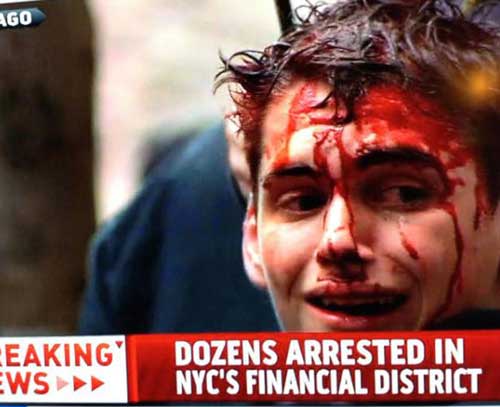 The protestors are not small groups anymore. In New York, the crowds number 10,000. Just today there were over 300 arrested. The Huffington Post runs an entire real time news section, there are so many events and stories. Many news organizations run live blogs due to the story moving so quickly. Protests are global, in almost every city of significant size. In other words, the occupy movement is simply not going away because police cleared tents and parks.
You'd never know how large this movement is by the media. Never ending complaints about inconvenience, polls say, and business complaints fill the local news coverage. The real reasons for the protests come not from interviews or actual reporting, but from the signs protestors carry which get displayed in the background video.
What we are seeing is more police in riot gear, more use of batons, pepper spray, cracked heads, bulldozers, sound cannons and worse. One thing is clear, the police are being used in an attempt to shut down this movement.