Remember the days when we had grand public works, when people worked at one job and were rewarded? A corporation actually cared about their employees? When buying a home was the ultimate American Dream?
That dream has been replaced with strategic default on one's home, praying the onslaught of foreclosures allows you to live rent free for a long period in order to not be homeless. According to Fannie Mae, 27% of negative equity homeowners think it's ok to walk away from their mortgage. Who can blame them when only individuals consider the ethics and morality of a contract these days?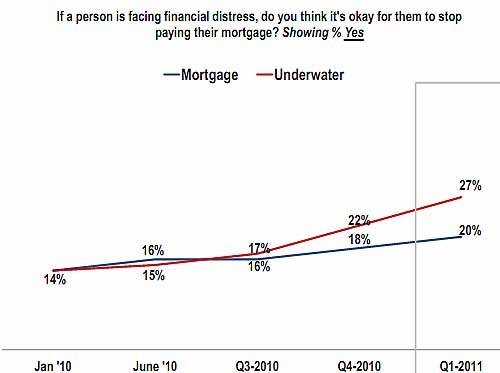 The situation is so bad, the U.S. is turning into Squatter Nation:
Some 4.2 million mortgage borrowers are either seriously delinquent or have had their cases referred to lawyers to pursue foreclosure auctions, according to LPS Applied Analytics. Of those, two-thirds have made no payments at all for at least a year, and nearly one-third have gone more than two years.

These cases can go on and on. Nationwide, it takes an average of 565 days to foreclose on borrowers in default from their first missed payments to the final auction. In New York, the average is 800 days and in Florida, where the "robo-signing" issue is particularly combative, it's 807.

If they want to fight evictions hard, borrowers can remain in their homes even longer while their cases are being worked through.
According to JP Morgan Chase there are millions of Americans living rent free for 5 years and counting:
Squatter's rent increased to over a $60 billion annual rate early last year, but with delinquencies declining that has come down recently to just over $50 billion
The amount of equivalent rent is so high, now Squatter's rent is a glorified subsidy to disposable income:
Millions of Americans have more money to spend since they fell delinquent on their mortgages amid the worst housing collapse since the Great Depression. They are staying in their homes for free about a year and a half on average, buying time to restructure their finances and providing an unexpected support for consumer spending, which makes up about 70 percent of the economy.

So-called "squatter's rent," or the increase to income from withheld mortgage payments, will be an estimated $50 billion this year, according to Michael Feroli, chief U.S. economist at JPMorgan Chase & Co. in New York. The extra cash could represent a boost to spending that's equal to about half the estimated savings generated by cuts to payroll withholding in December's bipartisan tax plan.

"We've had a lot of government transfers to the household sector; this is a transfer from the business sector to households," Feroli said. "It's a shock absorber that has helped the consumer ride out the storm."
Even the government data is skewing as economist Tom Lawler shows, homeownership has dropped to 1990's rates.
If 2010 headship rates and homeownership rates for each age group had been the same as in 1990, the US homeownership rate would have been 66.7% instead of 65.1%. If 2010 headship rates and homeownership rates had been the same as in 2000, the US homeownership rate would have been 67.3%!

In fact, the aggregate data suggest that in 2010 the homeownership for most age groups was probably below 1990 rates!!!


They flushed the American Dream right down the john, no doubt prepackaged in some MBS baked CDO to boot.
In fact the Federal Reserve flow of funds shows home values have lost $6.6 trillion since their peak and now household percent equity declined to 38.1%, but this number is deceiving:
Something less than one-third of households have no mortgage debt. So the approximately 50+ million households with mortgages have far less than 38.1% equity - and 10.9 million households have negative equity.
So, the American dream of having a middle class income, stable career, a home of one's own has turned into strategies on the hits to one's credit score and how long one can squat in a home before the lights are turned off, all the while to looking forward to never being able to retire:
The EBRI Retirement Security Projection Model® (RSPM) was developed in 2003 to provide an assessment of national retirement income prospects. The 2011 version of RSPM adds a new feature that allows households to defer retirement age past age 65 in an attempt to determine whether retirement age deferral is indeed sufficiently valuable to mitigate retirement income adequacy problems for most households (assuming the worker is physically able to continue working and that there continues to be a suitable demand for his or her skills). The answer, unfortunately, is not always "yes," even if retirement age is deferred into the 80s.

LOWEST-INCOME LEVELS, 50-50 CHANCE OF ADEQUACY: RSPM baseline results indicate that the lowest preretirement income quartile would need to defer retirement age to 84 before 90 percent of the households would have a 50 percent probability of success. Although a significant portion of the improvement takes place in the first four years after age 65, the improvement tends to level off in the early 70s before picking up in the late 70s and early 80s. Households in higher preretirement income quartiles start at a much higher level, and therefore have less improvement in terms of additional households reaching a 50 percent success rate as retirement age is deferred for these households.

LOWEST-INCOME LEVELS, HIGHER CHANCES OF ADEQUACY: If the success rate is moved to a threshold of 70 percent, only 2 out of 5 households in the lowest-income quartile will attain retirement income adequacy even if they defer retirement age to 84. Increasing the threshold to 80 percent reduces the number of lowest preretirement income quartile households that can satisfy this standard at a retirement age of 84 to approximately 1 out of 7.

IMPORTANCE OF DEFINED CONTRIBUTION RETIREMENT PLANS: One of the factors that makes a major difference in the percentage of households satisfying the retirement income adequacy thresholds at any retirement age is whether the worker is still participating in a defined contribution plan after age 65. This factor results in at least a 10 percentage point difference in the majority of the retirement age/income combinations investigated.

FACTORING IN RETIREMENT HEALTH COSTS: Another factor that has a tremendous impact on the value of deferring retirement age is whether stochastic post-retirement health care costs are excluded (or the stochastic nature is ignored). For the lowest preretirement income quartile, the value of deferral (in terms of percentage of additional households that will meet the threshold by deferring retirement age from 65 to 84) decreases from 16.0 percent to 3.8 percent by excluding these costs. The highest preretirement income quartile experiences a similar decrease, from 12.8 percent to 2.6 percent.
Welcome to the new American Dream, brought to you by Goldman Sachs, Wells Fargo, JP Morgan Chase and Bank of America.