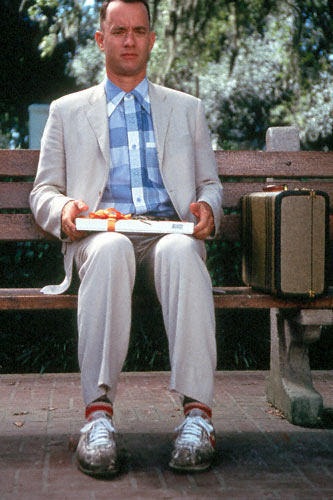 Life is like a box of chocolates for American manufacturing.
You can bet all of the good ones have been eaten by China and all of those crappy nasty ones have been bitten, put back in the box and left for America.
In the New York Times article, China Racing Ahead of U.S. in the Drive to Go Solar we have a fine example of American stupidity, as noted by Bonddad.
Remember how we're going to revamp America with all of those green jobs? Guess what, 90% of those solar panel jobs will be in China.
President Obama wants to make the United States "the world's leading exporter of renewable energy," but in his seven months in office, it is China that has stepped on the gas in an effort to become the dominant player in green energy — especially in solar power, and even in the United States.

Chinese companies have already played a leading role in pushing down the price of solar panels by almost half over the last year. Shi Zhengrong, the chief executive and founder of China's biggest solar panel manufacturer, Suntech Power Holdings, said in an interview here that Suntech, to build market share, is selling solar panels on the American market for less than the cost of the materials, assembly and shipping.
How is China doing this? Well, while we give $2.3 billion in tax credits, China is busy giving massive subsidies, including free land, free money (as in big stinkin' wads of cash), even better loans through State owned banks (don't we own a few banks lately?). Oh, we shouldn't forget China's slave labor wages either, all the while their PPP is very close to the United States and yet another example of China's currency manipulation for unfair trade advantage.
Gets worse. Check out the Chinese strategy for putting together sales and some assembly in the United States:
"It'll be to facilitate sales — 'buy American' and things like that,"
You read that right, China is going to create some end assembly plants in America to try to claim their solar panels are American....and of course bypass a series of import-export rules along the strategy Japan uses in automobile manufacturing.
From Bonddad:
This doesn't happen in the US. Why? There is a contingent of incredibly stupid people in this place called Washington. They typically have an "R" after their name. According to their political ideology, this is "picking winners" which the market is supposed to do. So, instead of pouring money into a sector that is growing we're left with nothing.
Bonddad is on a rant roll and also bashes Democrats:
There is another party in the US called the Democratic party. And their vocal minority that seems to get all the press is very anti-business. Working with corporations is bad and evil; money was invented by Satan to corrupt our souls. Profits are terrible and horrible and should be avoided.
Hey Bonddad! We don't care if Goldman Sachs flies around in gold plated airplanes and uses gold leaf for toilet paper just as long as we get ours!
Gold Bugs, look, there's a market, quick, buy gold, I swear it's going to $4000 an ounce due to Goldman Sachs demand
In all seriousness, you are right as hell on this score, when it comes to simply giving away large, massive, huge chunks of our existing economy as well as future potential....nobody does it better than America!