Earlier we saw banks posted record profits for the first three months of this year.
Quarterly net income rose to a three-year high. Net income was the best for the industry since the $36.8 billion earned in the second quarter of 2007. More than half of all institutions (56 percent) reported higher net income than a year earlier. Fifteen percent reported negative net income, down from 19 percent in the first quarter of 2010.
The thing is, much of that profit increase was from banks not setting aside funds to cover defaulting loans.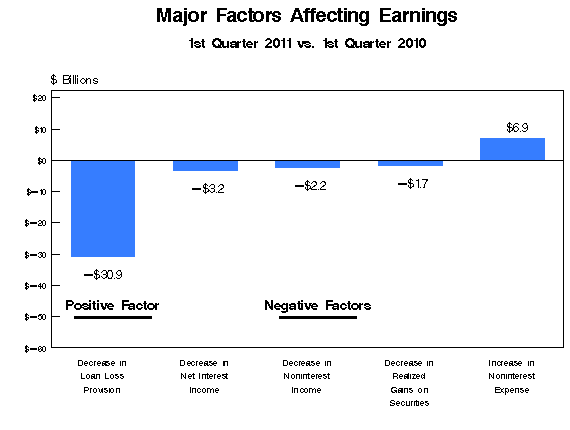 Even more odious the amount of loans are still declining and supposedly there are few in the United States who haven't had their credit ruined by those all controlling credit scores to obtain a loan in the first place.
Loan balances continued to decline. Total loans and leases fell for the tenth time in the past eleven quarters (the one exception in first quarter of 2010 resulted from changes in reporting rules, not from actual loan growth). More than 70 percent of all insured institutions reported declines in loan balances in the first quarter. The net decline in balances in the first quarter totaled $126.6 billion (1.7 percent). The largest reductions in loan portfolios occurred in one-to-four family residential mortgages (down $63.8 billion, or 3.4 percent), credit card balances (down $38.9 billion, or 5.5 percent), and real estate construction and development loans (down $25.9 billion, or 8.1 percent). Balances in loans to commercial and industrial (C&I) borrowers increased for a third consecutive quarter, rising by $18.1 billion (1.5 percent), but nearly half of this growth represented loans to foreign borrowers. Small loans to businesses and farms declined by 2.8 percent.
Yet we still have a record of problem banks:
The number of "problem" institutions is the highest since March 31, 1993,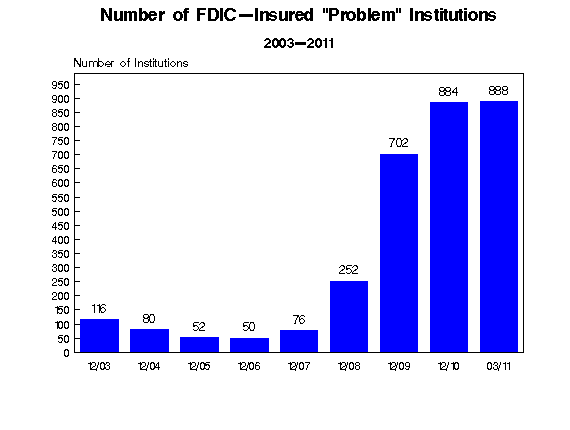 Basically there is more concentrated wealth in the financial sector with less loans going to the people to help grow the economy, the entire rationalization for saving the banks in the first place.
While we have the best profits since 2007, we also have audits showing banks are committing fraud:
A set of confidential federal audits accuse the nation's five largest mortgage companies of defrauding taxpayers in their handling of foreclosures on homes purchased with government-backed loans, four officials briefed on the findings told The Huffington Post.

The five separate investigations were conducted by the Department of Housing and Urban Development's inspector general and examined Bank of America, JPMorgan Chase, Wells Fargo, Citigroup and Ally Financial, the sources said.

The audits accuse the five major lenders of violating the False Claims Act, a Civil War-era law crafted as a weapon against firms that swindle the government. The audits were completed between February and March, the sources said. The internal watchdog office at HUD referred its findings to the Department of Justice, which must now decide whether to file charges.
Oh, we love our bank alright. Deciding to file even civil charges when there is widespread, outright fraud and rip-off?
As banks replaced money with plastic, there is a huge argument over outrageous swipe charges and the profits there in. Did you know financial institutions made a nice little profit center of charging a fee every time you pay with plastic?
With all of the above going on, the FDIC is fighting against these outrageous fees charged to retailers every time you use your plastic, and guess who Wall Street has in their pocket? A former Populist/Progressive Senator Jon Tester.
The Federal Reserve chairman and Federal Deposit Insurance Corporation chairwoman insisted Thursday that regulating the fees banks can charge merchants to swipe debit cards, as Congress has mandated, may be unworkable for small banks and could lead to higher bank fees for consumers. At the same time, the Fed's Ben Bernanke and the FDIC's Shelia Bair said that they were committed to implementing the law, which is scheduled to go into effect July 21, as Bair acknowledged that the new rules would not spark the failure of any banks.

Their comments were prompted by heated questioning from Sen. Jon Tester (D-Mont.) during a Banking Committee hearing. Tester is sponsoring a bill to delay the Fed's swipe fee crackdown for two years. He has also been furiously raising money from Wall Street ahead of his 2012 reelection campaign, which is expected to be a close race. Just as the banking industry is devoting everything it can to support the Tester amendment, major retailers like Walmart, Target and Home Depot are devoting tremendous lobbying resources to the fight.

The battle over swipe fees is largely taking place off the public radar. But it is consuming as much time in Congress as any other discussion -- a symbol of the true priorities of Congress. With $16 billion a year in debit card swipe fees at stake, major retailers and banks hope to convince Congress to give them as big a piece of the pie as possible. Merchants pay banks higher swipe fees in the U.S. than in other countries. Wherever possible, those fees are passed on to customers in the form of higher prices.
Meanwhile FDIC chair Sheila Bair said the banks are running out of credit-worthy borrowers, yet that fact was dismissed almost by the, oh, that's the overall economy. What are banks supposed to do? They are not supposed to be the economy, they are supposed to help the real economy. Financial institutions profits are yet another symptom of Financialization.