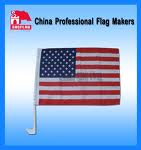 You want to see some jobs? Take on China's currency manipulation. So says a new study by Economist Robert E. Scott, Economic Policy Institute.
The president should take immediate, executive action that will directly support the creation of up to 2.25 million export jobs by eliminating unfair currency manipulation by China and other countries.
Even better, the Obama administration doesn't need Congress to act. One stroke of the pen and the United States could dramatically reduce the trade deficit with China, creating millions of jobs in a matter of 18 to 24 months. 2.25 million jobs is larger than the most optimistic 1.9 million jobs being claimed $450 billion bucks will buy.
This should have been done, first thing, when the President took office. 11 million jobs later, still no action. Senator Sherrod Brown gives a Senate floor speech on the manufacturing job losses due to China's currency manipulation. The United States is on target to hit a new trade deficit record with China.
According to Scott, taking action on other nation's manipulating their currency would also help reduce the budget deficit.
A full revaluation (28.5%) of the yuan and other undervalued Asian currencies would improve the U.S. current account balance by up to $190.5 billion, increasing U.S. gross domestic product by as much as $285.7 billion, adding up to 2.25 million U.S. jobs, and reducing the federal budget deficit by up to $857 billion over 10 years.
There is also a much weaker bill in Congress that politicians love to endorse yet never seems to pass. It's being brought up again, unfortunately with more bad trade deals which will lose jobs and create a permanent, unreachable corporate tax haven.
Sen. Charles Schumer (D-NY) believes the U.S. Senate will pass a bill this session to address China's undervalued currency. Schumer says he has the requisite 60+ votes for cloture in the Senate (which is required to cut off debate, avoid a filibuster, and move to a final vote).

The bill offered in the Senate will be a combination of a bill (S.328) previously introduced by Sens. Sherrod Brown (D-OH) and Olympia Snowe (R-ME) and legislation yet to be introduced by Sens. Schumer, Lindsey Graham (R-SC), and 15 or so others. The timing of a vote and the vehicle on which it will be considered have not yet been announced.
To date, Tim Geithner has refused to even mention China as a currency manipulator, and no mention of the obvious from the U.S. trade representative either.
China, is claiming they won't let the Yuan appreciate even if Congress manages to pass something:
"China will not blindly, because of pressure from a bill in another country's congress, let its currency rise," Xinhua said, in response to recent comments made by Senate Democratic Leader Harry Reid on the Chinese currency.
Yet Economist Scott notes even the threat of America taking even the most modest action, does seem to correlate to a slight appreciation in the Yuan:
The mere threat of a large, across-the-board tariff on imports from China may be sufficient to persuade China that the time has come for a major revaluation that would benefit both countries. In 2005, Senators Charles Schumer and Lindsey Graham introduced legislation (S. 295) that would have imposed a 27.5 percent tariff on all imports from China if it failed to revalue within 180 days. This legislation was approved by the Senate (by a veto-proof margin of 67-33) but not by the House. Even so, shortly after its passage, China allowed its currency to rise for the first time in more than a decade. The currency ultimately appreciated by 20 percent, until the onset of the great recession in late 2007, when it was again tied to the dollar. China will respond to the threat of severe external pressure – especially since their policy of intervention has clear downsides for them as well.
Confronting China's currency manipulation is a no-brainer. It's so obviously a huge drag on the U.S. economy and American jobs, we have everyone from Republican presidential candidate Romney to Socialist Democrat Senator Bernie Sanders demanding the United States take action. In other words, the data, statistics are so overwhelming, you'd have to either be brain dead or corrupt to not know China's currency manipulation is killing American jobs and U.S. manufacturing.
Like Romney's economic plan, the Currency Reform for Fair Trade Act would help crack down on countries like China by labeling them a currency manipulator and allowing the US government to assess duties on the country's imports.

The legislation is sponsored by Senator Sherrod Brown, an Ohio Democrat, and is co-sponsored by several other liberals, including Chuck Schumer, Democrat of New York, and Bernie Sanders, Independent of Vermont. Of the 12 co-sponsors two are Republicans, Olympia Snowe and Susan Collins, who are both of Maine and are moderates often courted by Democrats.

Similar legislation was passed overwhelmingly last year by the House but it was not taken up by the Senate and died at the end of the year.
So why then, doesn't this administration take immediate action against China for currency manipulation? Anyone notice it won't cost the United States a dime, unlike Obama's $450 billion Stimulus bill?