I really admire Paul Krugman. He's honest to a fault, and during his appearance on ABC's This Week that came out again. As he put it:
We've got a problem with terminology because we usually say either the economy is in recession or the economy is recovering. Either you're in hell or you're in heaven. And the trouble is we're actually in purgatory. We're actually in a situation almost for sure GDP is growing; almost for sure the business cycle leading committee will eventually decide the recession ended this summer. But almost surely also we're still losing jobs. The unemployment rate is going to continue to rise. So we're in that infamous jobless recovery state.
Purgatory
Purgatory is an almost perfect description of the economic condition that the United States currently finds itself in.
Let's be clear. The free fall is over for the moment, but we are still losing jobs, and will be for a while.
And Krugman's right that we've got a problem with terminology, because for most people recovery has nothing to do with the ups and downs of the Dow Jones Industrial Average. For most people, recovery means that people are getting jobs. It's likely quite some time before that happens.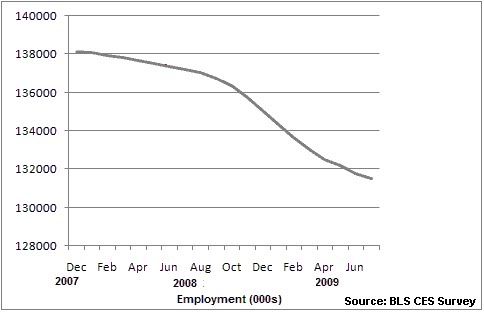 Seasonally adjusted employment is down 6.66 million since December of 2007. This means that just to get back to where we were in job terms the country needs to create nearly 7 million jobs. There are around 131 million Americans who are currently employed in the non-farm sector. And although the rate of job losses has slowed we are still a long way out from positive job growth.
If we take July as the end of the recession, then we are 20 months out from the start of the recession in December 2007. In order for employment to return to December 2007 levels by 20 months out of the recession in March 2011, we would need to see a minimum of 333,200 jobs created for each of the next twenty months. That's highly unlikely. In all likelihood, we aren't going to see the end of the recession in terms of a return to December 2007 employment levels until at the earliest 2012.
Compounding this is limited growth in the labor force. Each time an 18 year old decides that they are going to get a retail choice, the labor force grows. While the labor participation rate has been basically steady at the national level (there are interesting differences at the state level) a growing population means a growing labor force. At the start of the recession in December 2007, there were 153,866,000 persons in the labor force (not that this includes both the unemployed and farm employment, hence the difference with the earlier employment number). In July 2009, there 154,504,000 persons in the labor force. Which means that not only do we have to recoup those 6.66 million jobs lost since 2007 to get back to where we started. We also have to create another 638,000 jobs for the people who have entered the labor force since that time. So basically, we need to create 7.3 million jobs, just to get back where we started.
It's almost certain that that is not going to happen until at least 2012. 2010 is going to be a very hard year economically, and unless things improve markedly, it's going to be a running fight to keep the seats that Democrats took from the GOP in 2006 and 2008. Imagine who much fun it would be if the House flipped back to Republicans. With a 76 Dem seat lead it would take a lot for that to happen, but there are a number of seats that could flip in a hard year. Just in Indiana, I think that there is always going to be strong competition in the IN-2, IN-8, and IN-9.
Setting the record straight
Returning to the subject of jobs, I wanted to finish up this with an update on the auto weirdness situation I highlighted about a month back. In a diary from last month I argued that the initial claims data was presenting an inaccurate picture of the unemployment situation because of the timing of this years auto shutdowns. At that time, another Kossack launched a personal attack against me because of the argument that I was making. In the end this Kossack concluded that in the end, the statistics coming out in August would show who was right.
Those statistics have since come out, and my argument was proved correct. The odd timing of the auto shutdowns at GM and Chrysler skewed the seasonally adjusted numbers creating the appearance of declining initial claims in July when in fact they were rising. This same anomaly created the slight drop in the unemployment rate in July, and it's almost certain that when we get the August unemployment numbers, there will be a big jump as a result of this statistical artifact.
The Mess that Greenspan Made laid out the case for a flaw in the seasonal adjustment formula very well.
This is what the unadjusted auto employment changes (month over month) look like for the past ten years:
As you can see, normally there are a number of layoffs that occur in the auto industry in June, and these workers are brought back on the job in August. This year, those layoffs started in late April and May, and these workers came back on the job in July. Which means that they were coming back on the job right at the time that they were supposed to be going out for layoffs.
It's easier to look at this using the table at the BLS that reveals what is taken as the normal seasonal movement. The BLS expects that from June to July, employment in the "Motor vehicles and parts" sector will naturally fall by 36,800. This is because there is the expectation that there will be auto layoffs. In really, the month over month change from June to July for "Motor vehicles and parts" was negative 8,600. These were real job losses, no temporary layoffs. However, because they BLS assumes that temporary layoffs will lead to 36,800 job losses, this 8,600 job loss was translated into a job gain of 28,200 because of the seasonal adjustment formula.
The problem is that come the release of the August numbers, there is going to be an expectation that those 36,800 workers who are assumed to be on temporary layoff in the seasonal adjustment model will come back on the job. This isn't going to happen, which means that the same statistical artifact that created to inaccurate appearance of a fall in initial claims numbers in July, and a drop in the unemployment rate, is going to strike back in August.
I can't locate what the BLS assumption is for the number of jobs that will be created in the "Motor vehicles and parts" sector in August is, but it is almost certainly at least 36,800.
We don't need to wait for the release of August unemployment numbers on September 4th to understand that the backside of the seasonal adjustment formula is making things look worse when they come in. Unemployment numbers are released on a monthly basis. They include a larger pool of workers since they include those who are unemployed, but not receiving unemployment insurance benefits. And since around 55% of those who are unemployed receive no unemployment benefits, this is a much larger pool.
The numbers on initial claims for unemployment insurance are released on a weekly basis. So we already have the numbers for most of the month of August, and we can see that the assumption that auto workers will be coming back on from having been laid off is really jacking up the seasonally adjust numbers.
Let's take a look at this.
If we look at the seasonally adjust numbers from the beginning of the year to the time that Bonddad wrote his diary on July 16 in which he pointed to a falloff in initial claims as evidence that the employment situation was improving, and presumably would continue to do so. Here's the chart:
Between the end of June and the middle of July there was a drop in seasonally adjusted initial claims. If we take the 4 week running trend as an indication of things to come, we create the expectation that on average initial claims will fall by 21,500 each week. Extending this trend out to the present, the prediction is that the seasonally adjusted 8/20 initial claims number would be 436,000. The actual seasonally adjusted number for that date? 576,000. Which means that the prediction was off by almost a third.
What happened?
The backside of the statistical artifact that created the impression of rapidly falling initial claims numbers in July hit.
It's easier to explain in terms of the seasonally adjusted versus unadjusted numbers.
So lets look from March of this year to the present.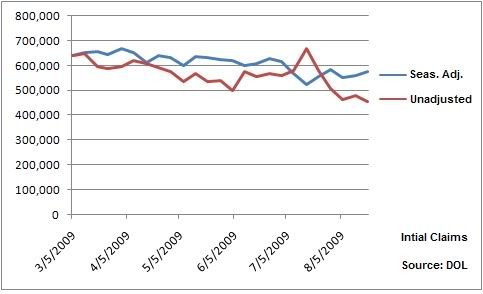 The same flaw in the seasonal adjusting formula that created the appearance of falling initial claims while they were actually rising is now striking back. With the exception of some very small job increases coming from the CARS program that will most likely materialize in September, there is no huge increase in auto employment. Because the layoff didn't happen at the normal time. And there is going to be a layoff at GM either at the end of September or early October.
The bottom line is that things weren't getting better in July, and they are getting worse right now. The numbers gave everyone a rope a dope because they included bad assumptions. We should all expect there to be an increase in the unemployment in the August numbers, but ultimately things probably are stabilizing for the moment.
There is still a strong possibility that CIT is going to declare bankruptcy, and that this will lead to a credit crunch for small retailers. That would mean job losses in retail exactly at the same time that stores would normally be ramping up for the Christmas season.
The bottom line is that we aren't in economic heaven, or economic hell. Welcome to economic purgatory.