The Census Bureau has released their alternative measure for poverty research and boy it's a doozie. The official 2010 poverty measure results in 46.2 people, or 15.1% living in poverty in the United States. The alternative measure gives 49.1 million or 16% of all people living in the United States are in poverty. The population in 2010 was 306.1 million. The actual gross income threshold levels are still low. Below are the poverty income thresholds for a family of 4, two adults, two kids.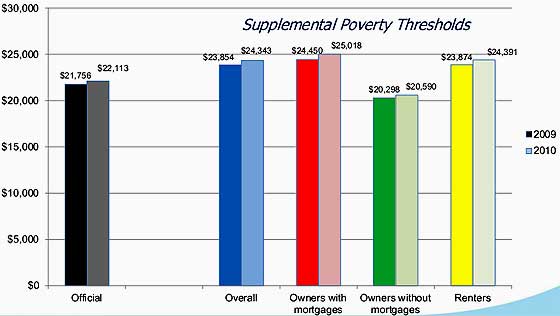 While groups warn the GOP will seize on this alternative poverty measure to destroy more social safety nets and services, it's not clear how. Both measures show disaster for most of America and a huge underclass in the United States. The alternative poverty measure includes social safety net benefits and most importantly, this measure include medical expenses. Below is a summary of the differences between this Census alternative poverty measure and the official one.

Below is the Census chart showing the percent change each of those differences brings to put someone into poverty: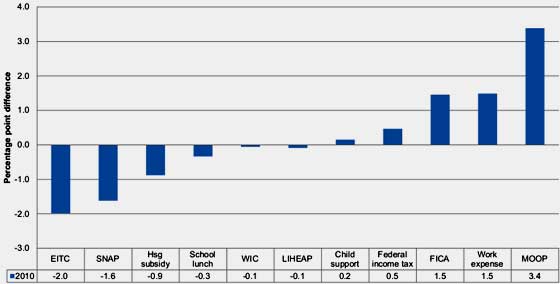 As we can see, the earned income tax credit is one of the most effective tools to keep people out of poverty and the #1 thing throwing people into poverty is medical expenses. Gets worse from there, medical expenses are seriously throwing ruining older people financially. Realize this is with Medicare. Below are the percentage differences by age. Look at those in poverty at age 65 or older. Medical costs are literally driving people into poverty further than they would be with proper health care.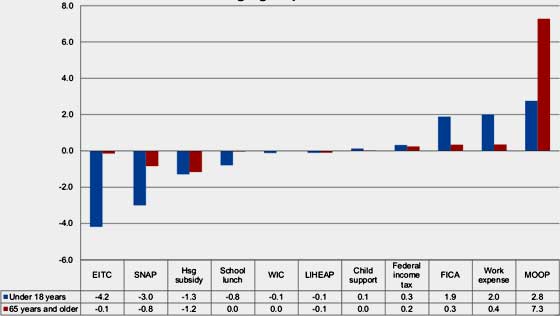 There is much more information, data, graphs and analysis on the Census website. The multimedia created by the Census report authors makes it clear, by any measure, America is turning into a 3rd world nation.