The National Association of Realtors released their existing home sales figures and give a March increase of 3.7%, annualized rate, from February's nose dive, which also was revised upward. Existing home sales are now 6.3% below what they were one year ago.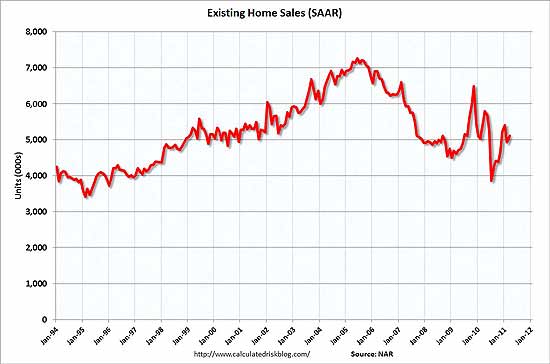 NAR blames part of the slow down on people's inability to obtain a mortgage, so magically for those left with any bucks, we have this:
NAR's housing affordability index shows the typical monthly mortgage principal and interest payment for the purchase of a median-priced existing home is only 13 percent of gross household income, the lowest since records began in 1970.
All cash sales, hit a record at 35% of all existing home purchases, with investors being 22% of those existing home purchases.
The median price of all existing home sales is $159,600, a 5.9% drop from one year ago. Buried in the report is this startling statistic:
Distressed homes – typically sold at discounts in the vicinity of 20 percent – accounted for a 40 percent market share in March, up from 39 percent in February and 35 percent in March 2010.
This means people are picking up foreclosures, short sales at bargain prices.
Housing inventory decreases slightly to a 8.4 month supply, but is up 1.5% for the month. For the year, existing inventory is down 2.1% as calculated by Calculated Risk.
Single-family home sales rose 4.0 percent to a seasonally adjusted annual rate of 4.45 million in March from 4.28 million in February, but are 6.5 percent below the 4.76 million level in March 2010. The median existing single-family home price was $160,500 in March, down 5.3 percent from a year ago.

Existing condominium and co-op sales increased 1.6 percent to a seasonally adjusted annual rate of 650,000 in March from 640,000 in February, but are 4.1 percent below the 678,000-unit pace one year ago. The median existing condo price5 was $153,100 in March, which is 10.1 percent below March 2010.
The graph was courtesy of Calculated Risk, the best blog out there for original, detailed, real estate graphs, data and analysis.