Update 2, Nov. 7, 2008: We got three new pieces of data this week, 2 on the monetary front, and one on the inflation front.
On the monetary front, M1 was updated weekly, increasing to ~ +8% YoY. Monetary base continues to soar, up about 60% YoY now!
Meanwhile the ISM manufacturing "prices paid" index showed that more prices are declining than increasing at the producer level: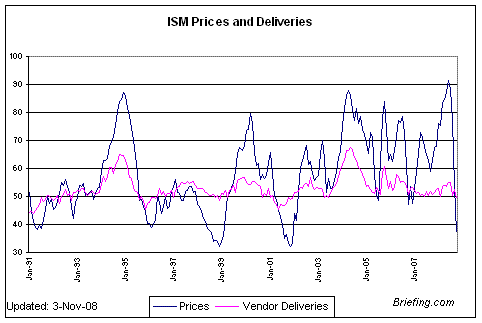 This is our first October inflation reading, and it strongly suggests we will get another month of deflation when the PPI and CPI come out in 2 weeks.
Since the updated monetary base readings continue to show elevated monetary pump priming: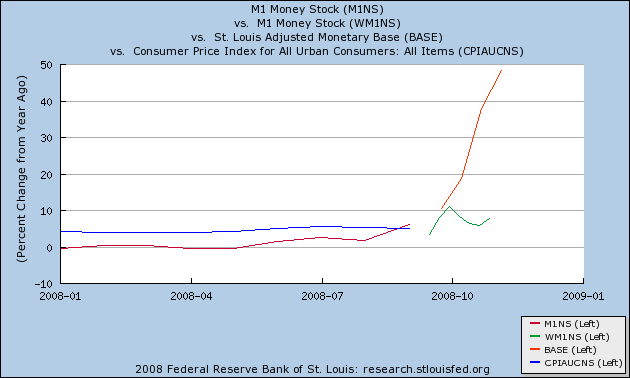 and the expectation that CPI will decline, and you get the following:
(1) more evidence that we are right now in a deflationary recession; and
(2) we will likely have 2 of the 3 months necessary to signal (under the Kasriel indicator) a respite within the next 6 months.
_______________
Update 1, Oct. 31, 2008: The only new data from the Fed is weekly M1, showing preliminary growth through Oct. 22 of ~7%:


With a barrel of Oil dropping 35% from ~$100/barrel to ~$65/barrel during October, and the Chicago PMI reporting a decline in the prices paid index yesterday, most likely we will get another deflationary reading in October, dropping the Year-over-Year CPI to ~4.5%, but we won't get that number for another 2+ weeks. If that happens, it will be the second of the necessary 3 months to signal that at least a tepid recovery is about to begin. Another encouraging data point comes from Shoppertrak, which reported that for the second week, year-ver-year consumer spending was about +1%. Not stellar, but not the September collapse either. (Remember one of my theses is that consumers would overcome Bush's advice that they needed to panic, figuring Bush was wrong about that too; and while Americans do need to save more, a precipitous decline in retail spending is bad).
______________
In my previous blog entries, I have outlined two almost equally possible alternate scenarios for 2009: either a (most likely tepid) recovery, the possibility of which has begun to be telegraphed by the "Kasriel Recession Indicator" (which also has in the past 40 years perfectly forecast recoveries as well); or else a deflationary recession in which commodity and asset prices continue to decline, but are more than matched by layoffs and economic contraction.
Left to its own devices, I suspect the economy would succumb to a deflationary spiral. But Ben Bernanke and the Federal Reserve know this as well: Bernanke is a scholar of Federal Reserve mistakes during the 1929-32 Great Depression. Therefore he is aiming a veritable monetary firehose at the deflationary vortex, hoping to flood it with money and so overcome the incipient deflation.
Will he succeed? That is what I hope to track with this series of blog updates.
The two scenarios for 2009 (deflationary recession vs. expansion) are not entirely inconsistent. Consumer price deflation of (-1.5%) or greater is a coincident indicator -- it tells us what is happening in the present. The Kasriel indicator tends to lead insofar is it forecasts economic recoveries, in some cases by 6 or possibly more months. Thus a deflationary recession could be occurring now, and a recovery still occur later in 2009.
Key to both scenarios is the relationship of money supply to inflation. If there is both deflation and a decline in money supply, there has always been a recession (or worse). If money supply increases at greater than the rate of inflation (in the presence of a positive yield curve from 12 months previous, which has existed since September 2007, so we don't have to worry about that here), there has always been an expansion.
I am going to use this diary to update both scenarios as money supply and inflation data are published. Money supply (M1) is published every Friday; monetary base information is published once every two weeks; inflation data is published monthly. Keep in mind that inflation data tells us what is happening now. M1 tends to tell us what is happening now or a few months into the future; BASE tends to be even more leading for our purposes.
Here are the pictures as of Friday October 24, 2008. CPI is in blue, monthly M1 (up to 9/1/08) in red, weekly M1 (from 9/16 to 10/13/08) in green, and monetary base in orange.
First, here is a look over 10 years, showing that BASE turned up very early, even before the onset of the 2001 recession. M1 turned up midway through the recession, about 5 months before it ended. The maximum deflation was (-.9%) in October - December 2001.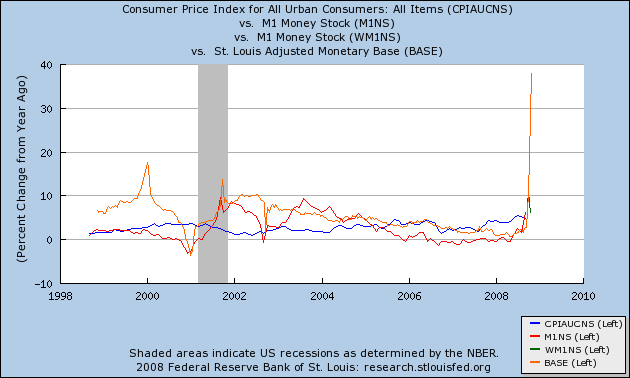 Here is a close-up just of 2008: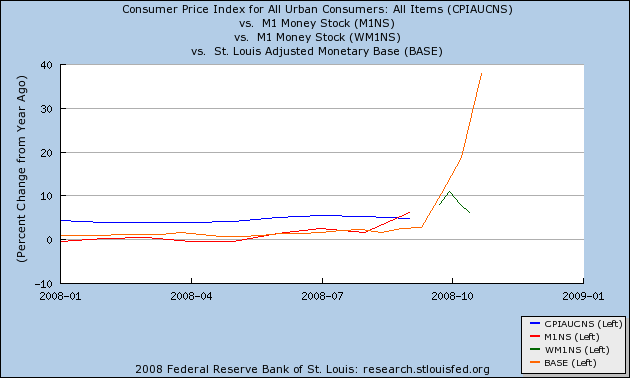 Needless to say, M1 continued its gradual expansion, finally exceeding the CPI in September 2008. The monetary base virtually exploded! Weekly M1 continues to exceed CPI. The Kasriel indicator hasn't actually been triggered yet: the positive money supply must continue for at least 3 months. As of the last CPI, there was a two month period of deflation of (-.5%), so the deflationary recession hasn't taken root yet either.
As of now, is at least possible that a recovery begins at about the time President Obama takes his oath of office.
______________________________
A postcript on the Kasriel indicator: In my previous post, I did not display the Kasriel indicator graphically. Here it is from Mish's blog: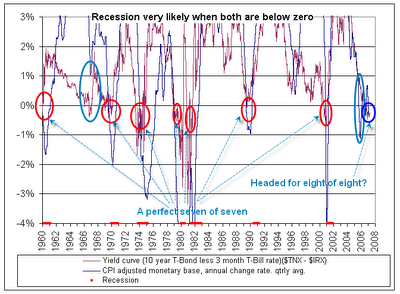 When I pointed out to Mish on a recent comment at his blog that the indicator might be beginning to suggest a recovery soon, Mish took me to task, claiming that just because A > B, that does not mean that "not A" > "not B". All true, but Mish is not correct here.
Here's Mish on the infallibility of the Kasriel indicator as displayed graphically above:
Bingo! A perfect seven of seven with no misses and no false positives. The two blue-grey ovals are conditions where only one of two conditions were met.
As Mish himself noted at the time, not only does the graph show that A (Kasriel recession warning) > B (recession), but also "Not A" (no Kasriel warning) > "not B" (no recession). Therefore, once we go from A > not A, we necessarily go from B > not B -- with lead time of course. The graph appears to use rolling 3 month averages which aren't described in Mish's post, but it appears the lead time is up to 6 months for recoveries, and the recovery is always underway once both parts of the indicator are positive by 1% for 3 months.