Has housing hit a bottom? Fox News declared that the bottom is in, as had many other talking heads.
In fact, the reality of the situation is a "good news, bad news" scenario.

(Bloomberg) -- The wave of "option" adjustable-rate mortgages recasting to higher payments, projected by some economists to represent a looming source of foreclosures that will hurt housing markets over the next few years, will be smaller than "feared" because many borrowers will default before their bills change, Barclays Capital analysts said.
So you see, the coming tsunami of foreclosures will be much small than expected because people are going to go broke beforehand. That's the good news.
The subprime crash is largely over, but the Option-ARM bubble was supposed to be spread out over many years.
Instead the Option-ARM mortgages are blowing up ahead of time. Why are they blowing up early? Because they are already underwater, and "negative equity is a necessary condition for foreclosure" according to the Boston Federal Reserve.
Option-ARM holders are the worst of the worst. While 32% of all mortgage holders are currently underwater, and that number expected to rise to 48%, Option-ARM borrowers are expected to peak at a number closer to 90%.
40% of Option-ARM borrowers are already delinquent. This is especially bad news for California, where an overwhelming percentage of Option-ARMs originated.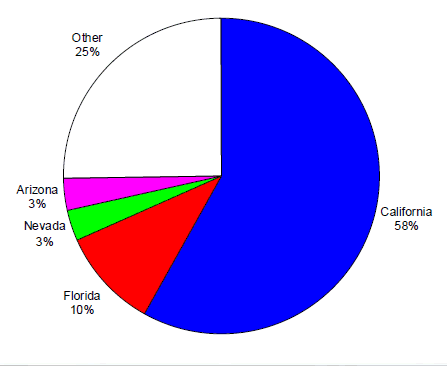 "The additional risk really will only be for borrowers who manage to stay current over the next couple of years and might default due to a payment shock," the New York-based analysts including Sandeep Bordia and Jasraj Vaidya wrote.
So what does the coming foreclosure wave look like and when will it hit? After all, foreclosures and foreclosure inventory is already at all-time highs.
Click on this graph to get a more visual idea.
"To say there is a second wave implies the (current) wave has receded. I don't see that the wave has receded."
- Sam Khater, senior economist, First American CoreLogic
Another factor you must take into the coming wave of foreclosures is the high unemployment rate.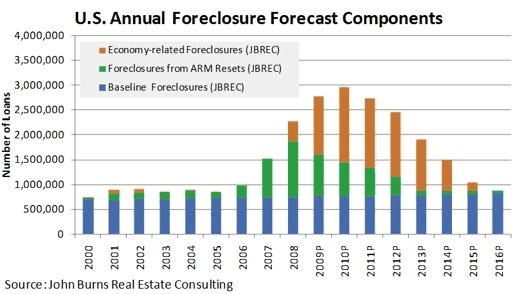 Another factor weighing on the housing sector is the near record level of inventory.
And that's only the official housing supply. The Shadow Inventory is far, far larger.

"The number of homes listed officially on the market, while still at historically high levels, might be only the tip of the iceberg," said Stan Humphries, chief economist at real estate website Zillow.com in Seattle, Washington.

According to Zillow's latest Homeowner Confidence Survey, 12 percent of homeowners said they would be "very likely" to put their home on the market in the next 12 months if they saw signs of a real estate market turnaround, 8 percent said "likely," while 12 percent said "somewhat likely."

Survey results could translate into around 20 million homeowners trying to sell their homes, a startling number given that the Census bureau indicates there are 93 million U.S. houses, condos and co-ops, Humphries said.

According to the National Association of Realtors, the market is currently on track to sell 4.89 million homes annually.

"At this pace, it would take about four years to run through this amount of backlogged inventory," he said.
And if that wasn't enough, the banking sector has its own "shadow inventory" that it refuses to sell at this time because it can't afford to book the losses. Estimates are somewhere north of 600,000 homes.
Speaking of the banks, what effect will all these foreclosures have on them?

The Barclays analysts, who wrote that about 88 percent of option ARMs packaged into securities in 2007 will eventually default, said that after a rally in prices they no longer suggest owning related bonds, "a trade we have been recommending for months."
...
More than $750 billion of option ARMs were originated between 2004 and 2008 as borrowers used their low initial payments to afford higher-priced homes, according to newsletter Inside Mortgage Finance.
All those losses that banks will eventually have to book one way or another, will take their toll on balance sheets. The Congressional Oversight Panel created to oversee the U.S. banking bailout, had this to say about the state of the banking system.

In its latest assessment of the $700 billion financial system bailout, the Congressional Oversight Panel warns that banks still hold many risky loans of uncertain value. If unemployment rises sharply or the commercial real estate market collapses -- as many economists fear -- the banking system could again lose its footing, the panel says in a report to be released Tuesday.
No mention of Option-ARMs, but then maybe no one wants to talk about it.