Iowa has joined the ranks of crazy, putting first in a straw poll someone out to destroy social security and medicare. This agenda would lead to the biggest increase in abject poverty the United States has ever seen. Meanwhile, Texas Governor Rick Perry is being touted as the new savior of the radical right, proof positive all economic theory comes from God.
This fundamentalist radical right is nothing new. The Tea party is simply the moral majority, wrapped in a new bow.
What is new is the bold faced economic fiction being spun right, left and center. It's like the idea that Creationism is equal to Evolution and the biological sciences has invaded the world of Economics, Mathematics and Statistics.
We are re-entering the dark ages. Down is up, left is right and if you float in water, you must be a witch. Most economists know in a severe recession increasing government spending to take up the slack in demand is a good thing to do. Yet, a group of crazies have kidnapped the national discourse and demanded public policy to cut government spending in a time of very weak economic demand. Once again, up is down and down is up.
Since when can one destroy an entire nation's retirement, income and health and claim this is good for America? That is the absolutely worst thing for America. From the NBER:
$1,000 increase in Social Security benefits is associated with a 2 to 3 percentage point reduction in poverty rates for elderly households. They also find no statistically significant effect of benefits on income inequality, suggesting that higher-income and lower-income elderly benefit similarly from increases in Social Security.

Applying this estimate to the change in Social Security benefits between 1967 and 2000 suggests that the increase in benefits can explain all of the 17 percentage point decline in poverty that occurred during this period. The authors also find that higher benefits lead some elderly to live independently rather than with family members, and conclude that the effect of Social Security on poverty would have been even more dramatic in the absence of these changes in living arrangements.
Under the guise of being lead by Jesus, Governor Perry as an example, let a Chinese corporation deemed a security risk operate in Texas.
Three times since 2008, a U.S. government security panel has blocked Huawei from acquiring or partnering with U.S. companies because of concerns that secrets could be leaked to China's government or military.
Everyday, we see bold faced economic fiction being spun on cable news and some in the press, Fox and Forbes being the two most guilty.
Texas is being declared an economic miracle. Yet anyone can quickly calculate a few facts on Texas. Guess which the largest industry in Texas was in 2010? Government. I kid you not, from the BEA:
In 2010, the largest industry in Texas was government. This industry accounted for 11.8 percent of Texas GDP and had 1.7 percent real growth. The second largest industry was mining, which accounted for 9.5 percent of Texas GDP and had 0.8 percent real growth.

The largest contributor to real GDP growth in Texas was durable goods manufacturing. This industry accounted for 0.60 percentage point of the total growth in real GDP. The second largest contributor was wholesale trade. This industry accounted for 0.39 percentage point of the total growth in real GDP.
Since January 2010 to June 2011, Texas has gained 505,100 jobs. Nationally, jobs gained are 1,792,000. Texas has gained 28.19% of the total jobs created. Seems like a lot, yet in determining what type of jobs we get, they are mainly crappy jobs. Trade, transportation and Utilities includes Retail trade, which are as a whole, low paying service type of jobs.
The BLS gives a breakdown in Texas job growth for the last 12 months. Texas was 8% of the national civilian labor force in June. What one notices is a boom in mining and logging, a 17.2% increase in employment, yet bear in mind Texas has a large oil industry. Construction employment, which nationally is on death's door, saw a 4.6% increase over the last year in Texas. Below is a comparison of Texas June payrolls statistics versus national. You see they are about par with the national average, also matching their overall payrolls, with the exception of mining and construction.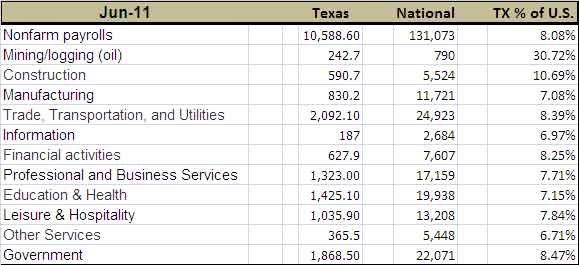 The Texas resident population also grew by 442,794 in 2010. Nationally, the U.S. population grew by 2.612 million. Texas, was 16.95% of the total U.S. population growth. The Texas unemployment rate for June was 8.2%, nationally, 9.2%. Per capita personal income in 2010 was $39,493 for Texas, nationally it is $40,584. GDP growth for Texas was 2.8%, yet Texas was actually beaten by socialist comrade Oregon, which grew by 3.4%.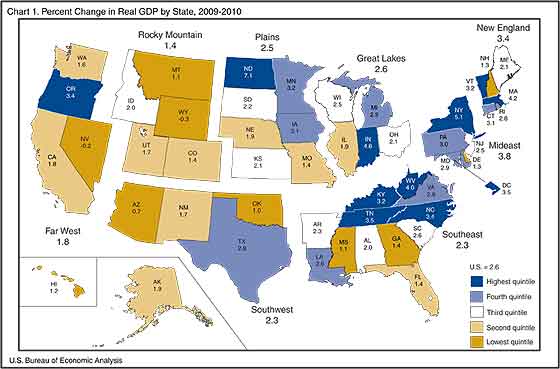 Bottom line, the Texas miracle is another myth being presented to justify destroying further social safety nets. This seems to be a call to arms by the radical right like the middle ages crusades. Destroy America's social safety nets at all costs is the radical rights' slash and burn chant and mantra.
Lest we think economic fiction is unique to the radicals taking over the right, the left has it's own spinners, most often through corporate lobbyists. It's so bad, many of them are now in the White House.
Take, for example, the claim that more bad trade deals will create jobs and squeezing out the little guy on patents will too. That's pure, absolute hog wash. Yet, the claims go unchallenged by the major press and seemingly you can spin a tale completely and get away with it on most news outlets.
Returning to the age of enlightenment will be a a difficult road. The church of free trade is strong and anyone who dare speak against globalization are often shunned and academically excommunicated. Add to that some serious crazies claiming they are acting as the hand of God, with a belief job creation is delivered by divine intervention. Chant the mantra free markets are the new savoir, and what do you get?
Dark clouds shadowing America's future. For all reasoning people, keep those calculators and spreadsheets hidden, for just like eyeglasses were a justification for Cambodian genocide, these days, running statistics and numbers might just get you burned at the stake.