Michael Collins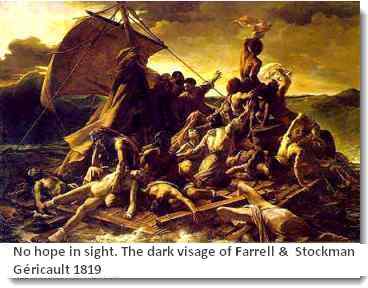 Paul Farrell of MarketWatch caused quite a stir with his recent article, Reagan insider [David Stockman]: GOP destroyed U.S. economy, Part 2, May 24. Farrell breaks some new ground in the strident critique of long standing policy trends and offers a highly functional description of the destructive personalities controlling Wall Street. This article describes the several high points of the Farrell-Stockman thesis, a frontal assault on the modern Republican Party. It also provides important cautions on key information absent from the Farrell-Stockman broadside. (Image: Art & Perception)
Farrell makes his case by using Stockman's July 2010 New York Times OpEd, Four Deformations of the Apocalypse, New York Times and his recent book, The Triumph of Politics: Why the Reagan Revolution Failed.
Farrell should be commended for many of his insights, particularly those in an earlier essay he wrote warning of the trends that will destroy the country: 10 Doomsday trends America can't survive August 19, written almost a year after the Stockman New York Times editorial.
In the August 19 column, Farrell warned of the destructive, invisible hand of Wall Street:
"Today, this conspiracy of Wall Street, Corporate CEOs, politicians and Forbes 400 billionaires operates openly, with absolute power and an arrogance that is corrupting the nation's soul, their souls, your soul. This conspiracy has no moral compass, yet ironically, is legal." Paul B. Farrell, August 19
Farrell asserts, "Doomsday Politics: Monopoly of Super-Rich Anarchists rule America:"
"Forget buzzwords like oligopoly, plutocracy, socialism. Today Washington is a pure anarchy, a game played by tens of thousands of high-priced lobbyists squeezing the best deals out of America's budget, solely for their clients' interests, never the general public. Our economy is a monopoly of Super-Rich Anarchists. They know the only votes that count are in Congress. And they're for sale." Farrell, August 19
The anarchist analogy offers a major contribution to the current dialog. The rapacious Wall Streeters look like oligarchs and plutocrats but, there's a drive and a disregard for anything other than more of whatever they want at any given moment. That makes the "superrich anarchist" label important (no offense to traditional anarchists).
Stockman's Arguments
Farrell and Stockman, make some very strong points.
They chastise Nixon for the mother of all currency manipulations, the end of the Gold Standard. Stockman sees this as the onset of our great decline:
."So for the past 40 years, America's been living "beyond our means as a nation" on "borrowed prosperity on an epic scale ... an outcome that Milton Friedman said could never happen when, in 1971, he persuaded President Nixon to unleash on the world paper dollars no longer redeemable in gold or other fixed monetary reserves." Reagan insider: 'GOP destroyed U.S. economy', Paul B. Farrell, August 10, 2010
Stockman's second point is that the Reagan administration created an enduring pattern of, "Crushing debts from domestic excesses, war mongering." Farrell quotes Stockman:
"Yes, the GOP does have a welfare-warfare state: Stockman says, 'the neocons were pushing the military budget skyward. And the Republicans on Capitol Hill who were supposed to cut spending, exempted from the knife most of the domestic budget -- entitlements, farm subsidies, education, water projects. But in the end it was a new cadre of ideological tax-cutters who killed the Republicans' fiscal religion.'" Reagan insider August 10, 2010
After this juncture, the Stockman analysis seems anticlimactic. The neoconservatives, including Dick Cheney, Don Rumsfeld, pushed for and realized an excessive military buildup (but no real wars) during the Reagan's administration. Somehow, this was supposed to meet the diminished threat of an already dying Soviet empire. At the same time, Stockman notes that the Republicans in Congress continued with their support of entitlements and corporate welfare, Stockman notes.
The nexus of Stockman's argument is simple: the Republicans campaigned on tax cuts, more efficient government, and fiscal stewardship. They delivered on tax cuts but failed at efficiencies and any semblance of fiscal responsibility. The rest is history.
In, Reagan insider: GOP destroyed U.S. economy, Part 2, May 24,, Farrell's explication of Stockman becomes positively apocalyptic.
Farrell outlines Stockman's main points. "Politicians are addicts [who] can't stop spending." They can't stop giving tax cuts, which are now a "cruel joke" played on America's children (who are stuck with the bill).. There will be no Social Security crisis in 2036. The program, "is a myth." The surpluses are lost and gone forever. More war, bank bailouts, and a Goldman toady at Treasury fill the horizon as final horsemen of this apocalypse.
Historical Perspective - Stockman was a Willing Accomplice
Farrell veers off course, at times, when he uses David Stockman as his guiding light for his doomsday scenario. Stockman was the architect of the Reagan tax cuts without spending cuts.
Reagan's election was anomalous. He defeated a weak president beset by the humiliating Iran hostage crisis. His victory was not ideological. At the time of Reagan's inauguration, the US House of Representatives and Senate remained under firm Democratic control.
Tax cuts were at the core of Reagan's program. The White House proposed the cuts. A bipartisan coalition passed the program in Congress. That coalition failed to make the major spending cuts required to accommodate the loss of tax revenues. Supporters offered promises of cuts down the road and savings through greater government efficiencies. They never delivered. (Graph: WikiCommons)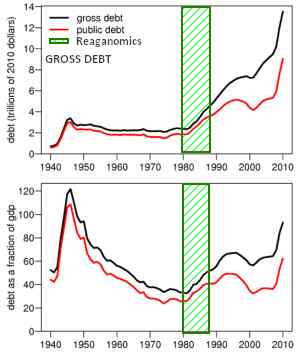 OMB director Stockman aggressively pitched and sold the White House's economic theory of tax cutting to Congress and the press. The Laffer Curve was a key rationale. Economist Arthur Laffer argued that lowering taxes would somehow increase government revenues. Therefore, the projected deficits were not deficits at all. They were opportunities for increase revenues. These increased revenues, the Reaganites argued, would actually reduce deficits. Stockman and Laffer later quarreled as the 1982 recession deepened. But they were aligned at the start on the disastrous core policy - above all else, cut taxes.
Among those working on Capitol Hill at the time, it was common knowledge that the Republican strategic goal was the elimination of social welfare programs left over from President Lyndon B. Johnson's Great Society. Republicans sought to end antipoverty programs, help for the seriously mentally ill, support for education, and the provision of critical support for women, infants, and children. A revenue shortage resulting from the Reagan-Stockman tax cuts was the ticket. Congress would have to either cut entitlements and military spending, not an option, or make up for lost revenues by cutting the so-called welfare programs instituted during President Lyndon B. Johnson's Great Society.
This does not negate the validity or importance of some of the Stockman and Farrell arguments. It is critical, however, to realize that Stockman is late convert to the politics of responsible governance. He talks about the days when Republicans believed that, "prosperity depended upon the regular balancing of accounts "in business, government, and homes. This Republican utopia could not have been during Stockman's tenure at OMB when public debt soared in actual terms and as a percent of gross domestic product.
Historical Perspective - Farrell's Claim of a Loss of "Moral Compass"
Farrell falls into another historical trap. In part one of the Stockman duet, he asks, "How did the great nation of America lose its moral compass and drift so far off course, to where our very survival is threatened?"
The United States is a great nation with a vibrant, adaptive people who possess any number of admirable talents. However, the nation began with great moral contradictions. Slavery survived despite the universal rights promised in the Declaration of Independence. Jefferson, Madison and other founders from slave states were well aware of this contradiction. They did nothing. Before, during and after slavery, the Native American population experienced nonstop tragedy at the hands of early US leaders. Andrew Jackson's Cherokee "Trail of Tears" represents one of the most appalling episodes in our history.
The list goes on including the continued disenfranchisement of immigrants, violence against labor organizers and unions, the Robber Barons and their monopoly on wealth, etc.
Farrell also laments the decline of the Republican Party years starting around 1970. Let's go back to the Great Depression. The Republican Party was steadfastly opposed to even the moderate recovery programs of President Franklin Delano Roosevelt (moderate compared to the Socialist Party of that time and populist Huey Long). Republican intransigence lured Roosevelt into a misguided balanced budget policy after 1936 that triggered the "second Depression." This flight of fiscal fantasy was felt by millions thrown back into poverty as a result of the bipartisan policy changes.
Then we had McCarthyism and the crony capitalism under President Dwight D. Eisenhower. During Ike's eight years, the nation's military and intelligence function were used too often to advance US commercial interests under the guise of the anti-Communist crusade.


In truth, we have had just one party for the past forty years, The Money Party, that bipartisan coalition with no more than six degrees of separation between the Republican and Democratic wings. The Party monopolizes political discourse and governance. It consists of the great concentrations of wealth, advances those interests, and responds to the needs of the people only when forced (e.g., the civil rights movement) or, in the past, when disaster strikes.
When were those happy times in our history when a truly free and competitive markets reigned? When did we have opportunity for all? Just ask black Americans, Japanese Americans, and the poor of Appalachia
Our history shows a non-stop tension between those who made and struggled to retain great wealth and those who wanted more than they had or, at least, enough to afford what they needed.
Worth reading but please remember…
Farrell's "10 Doomsday trends" essay and the two part series on Stockman are worth reading. They are strong indictments from unexpected sources. That alone is a strong recommendation.
Please remember that many of these arguments have been made by others well before Stockman; some during the so-called period of fiscal responsibility. Many warned that LBJ's Great Society program and the Vietnam War were incompatible. You cannot have "guns and butter," we learned. Put the Social Security trust fund in a "lock box," Al Gore argued in 2000. The anti war movement of the 1960's outlined the perils of imperialism, militarism, and the sorrows of empire that would follow. That goes unmentioned by Farrell and Stockman.
Are we facing a doomsday scenario?
That outcome presumes a straight line of current trends and variables with no accommodation for sudden political changes or scientific revolutions that might address the critical issues that imperil our survival. A look back at history shows periods of sudden decline for great empires, Austria-Hungary (the Habsburgs), for example. It also reveals periods of sharp decline without a total collapse of the seat of empire, the United Kingdom. We cannot rely on scientific revolutions to save us. At the same time, we would be naive to ignore the history of considerable advances in science. These can be sudden and revolutionary.
A narrow economic analysis simply swaps out "Let the markets take care of it" for "Let the bookkeepers take care of it."
It is an odd way to solve problems of epic proportion; transform them into an aesthetically pleasing balance sheet and we have arrived.
Why not start with the problems that imperil our nation and the world. Define them in terms of human needs and impact. Proceed to a solution that incorporates the considerable power of capital as a tool, rather than balanced budgets as the ultimate solution.
Money and currency have been rendered largely valueless through greed and manipulation.. Nevertheless, the problems we face are approaching the dire stage. We can no longer afford to live within our means when the definition of those means entails an arbitrary doctrine of fiscal responsibility that constrains urgent and comprehensive action.
END
The story of The Raft of the Medusa: [The French ship Medusa was transporting people and cargo to their new colony, Senegal in 1816. The ship hit a sandbar off the African coast and had to be abandoned.] "Eventually, everyone was forced to abandon ship. The wealthy and well connected were given space on the lifeboats while the rest, 149 people, were forced onto a makeshift raft which was tied by a rope to one of the lifeboats. At some point, the raft was either intentionally or accidentally cut loose. What followed was a two week nightmare of stormy seas, brutal murders, insanity and cannibalism. Just fifteen men survived the ordeal, and five of them died shortly after their rescue." Art & Perception
This article may be reproduced entirely or in part with attribution of authorship and a link to this article.