The truth comes out on the mortgage fraud settlement. The OCC announced the payout terms and for most people, they get less than $1,000 out of the deal. Only in America can one be fraudulently foreclosed on, lose their home, have their credit ruined, only to be compensated less than $1,000 for the ordeal. A whopping 4.2 million borrowers are part of this settlement for years 2009 and 2010.
Payments to 4.2 million borrowers are scheduled to begin on April 12 following an agreement reached by the Office of the Comptroller of the Currency and the Federal Reserve Board with 13 mortgage servicers. The agreement, which was reached earlier this year, provides $3.6 billion in cash payments to borrowers whose homes were in any stage of the foreclosure process in 2009 or 2010 and whose mortgages were serviced by one of the following companies, their affiliates, or subsidiaries: Aurora, Bank of America, Citibank, Goldman Sachs, HSBC, JPMorgan Chase, MetLife Bank, Morgan Stanley, PNC, Sovereign, SunTrust, U.S. Bank, and Wells Fargo.
Below is the OCC table of payouts, which doesn't include Goldman Sachs or Morgan Stanley yet. Look at the number of people illegally foreclosed on when they were in bankruptcy versus the settlement amount they will actually get. Only the first three categories in the below table can potentially receive more money over lost equity, but it is unclear if the individual has to sue to get it. The vast majority of people given the run around while they lost their homes will get $300 and $400 dollars.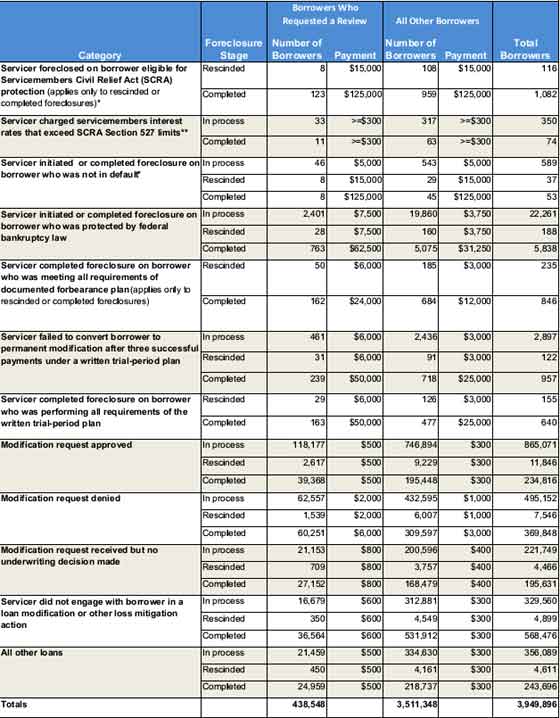 From the above table, asking for a review mattered for compensation received. Those who were foreclosed on while in bankruptcy who also requested a review received double what others did. Yet from the raw numbers, we see systemic home mortgage abuse by the too big to fail banks and once again, those who pay for this are not the banks. but the individuals who were the victims.
Earlier we warned the 50 state settlement was pig in a poke, corrupt and people would get chump change and now here it is. The real news of the details is just how many people were given the runaround by the banks as they went completely financially under in the process.
In 2009 and 2010 there were 3.9 million actual foreclosures. From the settlement details we see even when one is in the military active service, where it is clearly illegal to start foreclosure proceedings, yet they get a maximum pf $125,000, that's the best an individual military service member can do under this settlement. Most people who were illegally foreclosed upon while in bankruptcy are getting next to nothing in comparison to their real losses. The Huffington Post cranked some numbers on the percentages of people who got taken on a ride by mortgage servicers and bear in mind the above payout table is missing two major banks from their figures.
Nearly a third of all foreclosed borrowers who faced proceedings brought by the biggest U.S. mortgage companies during the height of the housing crisis came to the brink of losing their homes due to potential bank errors or under now-banned practices, regulators have revealed.

Close to 1.2 million borrowers, or about 30 percent of the more than 3.9 million households whose properties were foreclosed on by 11 leading financial institutions in 2009 and 2010, had to battle potentially wrongful efforts to seize their homes despite not having defaulted on their loans, being protected under a host of federal laws, or having been in good standing under bank-approved plans to either restructure their mortgages or temporarily delay required payments.

More than 244,000 of those borrowers eventually lost their homes,
This is an astounding number of people being treated badly by our TBTF banks with homes being seized left and right. Now those same people have insult added to injury with such small payouts and this settlement leaves 'em on their own to sue to recover any real damages. Individuals suing the big banks, how do you think that's going to go with our clogged courts and massive legal expenses just to proceed with a civil case?
If all of this wasn't bad enough, in a banking Senate hearing, Senator Elizabeth Warren exposed how the number of foreclosure fraud victims was made up by the banks themselves.
The OCC and the Federal Reserve allowed the banks to determine who had been harmed and in what manner. The OCC said it "spot checked" the work by the banks. When asked how the results could be legitimate if only 100,000 foreclosure files out of 4 million had been reviewed for errors or fraud, not a large enough amount to be a statistically reliable sample, the OCC spokesperson said the injuries were only hypothetical and might have happened.
There is another hearing by the Senate banking committee on April 17th. Let's hope we hear more about made up numbers from banks and their payout decisions on this settlement. Who knew one could settle with the government and then write your own term details, complete with a tally of your victims. There ya have it, our TBTF banks at work in full partnership with the government.