Guess what folks, there is a new economy! I'll bet you didn't know that just as much as stock evaluations and profit didn't matter in the dot con era.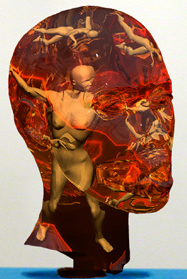 At the helm of the Obama plan is the Chicago School of Economics, heavily promoting behavioral economics..
Aha, if we all just made the right choices, none of this bad shit would be happening right? A new article, Obama's Geek Economist, in the MIT Technology Review, gives some foreboding hints at what we could expect in economic policy for an Obama administration. We're being told (sold), we need a new economist for the new economy.
As I recall our economy is a very old story and it's called labor arbitrage.
Obama subscribes to a distinctive set of economic theories developed at the university [of Chicago], and to a corresponding set of policy prescription
Some accomplishments of Alan Goolsbee's so called "new economics":
How Taxes depress buying crud on the Internets
With his colleagues, advancing behavioral economics
Here is the new Chicago school of economics.
When our tendencies to make irrational decisions are understood, the Chicago econo­mists argue, we can design "choice architectures" (Thaler and Sunstein's phrase) so that people default to better choices about matters like investment or taxation. Hence Obama's proposal that companies offering 401(k) retirement accounts should enroll their workers automatically, making participation the default option and opting out a conscious choice. Thus, too, Goolsbee's plan to simplify income tax filing for that majority of Americans who take only the standard deduction: under Goolsbee's scheme, the IRS would send all those taxpayers a return with the relevant information, so that signing the prepared form would become the default choice--saving taxpayers 225 million hours and $2 billion in preparation fees
Behavior economics, especially that based on neuroscience has been criticized as Mindless Economics (large pdf). All of our concerns about the United States, manufacturing and trade is all in our heads according to Goolsbee. Again, more behavioral science and not facing the trade deficit.
Economic research hasn't pointed at globalization as the main culprit," Goolsbee says. For example, he explains, Chinese and American manufacturing barely overlap: the total of all imports into the U.S. amounts to only 16.7 percent of American GDP, and imports from China amount to just 2.2 percent. "In fact, the losers to China have been nations like Mexico," he says; likewise, if Americans stopped buying cheap toys from China, the manufacturing jobs would return to nations like Mexico, not the U.S. Goolsbee adds, "Trade has helped the economy grow. Simultaneously, a sizable number of Americans haven't shared in that bounty, and if we don't pay attention to their concerns, all the political favor for open markets will dry up
You see that? Quite a piece of dancing footwork to deny the fact China is exceeding the United States in manufacturing alone. Our trade agreements are just fine and dandy. Simply a matter of adding some useless, not enforceable labor and environmental standards. Oh, it's just a matter of political capital to continue down the same path we are on with trade policy.
It gets worse. Goolsbee points to health care as the growing industry and how we have simply Creative Destruction of jobs.
Creative Job Destruction is the idea that if your job if offshore outsourced, magically a new and better job will appear due to innovation and technological advances.
One small problem with this one, another nations are catching and surpassing the United States in these areas, so the creation of jobs may be happening....just not in the United States.
This explains the completely weak trade and manufacturing policy positions and also explains the idea to give startups (ahem, define a start up and why do they need this if they are building value, services and products?) zero capital gains.
Even worse, while they promote education and training, (the ultimate blow off response, the United States has the highest educated Professionals in the world), they ignore the rapid acceleration of Research and Development offshore outsourcing!
Ask yourselves this behavioral question: why should anyone go into debt, spend years obtaining degrees and experience to have their careers cut short and their job offshore outsourced?
Charlie Rose (our favorite corporate agenda sales guy) with Goolsbee:
Obama is not in favor of abolishing NAFTA but merely putting in environmental and labor standards
If we are not mindful of those people's concerns, political capital will dry up
We can clearly see Obama's economic team do not acknowledge our trade deficit, how the United States is losing on trade policy and how we need major renegotiation on trade agreements. Goolsbee only sees the trade issue, behaviorally to the point he seems to not be able to analyze his own behavior of denial. China is going to exceed the United States economically in about 5 years. That's not behavior, that is absolute hard numbers. Ya know, that pesky thing called collective reality.
More on It's all in your head.
Note in the article Obama went shopping for an economic adviser simply by going to university where he had established connections and picking up the phone.