Congress is focused on all the wrong things to get people back to work. We hear day after day the drone of budget deficits, yet not a word is mentioned on the trade deficit. This is the problem Congress should be obsessed with. Our massive trade deficit is stunting economic growth and costing America millions of jobs.
EPI has a new study which shows once again, reducing the trade deficit will create American jobs. The number one cause of our massive trade deficit is currency manipulation. The figures are astounding. EPI estimates 20 countries, developed and underdeveloped, made off with $700 billion more in trade by manipulating their currency in 2011. This cost the United States $400 billion in additional trade deficit for the same year. That's a hefty amount of cash.
The U.S. could stop currency manipulation with a just say no program and this doesn't even require Congress. An executive order could declare currency manipulators can not buy U.S. assets, period. This would stop currency manipulation in it's tracks. Manipulators need to buy U.S. assets, in particular U.S. Treasury bonds, to keep their currencies undervalued,. We explained the mechanics of currency manipulation and why other countries buy up U.S. assets in this article.
The statistics are bleak. Manufacturing has lost almost a third of her jobs since 1998. From the same time period, the United States has lost one third of her global export market share. Germany has higher wages for workers than the United States, yet has maintained their global market export share and this is all due to their own domestic policies. China's global export market share has tripled, much of it on the back of the United States workers. Below is a graph of manufacturing employees in the United States since 1998. We might call it the great American job slide where manufacturing is relocated abroad.
According to EPI, if the U.S. stopped currency manipulation in 2011, nominal GDP would have increased whopping 1.4% to 3.1% in 2014. That's huge! Even better, America would have created between 2.2 million to 4.7 million new jobs by 2014. EPI estimates stopping currency manipulation in 2011 would have reduced the unemployment rate by 1.0% to 2.1% and created between 620,000 to 1.3 million new manufacturing jobs in just three years. That is just stopping currency manipulation, all other policies remain the same.
Below is EPI's graph on what the trade deficit would have looked like under two methods for stopping currency manipulation. The high impact estimates about a 3% increase in exports and corresponding decrease in imports. Low impact assumes half that. The dramatic projections illustrate what a drain on the U.S. economy currency manipulation is.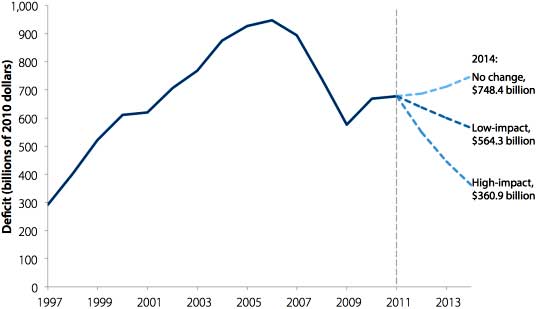 It is not just economic growth and employment at stake. Confronting currency manipulation would also reduce the federal budget deficit. EPI's model suggests between a $78.8 billion and $165.8 billion budget deficit reduction over the same three year time period. This is because growth increases output, reduces payouts via social safety nets and, drum roll please, increases tax receipts, government revenues. Yes folks, putting people back to work and increasing economic output reduces the federal budget deficit.
The EPI study goes onto to suggest policies which ,completely reverse the U.S. trade deficit and return GDP and employment levels back to the early 1990's. Throughout the paper they use Ohio, one of the states hit hardest by trade, as an example to show the positive effects on that state's economy.
Will policy makers listen to the statistics and actually do something? We doubt it, but we suggest writing them anyway. Demand Congress start addressing the biggest cause of American job suck, currency manipulation. One will need to bang the drum loudly, for Congress is clearly obsessed with the wrong deficit.