The July employment report is a little schizoid in that one employment survey showed a decline of 195,000 employed people while the other, the actual payrolls reported by businesses, showed an increase of 163,000 jobs. Below is the employment levels from the CPS survey.
This overview goes into employment statistics typically not reported. Officially there are 12.794 million people unemployed and the unemployment rate is 8.3%. We calculate below an alternative unemployment rate of 17.1%, which shows 27.6 million people need a full-time, real job.
The average length of unemployment dropped from 39.9 weeks to 38.8 weeks, which is a positive sign, although still absurdly long. The median time one is unemployed, which means 50% of people have gotten a job in this amount of time, also decreased significantly from 19.8 to 16.7 weeks.
People unemployed for 27 weeks or more remains at high levels of the total unemployed, yet dropped from 41.9% to 40.7%. That's still 5.185 million people officially unemployed for over half a year, even though the percentage is finally dropping. Don't think this is that great of a sign, many people simply run out of unemployment benefits and then just drop out of being even counted as needing a job.
Some people are in part-time jobs because they want to be, others because they cannot find anything else. There are 8.246 million people stuck in part-time jobs because that's all they can get, an up-tick of 36 thousand from last month. Below is a graph showing how much non-voluntary part-time workers has increased.
Some are stuck in part-time because their hours were cut by their employer. These part-timers due to slack work now number 5,342,000, an decrease of 104 thousand from last month. Below is a graph of forced part-time because they got their hours cut as a percentage of the total employed. This metric is a solid recession economic indicator. See how closely the percentage increase matches recessions, the gray bars? The percentage of people in part-time jobs due to slack economic conditions has stayed extremely high since the start of the Great Recession.
U-6 is a broader measure of unemployment, includes the official unemployed, people stuck in part-time jobs and a subgroup not counted in the labor force but are available for work and looked in the last 12 months. U-6 has also remained consistently high and was 15.0% for July.
The real number of people wanting a job for July is 27.594 million, over double the official counted as unemployed of 12.794 million. One needs to add up the official unemployed, people stuck in part-time who need full-time jobs, and all of those people not in the labor force, but who report they actually want a job, currently at 6.554 million. Those not counted in the labor force but report they actually want and need a job increased by 34 thousand from June.
This gives an unemployment rate of 17.1%, calculated following the methods from this article on estimating the real unemployment numbers. June's alternative unemployment rate was 17.0%.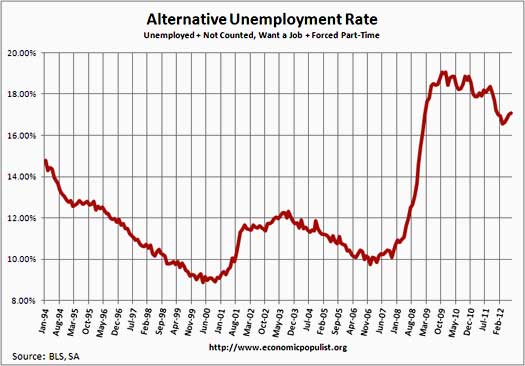 The marginally attached are people not in the labor force because they have not looked for a job in the last month, but have looked for a job in the last year. This number has ballooned since 2007 and not returned to pre-recession levels. The graph below is the number of people considered marginally attached to the labor force, currently at 2.529 million.
Discouraged workers are people, not counted as part of the civilian labor force, who not only want a job, but also looked for one in the last year. These people aren't job hunting for the last month because they believe there are no jobs out there. Discouraged workers are part of the marginally attached, yet report the reason they didn't look for a job in the last month is they believe there are no jobs out there. Below is the graph of discouraged workers, currently at 852 thousand. Artificially low by definition, the discouraged workers metric is useful as a barometer on what the job market feels like to people. That said, one would have to be a politician, pundit or lobbyist to deny the U.S. job market is pure crap. Notice the elevated state of discouraged workers.
A final area of contention is figuring out how many jobs are needed each month to keep up with population growth. Seems many in the press just throw out a number. We just don't know due to civilian non-institutional population fluctuation. We do know that overall population monthly growth has been hovering around 200,000 a month, this month the change was 109,000. We also know the civilian non-institutional population is roughly 75% of the total population. We also know the labor participation rates and employment to population ratios are artificially low. Therefore, it's safe to say we need about 100,000 jobs per month to keep up with population growth at these same labor participation rates. The Atlanta Fed got sick of the debate it seems and put up a monthly jobs calculator. This month we needed 94,429 jobs to keep up with population growth. This number is for the CES survey, the CPS survey needed 100,790 more employed people to keep up with population growth.
The two surveys, CES and CPS are always different and vary on a month by month on that difference. At the risk of publishing statistical nonsense, below is the CPS employment levels minus CES nonfarm payrolls, and this difference monthly change. As we can see the monthly difference varies widely, no surprise since they are separate methods. Just be aware the CES is payrolls, considered more accurate and the most quoted.