A little noticed report issued by the National Employment Law Project last Friday dropped something of a bombshell. By the end of this year 1.5 million Americans currently receiving unemployment benefits will have exhausted them.
A sobering analysis released today by the National Employment Law Project estimates that 540,000 Americans will exhaust their unemployment insurance benefits by the end of September, and a whopping 1.5 million will run out of coverage by the end of the year. NELP's state-by-state analysis comes on the same day as the states announce their latest unemployment figures, and together they demonstrate the pressing need for more extensions.

"Over half a million Americans will face life without a paycheck or an unemployment check by the end of September. By the end of the year, that figure will triple. It is clear we are coming up on a tidal wave of need for more extensions and help from the federal government," said Andrew Stettner, Deputy Director of the National Employment Law Project.
"But for the grace of God"
Economic numbers have an anesthetic quality. By drawing the attention away from what each number represents towards the trend that the great mass of them demonstrate to use. One man without a paycheck, unemployment benefits, or any other means to support themselves and their family?
That's a tragedy.
1.5 million?
That's a statistic.
Growing up there was a phrase that has become seared in my memory. I grew up in a dying industrial town. Nearly 1 out of every 3 children there grows up in poverty. We never had much, but we had more than many. Schadenfreude is a very human emotion, but growing up we were taught that was a horrible thing. Instead, we were taught something else. "But for the grace of God, there go I."
The type of society in which one looks upon other's hardship as a harm to oneself, is one in which you can be certain that if you fall upon hard times, you too will be provided for. There was to be a safety net that would catch all, so that none fall beneath what we as a society understand to constitute basic human dignity. There may have been a labor market, but that basic human dignity was not for sale. I'm afraid that this is no longer true.
The old social safety net is tattered, and far too many have fallen through in the current recession.
The Fallen
Before we even start talking about those currently receiving unemployment benefits who will soon be without an income, it's important to highlight an often ignored point.
We tend to think that although unemployment is high, that those of us who are out of work can count on receiving unemployment benefits to carry us through our time of hardship. We can't.
Nationally, of the 14,729,000 currently unemployed, only 6,671,680 are currently receiving unemployment benefits. That means that over half (54.7%) of those who are currently unemployed are not receiving unemployment benefits. The situation in the states varies greatly. Below is a map showing the percentage of the currently unemployed who are not receiving unemployment benefits.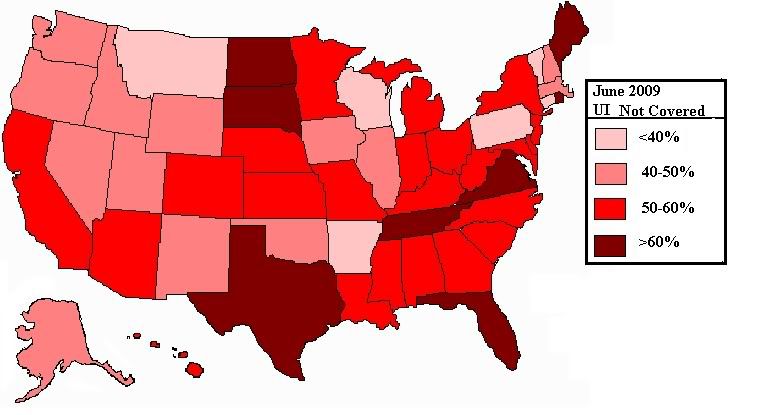 All this raises the question of how it is that this group is getting by.
Some portion of this group is probably receiving support from family members that are still employed. Another portion is undoubtedly receiving support from other social programs, i.e. welfare. Yet, a number of this group have to be drawing down on their personal savings. Or worse, putting it onto a credit card. Obviously, neither of these latter two approaches is sustainable. Eventually savings run out or credit card limits are met.
What happens then? Even where families have the advantage of savings, what happens when those run out and the mortgage is still due? It's basically impossible to quantify this, but there is certainly risk here.
Mortgages and credit cards will go into default. And when that happens, the bank holding the loan has a problem. Or if it's been securitized, that is "grade D" debt is sliced and diced into something that looks "grade A-Prime" any financial institution linked to the debt through derivatives has a problem. It's a largely unquantifiable risk, but it certainly is out there.
And beyond the economic statistics, what is the human damage here?
More Fall Through
Now that we've established that a number of Americans are currently out of work and not getting unemployment benefits, we can move on. Presently the job market is extremely tight. If we are worried that people who are currently set to exhaust their unemployment benefits by the end of the year will do so, then we have to have to be able to demonstrate that it's unlikely that a large number of them are going to get a job between now and then.
And, yes, we can.
There are currently 6 unemployed for each job opening. In May there were 14.5 million without jobs, and 2.55 million job openings. The research team over at the Economic Policy Institute (EPI) put together this graph which shows how bad this is compared to the past decade.
The long and short of it is that it's a pretty reasonable assumption that most of those currently unemployed will not find a job before the end of the year. Looking at the percentage of those currently on the unemployment rolls who will exhaust benefits by the end of the year we get this map. Nationally, 11% of those currently on the unemployment rolls will exhaust their benefits by the end of the year,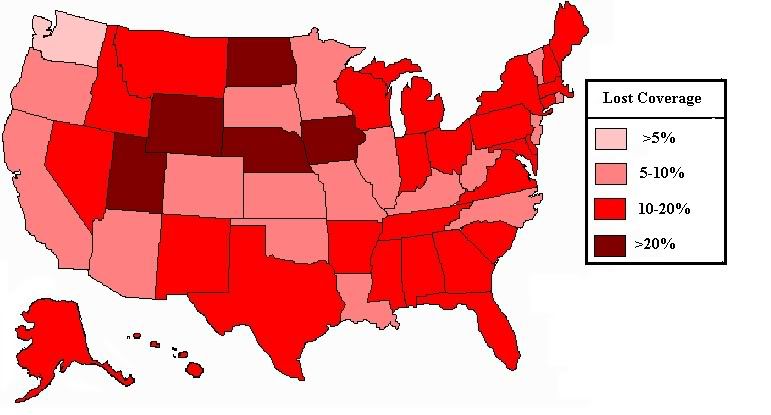 Now, this doesn't account for the percentage of the population currently unemployed, so some of the worst falls are going to come in states where the overall unemployment rate is fairly low. In some of these states on the Great Plains 2% of the working population is going to exhaust their benefits. Which could potentially bring many problems that these states have been able to avoid until this point. These states never had a housing bubble, and they have had low unemployment. Still, if 2% of the population has no job and no income, they are going to have a hard time paying their mortgage. And that could mean trouble for small, local banks in these states.
I'm going to do something that I normally don't do. I'm going to post the raw numbers of the number of persons currently on unemployment who are set to exhaust benefits by the end of the year for each state.
These are the statistics, but remember that each of these numbers is a person. A person who is going to soon going to be both without a job, and without a UI check to help cover the bills.
Conclusion
I hate to be the harbinger of doom. Hell, it's not like I'm contemplating human extinction. (That diary was depressing.)
The point is that we need to understand that a jobless recovery is no recovery at all, and that until the fundamental problem presented by the dominance of the American economy by Wall Street finance is dealt with things will not get better.
The origin of the word economy is from the Greek oikonomia. Oikos refers to a houselhold, nomia means management.
Until the rise of the market in the Renaissance, economies where solely concerned with providing the material means of a societies existence. No profit needed. We must return to this understanding of the economy, that of the economy as providing the means for the dignified existence of all, if we are to measure the success of economic recovery rightly.
What good is economic recovery if a large group are left without the material means to support themselves?
Are we to let them first starve, and then die? Or do we need to concentrate on the ways in which people can be employed in producing material items that make life better? Not financial fictions.