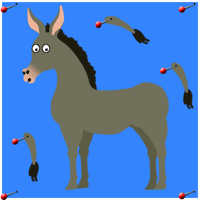 I am starting to think that everyone and their brother has a magic secret crystal ball, a pack of special stock symbol tarot cards, a smoke machine and voodoo chants mumbling phrases sprinkled with buzzwords recovery, GDP and Q3 . Is there anyone in America not trying to play pin the tail on the end of the recession?
Bloomberg notes the bond market rejects recovery, in spite of the last week's ultimate declarations of the recession's untimely demise.
The bond market isn't buying all the optimism over the end of the global recession. While the International Monetary Fund said last week the economic recovery will be faster than it forecast in July, investors pushed yields on government debt to the lowest level since April, according to the Merrill Lynch & Co. Global Sovereign Broad Market Plus Index.

The gauge, which tracks $15.4 trillion of bonds worldwide, gained 0.73 percent this month, the most since 1.02 percent in March. Debt investors can't see a recovery strong enough to spur central bank interest rates anytime soon, especially with the Obama administration forecasting that unemployment in the U.S. - - the world's largest economy -- will rise above 10 percent in the first quarter.

After stripping out the effects of the U.S. government's "cash for clunkers" program to buy new cars, consumer spending was unchanged in July, according to Commerce Department data released on Aug. 28.

"The bond market does not believe we will see rapid robust rates of growth," said Jeffrey Caughron, an associate partner in Oklahoma City at The Baker Group Ltd., which advises community banks investing $20 billion. "The deleveraging of the consumer will act as a drag on growth, which will keep inflation to a minimum and interest rates relatively low."
I guess the bond market is on the Populist side. The article notes it doesn't like 10% unemployment and also doesn't like 4.7% wages drop that has happened over the last year.
If the Bloomberg link is empty, try this copy, they have been changing the story based on state of today's markets.