Enough of the bastardization of Keynesian economics. True Keynesian economics is NOT about bailing out Wall Street and providing a tax cut to wealthiest Top 1-2% of population. Keynesian economics is NOT about providing government spending for a war machine. Keynesian economics is NOT about creating deficits WITHOUT a material return on investment in the form of FULL EMPLOYMENT.
What is Keynesian economics? In a nutshell, Keynesian economics is a political economic philosophy that believes that government fiscal and monetary policy can help close any output (GDP) gap in the economy - meaning recession/depression. The focus of Keynesian economics is on FULL EMPLOYMENT and SHARED PROSPERITY.
What we are seeing today in the form of various stimulus plans already enacted and proposed is NOT Keynesian economics. It is a bastardized version that helps those who needed it the least. EP has documented the weaknesses of the American Recovery and Reinvestment Act of 2009 (here and here) and now we are hearing reports of the "bipartisan" boondoggle that is heading our way in the form a new "jobs bill". It won't work. Why?
Tax experts and business leaders said companies are unlikely to hire workers just to receive a tax break. Before businesses start hiring, they need increased demand for their products, more work for their employees and more revenue to pay those workers.
It's the structure of the tax break - it is in the form of a tax credit. This isn't rocket science. Businesses, particularly small businesses, need cash flow and they need it NOW. A tax credit won't cut it.
WE NEED TO STIMULATE DEMAND! That means putting money in people's pocket and doing it on a regular basis as opposed to a one time stimulus check gimmick or tax credits that take effect until tax time.
Proposal
1) FULL PAYROLL TAX HOLIDAY
An immediate and Full Payroll Tax Holiday will provide a very effective and regular stream of extra of money for families to use on household expenses. Each pay period, an employer withholds a certain amount of money from our pay checks. The withholdings include a certain amount for state and federal income taxes, social security, unemployment tax and medicare. The social security and medicare tax is known as FICA tax or Federal Insurance Contributions Act tax. Both employer and employee pay a share of the FICA tax. Currently, FICA tax rate are the following:
Employee:
6.2% of gross compensation for Social Security portion
1.45% of gross compensation for Medicare portion

Employer: Same rates
A Full Payroll Tax Holiday on the FICA portion of payroll tax would mean that employer and employee have extra cash each pay period to use to INCREASE DEMAND. The FICA tax rate would be set to zero for employee and employer. U.S treasury would pay the 15.3% on behalf of the employer and employee into the applicable social security and medicare funds. This would mean an immediate stimulus, well targeted, simple and can be withdrawn quickly when economy starts to recover.
BTW, treasury would make the payment to social security and medicare on behalf of the employer and employee.
2) A Direct Jobs Program
We are talking True Keynesian stimulus like the WPA or Civil Conservation Corp. This direct jobs program should lead to a Jobs Guarantee program . Remember, the target is FULL EMPLOYMENT and SHARED PROSPERITY.
As for those who are concerned about the deficit: Full employment translates into more tax revenue. The purpose of these programs are to jump start the economy by generating DEMAND. This is what will help the private sector to start creating jobs.
Now, as for those who, like me, who want the "best bang for the buck". Check the following tables and you decide (it's a shame that direct jobs program isn't on either).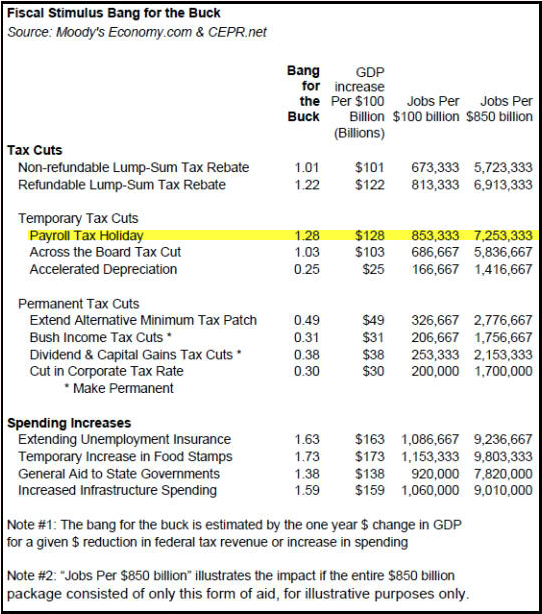 (h/t - Openleft - Paul Rosenberg)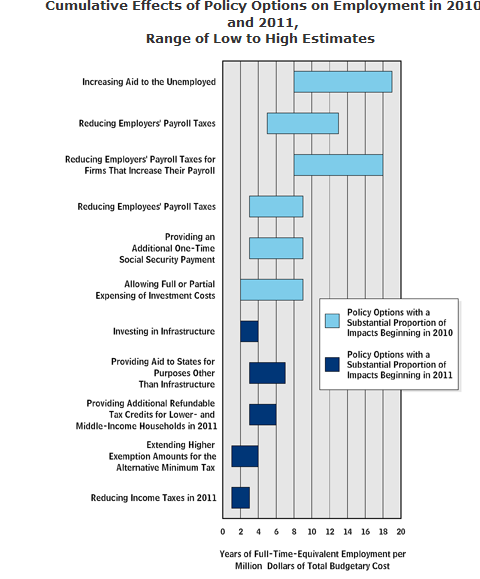 Keynesian economics is about FULL EMPLOYMENT and SHARED PROSPERITY. But its very convenient for those in Washington and neoliberals to forget that fiscal and monetary policy can be very powerful tools that can be used in ways that benefit big money interests.
Both Democrats and Republicans are quick to push for Keynesian stimulus policies when financial stability is threatened, but most (including too many Democrats) are silent when the economy fails to deliver shared prosperity.

Keynesian full employment stimulus policies must be accompanied by Keynesian structural policies that ensure wages grow with productivity, thereby ensuring sustainable demand growth. These structural policies include labor and social insurance laws supportive of unions and worker bargaining power, and international economic policies that prevent inappropriate competition and unsustainable trade deficits. The conservative capture of Keynesianism has both obliterated these structural policies and put a brake on reaching for full employment.
Good luck.