Welcome to the weekly roundup of great articles, facts and figures. These are the weekly finds that made our eyes pop.
Fewer Jobs, Less Pay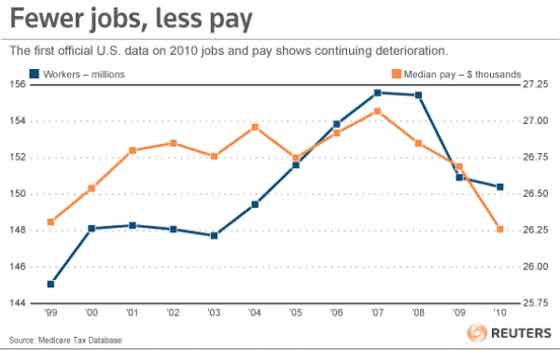 The first look at 2010 ain't pretty. David Cay Johnston overviews the 2010 salary and wage numbers. There is a video overview at the link as well.
The median paycheck — half made more, half less — fell again in 2010, down 1.2 percent to $26,364. That works out to $507 a week, the lowest level, after adjusting for inflation, since 1999.

The number of Americans with any work fell again last year, down by more than a half million from 2009 to less than 150.4 million.
Income Rising at the Top
EPI shows the 99% are right, the rich get richer, the rest of us get the shaft.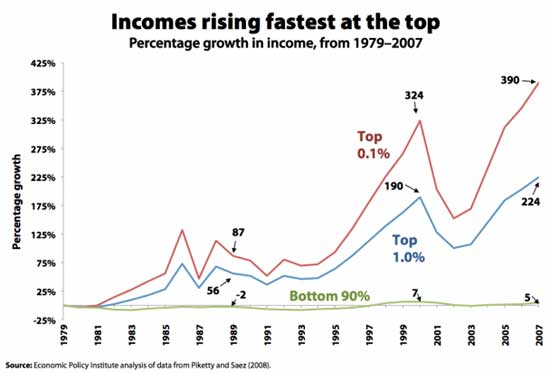 In the long period before the most recent recession, from 1979 to 2007, inflation-adjusted incomes of the top 1 percent of households increased 224 percent. Those even better off, the top 0.1 percent (the top one one-thousandth of households), saw their incomes grow 390 percent. In contrast, incomes for the bottom 90 percent grew just 5 percent between 1979 and 2007. All of that income growth, however, occurred in the unusually strong growth period from 1997 to 2000, which was followed by a fall in income from 2000 to 2007.
Bleak Picture for Americans
CBS News put the data together and pointed out further how the rich get richer, the rest of us get poorer.
Those earning at least $1 million a year, a total of 93,725 Americans, reported payroll income totaling $224 billion - a rise of 22 percent above 2009.
Yet Another Secret Trade Pact To Destroy More American Jobs
Eyes on Trade alerts us to a trans-pacific trade deal that is being negotiated in secret:
Recently Revealed 'Secrecy Pact' for Trans-Pacific Trade Talks Belies Obama Administration Promises of Transparency in Trade

U.S. Groups Escalate Demands for Access to Trans-Pacific Trade Texts as Global Push for Transparency Builds on Eve of Talks
This yet another NAFTA style trade deal has been in negotiations for months with a November deadline:
The Obama Administration began talks with Asian and Latin American nations to enter into the Trans-Pacific FTA. The talks with Australia, Brunei, Chile, New Zealand, Peru, Singapore, Malaysia and Vietnam were originally initiated by the Bush Administration.
U.S. Taxpayer Funds Jobs To Foreigners
Trade Reform picked up on a car company getting Stimulus dollars to build a car in Finland.
This is disgusting. We need a national strategy to counter state capitalism. But can you imagine China, Japan or Germany doing this? Spending public money to allow highly innovative production facilities to be built in other countries?

Fisker Automotive took $529M in taxpayer loans and outsourced the manufacturing to Finland.
Outsourcing the American Dream
The below video is from an Alliance for American Manufacturers Panel, where Leo Gerard states the obvious, innovation follows manufacturing, not the other way around.
Stupid Immigration Tricks
A couple of Senators want to give an immigrant visa to anyone who buys $500k worth of residential real estate. Be afraid, this is supposedly part of a more comprehensive immigration reform bill. Right o, they destroy America's middle classes so the Senators want to tack on an immigrant visa bribe to keep housing prices over-inflated? Drug cartels and human smugglers, you watching this? I'll bet you are!
Social Security COLA 3.6% for 2012
Calculated Risk number cranks the cost of living increase for social security in 2012. We've calculated COLA out as well in the past so Calculated Risk's 3.6% increase assessment is about right.
Health Care Getting More Expensive, Benefits Cut
The Wall Street Journal, in their typical blame the victim mentality, overviews how deductibles are skyrocketing, choice is being reduced and people are foregoing more and more basic health care because they cannot afford it. That's with insurance.
Gets worse, corporations are testing cholesterol, blood pressure, body mass and blaming the person if any of these biometrics come up short, as in financial, premiums and lose your job blame. See some institutionalized age discrimination coming down the pike? Blood pressure increases with age. Watch out, even though this story will make your blood boil, don't let your employer measure your growing outrage. You maybe out of a job, never mind health care.
Walmart Cuts Health Insurance for Employees
Walmart workers are paid such low wages, they already could not even afford the health insurance premiums. Now Walmart is denying any benefits to millions of part-time workers now. One would think Walmart is so huge, they would simply start their own health insurance company and HMO. But that's probably not profitable enough for them.
CEO Pay
Barry Ritholtz has a series on CEO pay in pictures. 299 CEO salaries could support over 100,000 median income jobs and it's just obscene how much gluttonous greed is going on in executive land.