The validity of the public debt of the United States... shall not be questioned

Except when one wants to screw over Americans by cutting social safety nets under the guise of a debt ceiling crisis.
After Congress and the Obama administration ranted and raved for months and under the cover of non-stories like Casey Anthony, we have Obama is putting social security, medicare and social safety nets up on the faux pas debt ceiling negotiation block, to be cut and slashed.
After putting controversial cuts to Social Security and Medicare on the table in negotiations with congressional Republicans over a plan to raise the nation's debt ceiling, President Obama still doesn't have a deal in the works. Emerging from a meeting with congressional leaders on Thursday, Obama said that both sides in the negotiations would find the ultimate outcome "painful." He also explained that the two sides had not yet arrived at an accord, but would reconvene talks on Sunday.

"I want to emphasize that nothing is agreed to until everything is agreed to," Obama said, adding that the talks were conducted "in a spirit of compromise" but that the parties "are still far apart on a wide range of issues."

Both sides must come to a resolution to raise the $14.3 trillion limit by August 2, or the federal government could risk default, Treasury officials warn.

Obama has offered to reform the nation's entitlement programs in return for a deal that would increase government revenue by closing loopholes in the tax code.
One trick is to use a different cost of living adjustment, called chained CPI to actually reduce the meager social security benefits to future retirees.
Who are those future retirees? The people who have had their careers cut short, lost their retirement due to stock market crashes and having to empty their 401ks to survive. A huge percentage of people have zero funds available to retire on and are counting on social security more than ever.
Economist Chinn, ran the numbers on chained CPI. Over 10 years, it would have cut in social security benefits by 3.6%.
If we were using chained CPI instead of CPI-W over the last 10 years, Social Security benefits would be about 3.6% lower than they are now.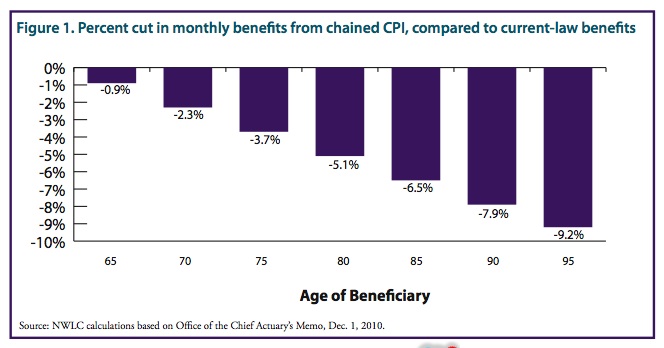 Another group, created the above chart and is pointing out the cuts to Medicare will hurt women the most. Medicare is under attack, but not to clean up the rolls, instead just cutting benefits to the most poor and vulnerable.
The situation is worse than the above. Even when Democrats propose a 50-50 budget, where tax increases are matched with cuts, we cannot find the details. Such is the insanity of Congress and this administration.
They want to cut $4 trillion over the next 10 years. The fallacy of this debt showdown is having the focus be on Medicare, Medicaid, Social Security and tax increases. First the specifics are impossible to discover but the obvious, the United States is in two wars with further military action we cannot afford, is not on the table. Neither are the bad trade deals, tax incentives to offshore outsource your job, repealing the Bush tax cuts and a host of other insane policies that are eroding the U.S. economy. There is talk of the defense budget being cut by $700 billion, yet the details are scarce. Even determining what tax increases are being proposed is impossible to discover.
Some of the tax proposals are vague and budget experts have yet to calculate just how much they would raise. For example, limiting deductions for high-income families and small businesses could raise anywhere between $210 billion and $290 billion, depending on what threshold is established as high income.

Obama is proposing to eliminate $41 billion in tax breaks for oil and natural gas companies, raise taxes on investment fund managers by $21 billion and change the way many businesses value their inventories for tax purposes. The change in inventory accounting would raise an estimated $70 billion over the next decade, hitting manufacturers and energy companies, among others.
So, we have no problem cutting into people's meager social security, that will not support them as it is, yet closing tax loopholes for oil companies isn't an option.
Ritholtz posted a probability flow chart on the debt ceiling games. Click on the image to zoom.
Paul Krugman again shows that austerity will cause the economy to contract and many are screaming we need infrastructure, to invest in America, which falls on deaf ears.
Needless to say things that make no sense, such as the United States paying China taxes won't be considered. Edwin Way analyzed what would happen if we matched the China VAT on U.S. goods and services. By enacting sane policy here would help balance the budget deficit.
Matching Chinese border taxes would raise $2 trillion: How the US can avoid savage cuts to social security and steep income tax increases while paying for new infrastructure and leveling the playing field for US manufacturers

As Washington debates how to cut trillions of dollars from the US budget deficit, it would be wise to consider looking to China for insight. The Chinese government is not only sitting on three-trillion dollars worth of foreign currency — making it the richest entity on the planet — but the central government has enjoyed large surpluses even as it invests hundreds of billions of dollars in new schools, high-speed rail, military modernization and advanced high-tech industries.

There is much the US can learn from China given striking difference in the way the US and Chinese government raise revenue. Fortunately, while these differences are rarely mentioned, information on China's system of taxation can be easily found on the website of the Ministry of Finance.

The biggest difference in the way the Chinese and American governments raise revenue is that Beijing relies much more heavily on import taxes. More than 20% of Chinese central government revenue in 2009 was generated from import taxes, while the comparable figure for the US was just 1.4%.
Another tax which could curtain flash trading is a Wall Street transaction tax. Of course reasonably policies that turn the United States economy in a better direction at the same time are not at the table. Nothing that could possibly help the real America, that's us, shall be considered.