The Atlanta Federal Reserve gives some estimates on the jobs at risk from the Gulf Oil Spill disaster. They are saying it's 132,000. That said, there are 2.8 million jobs in the region associated with tourism in 2008. In 2003, 71% percent of the jobs in the region are associated with tourism and recreation along the Gulf.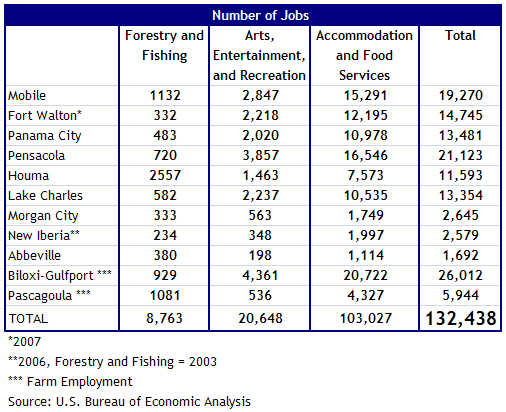 Source: Atlanta Federal Reserve
We can measure the number of jobs at risk, however. Across Florida, Louisiana, Alabama, Mississippi, and Texas—the states likely to be affected most directly—total employment in tourism-related industries and agriculture was about 2.6 million (in 2008), or about 14 percent of total employment in those states. However, if we narrow our scope to metropolitan statistical areas along the Gulf Coast of the most affected states, the numbers are much smaller—just under 132,500—with most being in the accommodation and food services industry.
Obviously this will not bode well to our never ending high unemployment rate, regardless. So why is there no immediate federal direct jobs program? Last news I heard the Obama administration was considering such action.
The Atlanta Fed states clearly estimates are ongoing and due to the nature of this disaster, ever changing, it is impossible to ascertain the true economic impact. Yet from another report, we have these details:
RECREATIONAL FISHING:

A 2006 National Marine Fisheries Service report noted that 6.2 million recreational anglers in the Gulf region spent $2.2 billion on more than 23 million fishing trips in 2006.
A similar report in 2008 noted that 3.2 million resident recreational anglers took a Gulf of Mexico fishing trip in 2008.
In 2008, eastern Florida and the Gulf region's commercial fishing industry generated more than $10.5 billion in sales, more than $5.6 billion in income, and supported more than 200,000 jobs in 2008.

COMMERCIAL FISHING:

More than 75 percent of the nation's commercial fish and 80 to 90 percent of its recreational fish spend part of their lives in estuary habitats – oiled wetlands will impact the breeding areas and nurseries for a variety of fish and shellfish, and the fishing.
Many of the Gulf region's key species are likely to be the first casualties of spill: oysters cannot flee the low dissolved oxygen areas caused by oil on the water's surface and the newly spawned larvae of shrimps and crabs – the catch of the future – are likely to be closer to the water's surface and any floating oil.

BIRDING:

In 2006, more than 7 million people participated in bird watching in eastern Florida and the Gulf region; wildlife watchers in this region in general spent nearly $7 billion on expenditures (e.g., equipment purchases like binoculars and cameras).
Currently, it is peak spring migration for colorful songbirds that winter in South and Central America and nesting season begins soon for terns, plovers, and egrets. All of these species depend on the Gulf marshes to refuel after long flights and could be impacted by oiled resources.