The March 2012 employment statistics for individual states gives us yet more not so great news for American labor. Employment only increased in 29 states and decreased in 20. The three states with the largest payroll employment decrease are Ohio, -9,500, New Jersey, -8,600, and Wisconsin, -4,500. February showed payrolls gaining in 42 states.
The unemployment rate can drop because people are getting jobs, or they are plain dropping out of the labor market. Seeing 39% of the regions have their payrolls drop in a month is not a good sign. Other states did gain jobs. The largest, in order, are New York, +19,100, California, +18,200, and Arizona, +13,500.
By percentages, the largest payroll increases were in Arizona, a 0.6% increase, Nebraska along with the District of Columbia, both having a 0.5% increase. Maine payroll jobs dropped -0.5% and Wyoming declined -0.3%.
In terms of unemployment rates Nevada is still the worse, as shown in the below BLS map.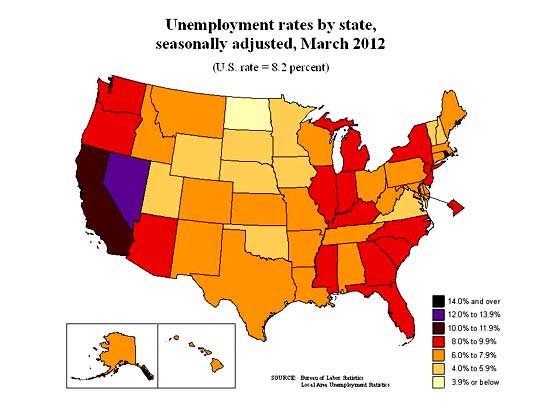 Rhode Island has an 11.1% unemployment rate and California comes in next with 11%.
Another not so great news is 16 states unemployment rates have not budged from a year ago. By payrolls we also have not so great news. Only 27 states and the district experienced statistically significant increases in employment for the entire year. Increases were in Texas, +245,700, California, +181,000, and New York, +155,300. These states also have some of the highest high populations. Wisconsin lost a statistically significant number of jobs, -23,900.
This is just incredible considering the recession was declared over 2 years, 9 months ago (July 2009). To look up your state's unemployment rate, click this link.