The Q2 2011 GDP report showed draconian revisions. Q1 2011 GDP was revised downward from 1.9% to 0.4%.
On an annual basis, 2008 GDP was revised from 0% to -0.3%. 2009 shows just how bad the economy became with a new annual -3.5% GDP, revised from -2.6%. 2010 was revised upward by just 0.1% to 3.0% for the year. Below are annual GDP revisions. This graph was generated from ALFRED, which allows you to compare historical economic data. The dark red bars are the revised numbers, compared against the previous GDP, in green.
The worse revisions are in Q4 2008 and Q1 2009. Instead of a -6.8% quarterly annualized change for Q4 2008, it was –8.9%. Q1 2009 was revised to –6.7%, from -4.9%. Below are the quarterly GDP revisions. The BEA reports quarterly GDP as annualized.
For the period of contraction from the fourth quarter of 2007 to the second quarter of 2009, real GDP decreased at an average annual rate of 3.5 percent; in the previously published estimates, it had decreased 2.8 percent.

For the period of expansion from the second quarter of 2009 to the first quarter of 2011, real GDP increased at an average annual rate of 2.6 percent; in the previously published estimates, it had increased 2.8 percent.
Revisions normally go back 3 years and are done in July, but there were additional revisions that went back all the way to 2003. The summary of where these revisions came from is here. Bottom line, real GDP, or in chained 2005 dollars, is less than before the recession. In other words, our economy has shrunk and not recovered.
It's quite the blood bath for current dollar GDP as well. 2010 GDP was 14.53 trillion after revisions. Yet that was a with a -133.9 billion downward revision. 2009 was revised down by -180 billion and 2008 was revised downward with -77.5 billion.
The most quoted definition of recession is two consecutive quarters of negative GDP. As we can see with these new revisions, officially the numbers do not go into the definition of a double dip, but assuredly we cannot say America is growing.
To take this in perspective, below is annual GDP, going back to the Great Depression. This graph includes the GDP revisions. Clearly these are the worse economic times since the Great Depression. Also, see that dramatic decline in 1937? That's when Congress tried to balance the budget and reduce deficit spending.
Personal Consumption Expenditures are 70.53% of total GDP. They also were reduced for the 2008-2009 period. A graph of PCE revisions is below. Again the revised numbers are represented by the dark red bars.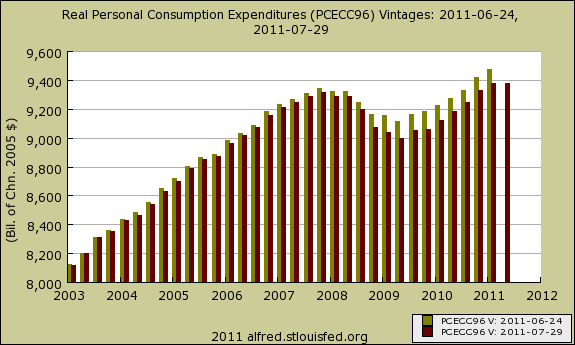 Gross private domestic investment was also revised downward, with 2009 being a -25% decline and 2008 revised to -10.2%.
Here is something that should disgust you, considering the high unemployment and terrible economic growth. Corporate profits were revised upward.
Corporate profits from current production -- profits before tax with inventory valuation and capital consumption adjustments -- was revised down $14.4 billion, or 1.1 percent, for 2008; was revised up $104.0 billion, or 8.3 percent, for 2009; and was revised up $175.3 billion, or 10.8 percent, for 2010.
You maybe putting on your tin foil hat in response to such dramatic GDP revisions. Bear in mind a huge amount of input data goes into these national accounts. Also, there is usually missing data, so revisions going back three years is actually common.
More, the data is now starting to better reflect most Americans real economic experiences.