The Regional and State Unemployment figures were released today. The unemployment rates are basically unchanged in dimension. 21 states had unemployment rate increases, 15 the unemployment rate decreased and 14 stayed the same. D.C. increased. Below is the BLS map of state unemployment rates.
As we know the official unemployment rate does not a job make. Looking at actual payrolls is important indicator. 28 states had payroll employment decreases. Two states were unchanged, 20 states had payroll jobs increase along with the District of Columbia. Below is the BLS map for the percentage change in actual payroll employment over the last year. Notice how many states, in the dark, are negative for the actual number of jobs.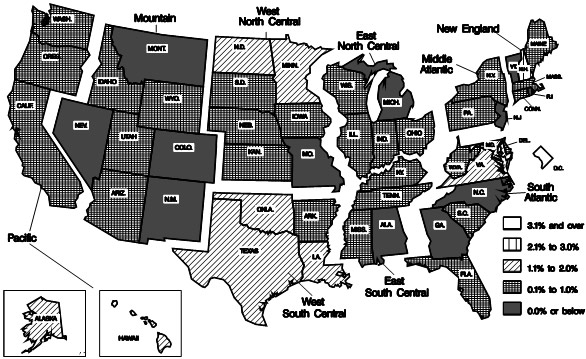 The largest over-the-month employment decreases were in North Carolina (-12,500), Massachusetts (-8,600), and Ohio (-7,800). The largest over-the-month percentage decreases in employment occurred in New Mexico (-0.5 percent) and Nevada, Utah, and Wyoming (-0.4 percent each). The largest over-the-month increases in employment occurred in Texas (+19,100) and New Jersey (+10,000). The largest over-the-month percentage increases in employment were in Alaska (+1.6 percent), Oregon (+0.4 percent), and Mississippi and New Jersey (+0.3 percent each).
Nothing budged and the West still has the highest unemployment rates. In a month, North Carolina lost -12,500 jobs. Oregon gained +6,300 jobs. In terms of the year over year, the number of jobs created is minimal, with Texas leading with 192,100 job gains for the year. Bear in mind Texas has a large population. The next largest yearly job gain was Pennsylvania, with 57,000. This is for an entire year.
In other words, we have no real job growth and people are falling off the count. Some states, Nevada, California, Michigan and Florida, are clearly disasters, with unemployment rates above 12%. Notice how these states have not created jobs. Even Rhode Island's unemployment rate is 11.6%.
If one looks over the tables, a significant number of states also had manufacturing job losses in November. This report simply does not drill down into the details enough to really understand what's going on here in more detail, especially on population, demographics. (although the raw data is available).