Brought to you by the private health care insurance companies - We get ours and yours too, guaranteed.
Good Morning! Rise and Shine! Get that Cup O' Joe...break out the O.J....hang out with the pooch...for it's time to check out the Obamacare funnies. Believe this or not corporations, politicians and special interests are now paying to make go viral comedy sketches in order to spread their message. The below Obamacare parodies have been screened for accuracy and amusement without the lobbyist spin infliction.
Obamacare: America's Bestest Idea

Cartoonist: Mike Luckovich
Obamacare Brings Back 1000 Free Hours of AOL!
This just in. Obama plans to fix health care in a variety of ways, some of which include:
Losing the semicolon in Chapter V, section 5, clause B
Meeting insurance companies halfway by letting them cancel health care plans for only the sickest patients
Changing website background to blue
ObamaTron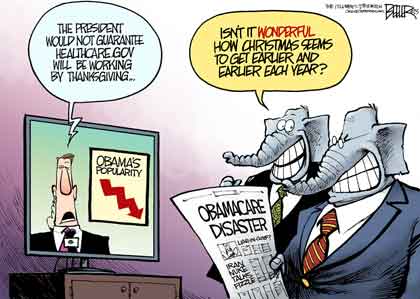 Cartoonist: Nate Beeler
Paxil for Obamacare
The GOP releases options for replacing Obamacare. Just a few plans disclosed are:
Loosening regulations to allow Americans to ship ill and injured family members to cheaper doctors overseas
Allowing sick Americans to choose how they exhaust their life savings on a single medical bill, even if it's out of plan
$2,500 cash incentive to the first person who cures cancer
Weakest Link

Cartoonist: Steve Sack
Four Score and Error 404
Obamacare website finally fixed, government released new site on 35 floppy disks:
Responding to widespread criticism regarding its health care website, the federal government today unveiled its new, improved Obamacare program, which allows Americans to purchase health insurance after installing a software bundle contained on 35 floppy disks.
President Obama told reporters this morning, explaining that the nearly three dozen 3.5-inch diskettes contain all the data needed for individuals to enroll in the Health Insurance Marketplace, while noting that the updated Obamacare software is mouse-compatible and requires a 386 Pentium processor with at least 8 MB of system RAM to function properly. "Just fire up MS-DOS, enter 'A:\>dir *.exe' into the command line, and then follow the instructions to install the Obamacare batch files—it should only take four or five hours at the most. You can press F1 for help if you run into any problems. And be sure your monitor's screen resolution is at 320 x 200 or it might not display properly."
Obamacare: National Website Disaster!
The winner of one-liner wonders is Jay Leno with this:
"Before they went on vacation, Congress voted to exempt themselves from Obamacare. They gave themselves a special exemption because they thought it was too expensive. So the people who voted for Obamacare for us voted to exempt themselves from it. You know how doctors take the Hippocratic Oath. Congress apparently takes the 'Hypocritic Oath.'" –Jay Leno
Would Obamacare Have Saved Walter White?