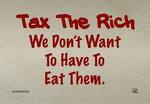 Oh those millionaires, they suffer so. Seems Obama has dusted off some past campaign rhetoric and is now proposing to tax millionaires to pay down the deficit.
President Obama on Monday will call for a new minimum tax rate for individuals making more than $1 million a year to ensure that they pay at least the same percentage of their earnings as middle-income taxpayers, according to administration officials.
Details are sketchy yet it seems to be some sort of alternative minimum tax so millionaires aren't paying glorified capital gains tax rates on their yearly income. Shame Obama caved on letting the Bush tax cuts expire when he had a Democratic Congress.
When investment managers, hedge fund managers receive compensation, it's in the form of stocks, options, which are taxed at a 15% capital gains rate, not the top tier 35% income tax bracket.
Additionally, millionaires don't pay additional social security contribution taxes past $106,800 of their yearly earnings.
To wit, Populist House Democrat Peter Defazio has introduced legislation to raise that cap on social security contributions and stop the attacks and social security defunding attempts:
Nervous that Social Security seems under siege from all sides, congressional liberals on Wednesday proposed raising the payroll tax that funds the program, but only for people earning more than $250,000 a year.

The legislation is designed to keep the pension program solvent for the next 75 years, which is the standard used by government actuaries, by putting an additional $6.5 trillion into the Social Security trust fund over that period. The plan also is intended to head off other efforts to overhaul the program or trim benefits, or to use its funds to help pay for debt reduction.

"No more discussion about raising the retirement age, no more discussion about cutting benefits, no more discussion about privatization," said Rep. Peter DeFazio, D-Ore., one of the sponsors.
Recall this is one of Obama's lost forgotten campaign promises, to ensure social security is funded, plus make it more progressive by raising the social security contribution tax on people making over 250,000 a year.
Below is an interview with Defazio on this bill.
About time this is going on. There is no way, none, to balance the budget and not raise taxes. Now if we could only get some action on a Wall Street transaction tax.
Below Senator Bernie Sanders gives a speech on the critical importance of social security. No, it's not goin' broke and no, it's not a ponzi scheme.
DeFazio and Sanders bill is important because social security is under attack, and under the guise of budget deficits, the most successful anti-poverty program of all time is being threatened.
Watch out on this story. Pundit's love to quote percentages in order to hide the massive income inequality in the United States. What's one dollar paid in taxes when one only has $2? Is that a 50% tax rate or is that only 0.0000000000001% of total taxes collected? When a billionaire pays a dollar in taxes for each million, that's $1000 dollars. Does that billionaire pay more in taxes than the guy with $2? Why yes. With that reasoning, do billionaire's pay most of the taxes collected? Of course. You get the picture. Using numbers to spin is a favorite when it comes to the U.S. tax code, This example is precisely one of the classic Grover Noquist spin techniques, parroted out by Fox News pundits on cue.