The BLS reports on individual occupations and wages. This is a separate survey from the employment report and unfortunately there is significant lag in the breakdown of 800 different specific job categories from the current overall employment statistics. While waiting for the March unemployment report to be dissected and digested, it might be of interest to look at the most recent occupational survey statistics from the BLS. For May 2011, 10 months ago, we have some seriously crappy jobs dominating the labor market.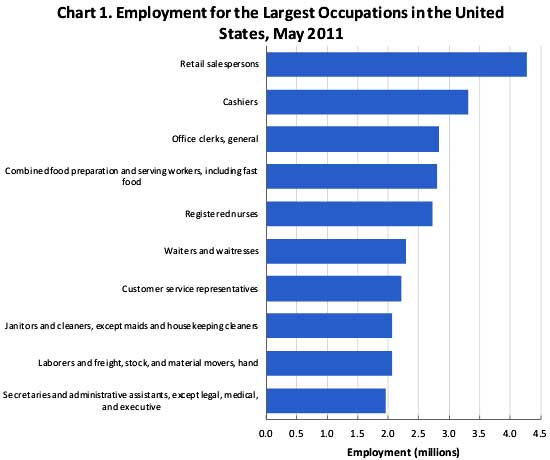 The two largest occupations were retail sales clerks and cashiers. These two job titles make up a whopping 6% of total occupations. After retail sales people, then cashiers, the next largest occupations where general office clerks, food preparation and serving, registered nurses, waiters and waitresses and customer service representatives. The above BLS chart describes the top 10 occupations in the United States for May 2011. Notice, except for nurses, these are all crappy jobs, below the average wage.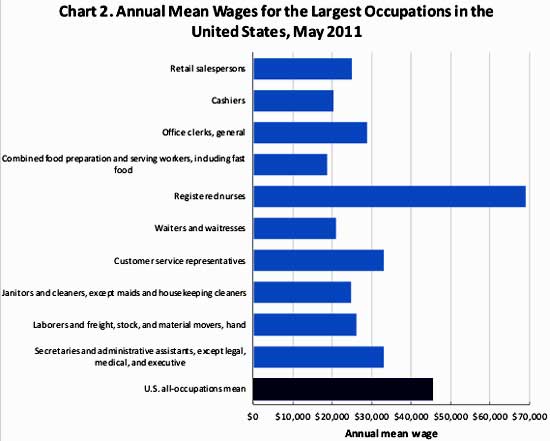 Of the 10 largest occupations, only registered nurses, with an annual mean wage of $69,110, had an average wage above the U.S. all-occupations mean of $21.74 per hour or $45,230 annually. Annual mean wages for the rest of the
10 largest occupations ranged from $18,790 for combined food preparation and serving workers to $33,120 for customer service representatives.
Below is the table of the top occupations, their percentage of total employed, their hourly wages and annual salaries. Depressing isn't it? Look at how many top occupations are making annual salaries below $30k a year. These wages are not exactly enough to buy a home and put a kid through school, never mind buy food and make rent.
Employment and wages of the largest occupations, May 2011
Occupation
Percent of Jobs
Employment
Hourly
Annual
Retail Salespersons
3.3%
4,270,550
$12.08
$25,130
Cashiers
2.6%
3,314,870
$9.73
$20,230
Office Clerks, General
2.2%
2,828,140
$13.90
$28,920
Combined Food Preparation and Serving Workers, Including Fast Food
1.1%
2,799,430
$9.03
$18,790
Registered Nurses
2.1%
2,724,570
$33.23
$69,110
Waiters and Waitresses
1.8%
2,289,010
$10.05
$20,890
Customer Service Representatives
1.7%
2,212,820
$15.92
$33,120
Janitors and Cleaners, Except Maids and Housekeeping Cleaners
1.6%
2,068,460
$11.94
$24,840
Laborers and Freight, Stock, and Material Movers, Hand
1.6%
2,063,580
$12.62
$26,240
Secretaries & Administrative Assistants, Except Legal, Medical, & Executive
1.5%
1,955,570
$15.87
$33,020
General and Operations Managers
1.4%
1,805,030
$55.04
$114,490
Stock Clerks and Order Fillers
1.4%
1,782,800
$11.66
$24,250
Bookkeeping, Accounting, and Auditing Clerks
1.3%
1,643,470
$17.37
$36,120
Heavy and Tractor-Trailer Truck Drivers
1.2%
1,508,620
$19.15
$39,830
Nursing Aides, Orderlies, and Attendants
1.1%
1,466,700
$12.22
$25,420
The report also lists the lowest paying jobs in the United States. Notice how many of the top occupations are listed below:
The lowest paying occupational groups were food preparation and serving related; farming, fishing, and forestry; personal care and service; and building and grounds cleaning and maintenance occupations. Annual mean wages for these groups ranged from $21,430 for food preparation and serving related occupations to $25,560 for building and grounds cleaning and maintenance occupations. Nearly all of the individual occupations in these groups had below-average wages. For example, chefs and head cooks was the only food preparation and serving related occupation with a mean wage above th e U.S. all-occupations mean, and 15 of the 18 occupations in this group had annual m ean wages of $25,000 or less.
The monthly employment report does give payrolls by larger categories, such as retail trade and leisure, hospitality, which does give a broader implication of what kinds of new jobs are being created in 2012. For example, the retail trade sector hires many retail sales clerks. From the occupational report we see 60% of those retail trade jobs are low paying occupations.
More than 60 percent of retail trade employment was in just 4 occupations: retail salespersons, cashiers, stock clerks and order fillers, and first-line supervisors of retail sales workers.
Another example of a broad employment category is food services & drinking places. That broad employer category hires many waitresses, line cooks, fast food counter help and other very low paying jobs. We'll be breaking down payroll growth in these categories with the March employment report release, later today.
The BLS occupational employment statistics has additional tables where you can look up what the mean wage for your occupation is or for more detail, state and metropolitan area wages per occupation and the highest paying occupations.