Most economists and the press look at personal income to think about America and wages. But there is another set of statistics which paints an even more stark picture. The social security administration publishes wage data, the last year available is 2010. While the average wage was $39,959.30, 66.2% of wage earners make less than this amount The median wage is $26,363.55. That means 50% of all wage earners in the United States earned less than $26,363.55 annually. That's poor.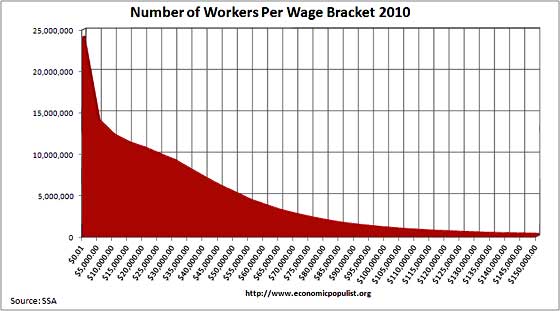 These graphs shows how bottom heavy the U.S. workforce is in terms of wages. One might say wages in America are a race to the bottom and a sinking to the bottom of the economic ladder. People making less than $10,000 a year number 38,153,796. There were only 150,398,796 workers in America in 2010. Over 25% of wage earners make less than $10,000 per year with an average annual wage amount of $7,395.50. A whopping 16% of wage earners made less than $5000, with an average earnings of $2,016.50.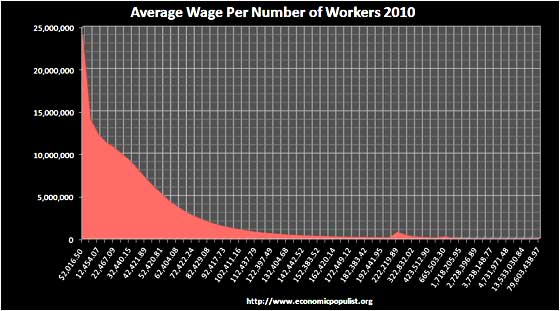 As we showed food stamp usage has actually increased with at least six million people having food stamps as their only source of income. Below is the guy who walked out of the Clinton administration over welfare reform, Peter Edelman, explaining why he resigned from the White House administration. With statistics like this 16 years later think he was right?
The above data shows there is very little middle class. A salary of $26,363.55 is the working poor, and over 50% of working America is in that category.
Right now we have politicians claiming they are for the middle class. They feel our pain and empathize all the while enacting policies and agendas by and for corporations.
Pundits spew soaring rhetoric as if pomp and circumstance trumps the stark economic reality most Americans are struggling with.
We hope all pay very close attention to deeds and policy and the people behind these politicians. Words are cheap. Yet the deeds of politicians have made us cheap. That's the accomplishment, the destruction of America's middle class.
This is an update of our popular post, wages in America, most of us are have nots.