CBS 60 Minutes profiled one town near Purgatory mountain, Asheboro, North Carolina to show what's really wrong with the U.S. economy. It's not taxes, small government or big government, or even the deficit. The real problem are jobs going offshore, companies treating workers as disposable and the never ending race to the bottom on wages, global labor arbitrage.
This week before the election there is a lot of arguing about the slowest recovery America has ever seen. We went to North Carolina, a state that went for the president last time but is swinging toward Mitt Romney now. And we found the story of the economy in the death and life of Asheboro.

Asheboro grew up on manufacturing, its factories filled with generations of families who built their town near Purgatory Mountain. But in 2008, Asheboro was named one of America's fastest dying towns. The folks there were never going to quit, but they are still struggling. Why are we stuck somewhere between recession and recovery? No one better to ask than those who live around Purgatory.
The numbers CBS quotes are right. Below is the graph of U.S. manufacturing jobs and as we can see, they have been declining since 1980 and accelerated job losses started around 2000, the time the China trade agreement was signed.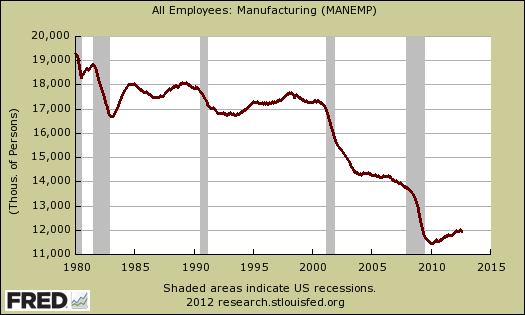 Notice how offshore outsourcing really isn't being talked about on the campaign trail along with bad trade agreements. While the statistics are stark for the U.S. economy and national economic interests, multinational corporations demand these bad trade deals, so the American people be damned, both parties will pass more of them.
Former South Carolina Senator Fritz Hollings said most job loss was due to offshore outsourcing. Repeatedly we have shown China has caused the loss of 2.7 million direct jobs.
We also have a lie there is a shortage of engineers, scientists, technologists and mathematicians. The issue is not retraining, we already have the skills and employers should be providing on the job training, as they have in the past. Think about Rosie the Riveter in WWII. Think she knew how to build airplanes, jets and tanks? Of course not. If employers really wanted the workers, they would train people on the job.
We can't blame smaller employers too much these days either. We allow both domestic and foreign businesses to buy up American ones, layoff all of the workers, dismantle the plant and offshore outsource the jobs. To see the dilemma of smaller U.S. businesses being forced to offshore outsource and use cheap labor or go out of business altogether, is another CBS 60 Minutes profile piece. Here is a guy making socks and due to pressures from his customers, he has no choice but to go abroad for manufacturing.
The last quote from the interview of the Berry's says it all. Can you think of a piece of legislation out of Congress in the last twelve years that was actually for the American people that wasn't demanded by teams of corporate lobbyists? Me either. Even financial reform was decimated by lobbyists and as bad as it is, most has not even been implemented.
It should be that we're working together for the American people. And you have not seen that at all. Whoever's got something on the floor, the other's gonna do whatever they can do to veto it, or be against it instead of doing what's right for the American people.
The day we see Congress and this administration curtail and ban offshore outsourcing, stop the importation of foreign workers to displace Americans, deal with our trade deficit and really reform the U.S. tax code to create jobs in the United States will be a long day coming. We might even say a cold day in hell for America stuck on economic purgatory mountain.