The July consumer inflation data is out, and it's bad. Official CPI at 5.6% year-over-year is the worst since 1990. Food prices were up +.9% in a month. Energy prices up +1.9% in July.
Put this on top of the import inflation in excess of +20% reported a few days ago, and you have a bad situation. Americans' purchasing power hasn't nearly kept up with the goods and services they must buy. Simply put, Americans' standard of living has taken a big hit this year.
UPDATE: YoY wage growth is 3.4%, meaning wage earners have lost -2.2% in purchasing power. Here's the graph:


Notice that this is the first time that hourly earnings have actually decreased in the face of rising inflation.
But there is a silver lining; namely, the July CPI did not reflect the recent dramatic decline in Oil from $147/barrel. If Oil prices continue their decline, or just stabilize at $113-$120/barrel, then almost certainly July inflation is as bad as it gets in this cycle.
UPDATE: Here's a graph of the price of Oil vs. CPI for energy over the last 10 years. Notice that CPI energy always follows a turning point with no more than a one month lag: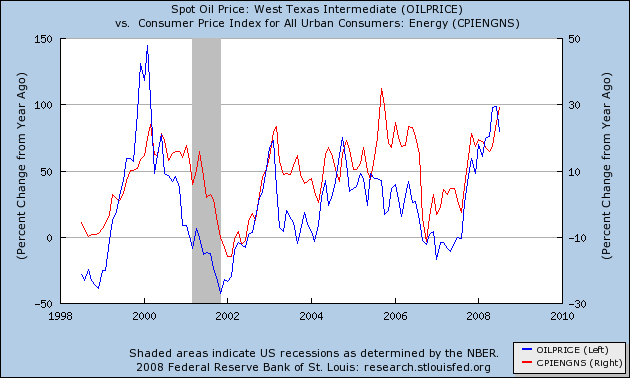 The raw energy inflation data for May/June/July for the prior ten years' averages compared with 2008 is:
May +2.1%/+7.0%
June +2.3%/+7.2%
July -0.2%/+1.9%
In August, the average of the last ten years is +1.0%. A big decline in Oil will put a serious dent in the inflation rate.