Once again the U.S. Treasury and President Obama have refused to label China a currency manipulator, this time by delaying their report on exchange rates until after the election. The excuses abound, with the claim the Treasury Department must assess progress via a G-20 meeting, scheduled conveniently in November, to oh gee, the administration doesn't want to start a trade war. Anyone bothering to view the statistics on trade knows the United States has been in a trade war with China for over 12 years and guess what, we lost.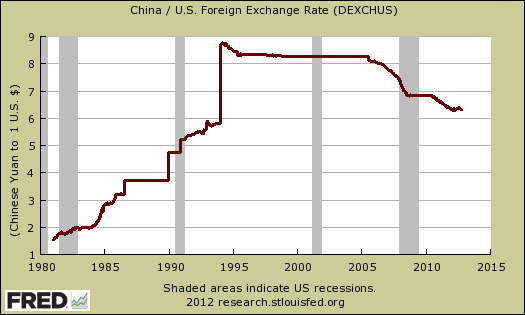 The yuan is pegged to the U.S. dollar and undervalued by 30%. See any progress in the above exchange rate graph? We don't either. China really laughs in the face of the United States and claims the Yuan is at equilibrium.
China's currency has reached its equilibrium rate and its value is mainly determined by the market, rather than intervention, Beijing's central bank chief said Sunday, signaling there is little likelihood of major movement in the yuan's value in the near future.
Trade with China has cost the United States 2.7 million jobs. We see, consistently that China is roughly 40% of our goods trade deficit and that includes America's biggest problem, oil imports. Currency manipulation also has decimated our economic growth with estimates being equal to our current output gap.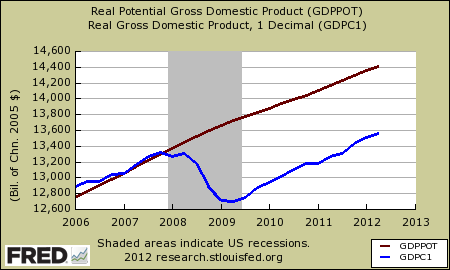 Legislation to label China a currency manipulator have passed the Senate yet blocked in the House of Representatives. These bills have a huge number of Congressional representatives as cosponsors, yet are put on hold by Congressional leadership.
Even Wall Street is getting it that China's currency manipulation is a real drag on the U.S. economy. While China's massive buying of U.S. treasuries makes headlines, few realize the reason they do it is in order to keep their currency artificially undervalued.
If China's currency manipulation was confronted and corrected, an estimated 2.25 million jobs in 18 to 25 months would be created. Think about it. That's more job growth than we've had total in the last year and we are still down 4.5 million jobs since January 2008.
Just last week a House Permanent Select Committee on Intelligence report came out that was so damning, it was turned over to the FBI. The report states in no uncertain terms Chinese telecommunications companies Huawei and ZTE are a major national security threat and not to be trusted. The report recommends our government and U.S. private companies should not purchase Huawai and ZTE products or allow these companies access to the United States telecommunications systems and networks.
Another report (pdf) also found China has been making telecommunications infrastructure and cyber warfare a top priority. Not only can China defend their own networks, they can also successfully launch a cyber attack on another nation at the same time.
The Chinese routinely issue DDoS attacks on the United States Internet infrastructure. The Department of Defense just spelled out the threat of cyberwafare.
A cyber attack perpetrated by nation states or violent extremist groups could be as destructive as the terrorist attack of 9/11," he said in prepared remarks. "Such a destructive cyber terrorist attack could paralyze the nation.
Clearly it makes no sense to invite the Chinese right in, use their telecommunications hardware or let them access our networks. China has been repeatedly cited for stealing our industry secrets and intellectual property theft. Report after report has shown China knows no bounds when it comes to industrial espionage.
Yet when it comes to our economic security, despite the overwhelming statistics of economic devastation by China, nothing happens. The United States is offshore outsourcing our future to China. China is allowed to obtain our manufacturing sector, our advanced R&D, our innovations and most importantly our GDP and our jobs.
Beyond China's currency manipulation, their indigenous innovation policies have been called the biggest threat to the United States economically since the start of the mass exodus of our manufacturing base to China.
The lack of action by the Obama administration was blasted by team Romney, not exactly a bastion of other policies to help the U.S. middle class and U.S. citizen worker. Mitt Romney has promised to label China a currency manipulator his first day in office should he win the election.
Mitt Romney and running mate Rep. Paul Ryan on Saturday tagged China as "cheaters" in the global economy and accused President Obama of being soft on a country whose trade and currency policies are hurting the U.S. manufacturing sector and the middle class.
Why the Obama administration does nothing is no mystery. After all, they also claim bad trade deals are increasing exports, when in fact the opposite is true:
Obama's claim – that the three trade deals are boosting exports – does not survive a basic fact check. The Panama deal has not even taken effect. Since implementation of the Korea Free Trade Agreement (FTA), U.S. goods exports to Korea have declined by nine percent (a decrease of more than $1.2 billion) in comparison to 2011 levels for the same months, while exports to Colombia since implementation of the Colombia FTA have barely increased (by $358 million). Under the FTAs, the United States has suffered a six percent fall in combined exports to the two new U.S. FTA partners.
Letting Chinese companies take over United States critical infrastructure is really battle of the lobbyists as well, not concern over us working folk or national security. Large corporate behemoths are really arguing over billions in profits, not those 2.25 million jobs. Us regular folk, who really need those jobs, are clearly an after thought, no matter what party is in power. That's probably why we get nowhere on the trade deficit with China. U.S. multinationals who offshore outsourced many of our jobs, have a vested interest to allow China to manipulate their currency. Cheap labor and cheap production are their goal, no matter what it does to the U.S. economy.