I don't know about you all, but I was reading Ben Jones' Housing Bubble Blog 3 years ago when house prices were still climbing 20% a year and housing bulls were laughing at the bubbleheads. To them, the naysayers obviously missed the boat and were just sore losers who rented.
Way back in 2005 there were plenty of people (Federal reserve economists excepted of course) who saw the bubble and predicted that when the adjustable rate mortgage resets came due (beginning en masse in 2007) there was going to be one heckuva housing bust, and a cacophony of calls for a bailout of the greedy and the stupid.
Now that those predictions have come to pass, the question is, should we just let the mortgage/housing debacle play out, or are there ways to intervene that would be socially beneficial?
We ought to at least be able to narrow down the options, filtering out those that mainly bail out the greedy, or else entail too much cost or moral hazard. Of those options that remain, we ought to at least be able to narrow down areas of disagreement. Below are my suggestions.
To begin with, the fundamental problem is that the average (median or 50th percentile) house price has gotten completely out of whack with median household income, as show in this graph: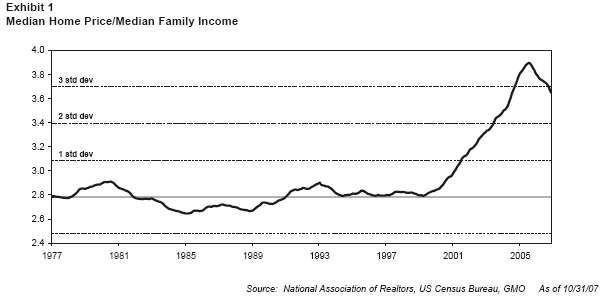 To return to a normal price, home prices must fall almost 50% from their peak, in other words, another 30% plus from where they are now.
To give you an idea just how major a correction this is, a house that sold for $250,000 in 2005 would need to fall to less than $150,000 before we could say that house prices had returned to their "normal" level as a multiple of income.
Falling home prices creates another problem: a vast percentage of Americans would be living in houses whose mortgages are more than their house was worth! The average American household has only about 50% equity in their house: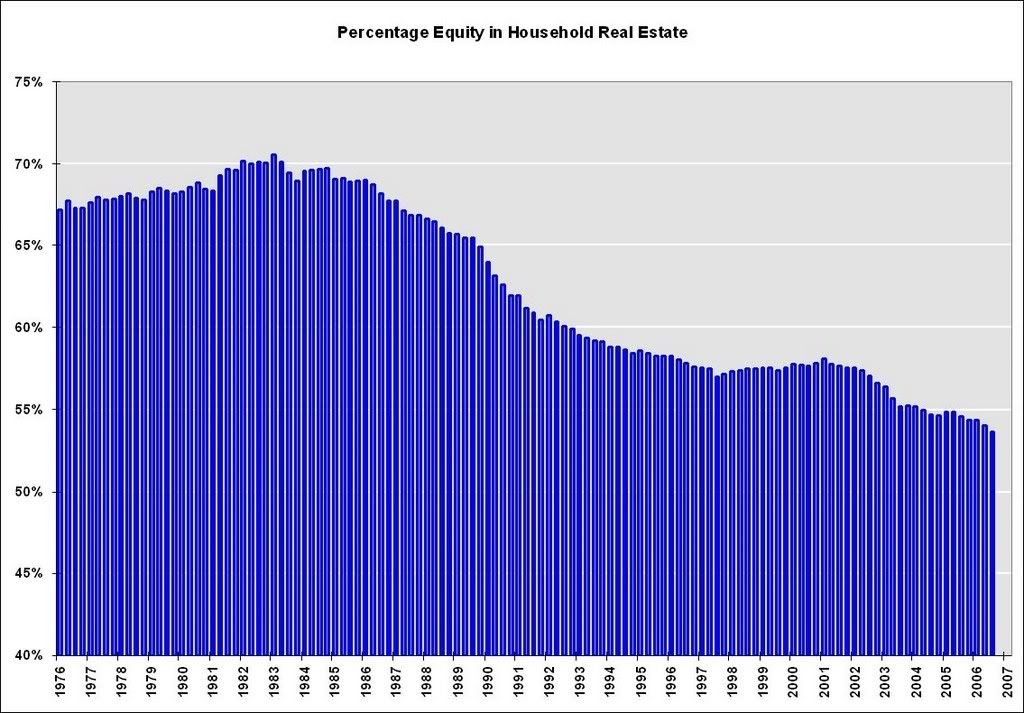 click to enlarge
Which means that perhaps 1/3 of all American households would be underwater, owing more in their mortgage than they could get by selling their house. Home owners would be unable to move and would be trapped in their overpriced residence.
Needless to say, this creates a major problem. With the opening acknowledgment that there is no Mortgage Crisis Fairy who can wave a magic wand and make the necessary correction happen painlessly, nevertheless, I happen to think that there are some ways that government can intervene. Intervention have modest cost and moral hazard, and can be extremely helpful to the vast majority of Americans. Not to mention intervention just might help to avert economic Armageddon.
Let's start by seeing if there are classes of people who don't deserve our sympathy or our help.
Bankers and mortgage brokers. Is there anyone who thinks that these people deserve anything less than a full heapin' helpin' of free market discipline? I didn't think so. That means we should eliminate anything that smacks of a bailout for lenders from our list of government actions to endorse. This includes essentially everything that originates from the Bush malAdministration -- after all, we know who Bush's base is. And sure enough, all of the proposals that have been floated by Hank Paulson, Bush's Secretary of the Treasury, when examined closely enough, have turned out to be bailouts for bankers, and the back of the hand to everybody else. Better to do nothing at all than to enact one of these proposals before January 2009.
Flippers. Anybody want to help out the get-rich-quick idiots who own 2,3, 10 houses? Didn't think so. So any program that we enact should be limited to the primary residence, and better yet, should not apply at all to anybody who owns multiple residences.
Owners of McMansions. If you got in over your head by buying a house that is more expensive than 2/3 of all other houses, with wood floors and granite counters, why should I want to subsidize you?
Who does that leave? Potentially only two groups:
People who were suckered into mortgages more costly than they actually qualified for, possibly because of mortgage broker fraud (people who found out that they didn't qualify for the mortgage they thought they had, only at closing, frequently after they'd already made settlement on their existing residence).
Lower income families who purchased smaller homes and because of ignorance or being bamboozled, got stuck with the wrong mortgage.
Stay Tuned for Part II, where I discuss the solution proposal in more detail.
New Deal Democrat is on vacation and sent this piece via email for posting while away, edited by RO - admin